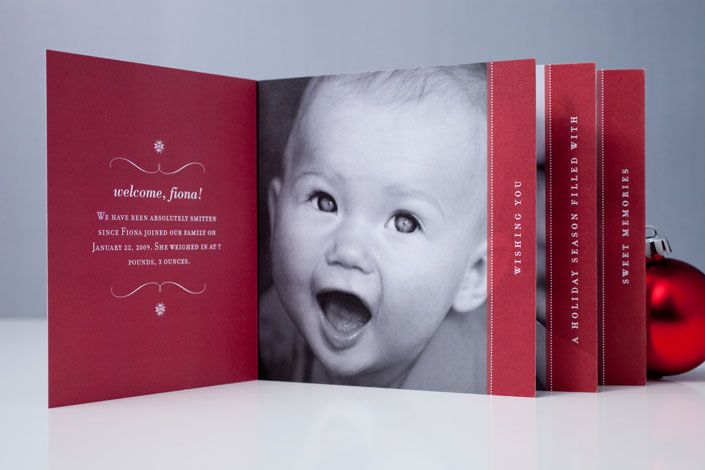 For the past eight holidays, I've sent out standard flat photo cards featuring the kids, and I usually hear a few comments about how much the kids have grown. If I should send out Minted's new Minibook Holiday Cards, I expect my phone would soon start ringing with "how in the world did you do this?"
I'd like to pretend that I have the mad design skills to create these cards myself, but the reality is that Minted's designers will take care of the excellent grommet binding, gorgeous matte card stock and clean, festive designs. But, as if you couldn't guess, anything this unique is going to cost a pretty penny, especially when you send out as many cards as I do. Spending a few hundred bucks on Christmas cheer may not be in my cards (heh), but should you feel especially flush this year, Minted's Minibook Cards will definitely make a statement.
And whatever statement you choose to make, there's plenty of room for it. As with their smart Yearline cards which we featured on CMP last year, the beauty of these minibooks is that you can write more than "Happy Holidays" without having to resort to the oft-ridiculed holiday letter. -Christina
This week only! Customize your own Minibook Holiday Cards at Minted's website or choose from any of their other holiday cards and receive 15% off your total order through December 6. Just insert the promo code CMPDEC09 at checkout.
EXTRA COOL: WIN IT! One super lucky U.S. reader will win 55 custom Minibook Holiday Cards from Minted. To enter to win, send an email to contests@coolmompicks.com by midnight PT with MINTED in the subject line and the answer to this question: What word do you see on the cover of Minted's Holiday Nostalgia Holiday Minibooks by Emily Ranneby? Good luck!