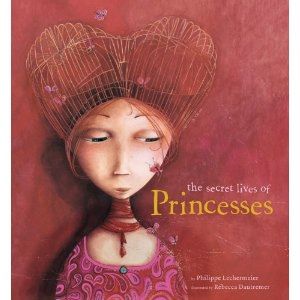 I've fought the princessification of my girls valiantly, as a mama who wants her girls to admire heroes who don't wait around for some dumb prince to find their happiness. As you may guess, it didn't work; they love princess everything, though I try to keep all the tiaras, gowns and storybooks confined to their very-pink bedroom.
[see the giveaway after the jump]

If ever a princess book was made to appeal to grown-ups as well as their offspring, this is it. Originally written in French, Philippe Lechermeier's text is sophisticated, witty, and laugh-out-loud outrageous at times. The Secret Lives of Princesses is not so much a story book as a collection of bios on a bunch of princesses who have been "hidden" until now (hence the "secret lives" in the title).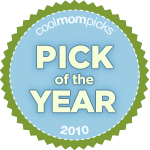 Once you get to meet these princesses, it's pretty clear why no Disney movie has been made of them, since they most certainly break the mold. Among the crowd: The Eco Princess who has birds living in her hair and demands her prince must not be afraid of heights, lightning or beetles. And then there is Prince S, the brother who swapped places with his royal sister and continues to live in disguise, even with facial hair.
The illustrations by Rebecca Dautremer are to-die-for gorgeous, with loads of detail and humor. Do not sit down and look at this book before making dinner or the whole family will go hungry. And I have to stop myself from ripping out pages to frame, so perfect are some of the illustrations for a child's bedroom.
While preschoolers will love to flip the pages and may understand some of the text, this book is a bit dense and slyly humorous for a little one. But, my nine-year-old who swears she's no longer "into" princesses has been found hiding under her covers at night with a flashlight, meeting all the secret princesses. -Christina
Congratulations to Janice L, lucky winner of a copy of The Secret Lives of Princesses!