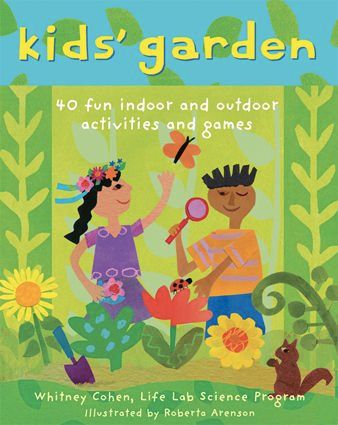 I have no trouble getting my kids to go outside on a summer's day, it's getting them to stay outside when the siren song of kids' cartoons and super-exciting video games beckon from the air-conditioned comfort of our home.
That's when I, the Cruise Director of Summer, need to come up with some fun ideas to engage and entertain them, and if I can sneak in a little summer learning without them knowing, so much the better.
[don't miss the giveaway after the jump!]

Barefoot Books has put out new Kids' Garden Activity Cards to help keep kids entertained by nature, and not SpongeBob repeats. Each oversized, colorful card lists a project idea on it from one of five categories including Planting and Growing, Discovering Creatures, and Creating Garden Art.
I love, love, love that they've thought to laminate each card since my kids have been known to leave them out overnight to get soaked in dew. I also appreciate that most of the projects don't require me to work up a sweat, but since the cards are written for ages 8+, two of my kids do need a little extra help with the instructions. Although, when they made colorfully decorated Mud Pies, all that was required of me was to hose them off at the end.
When the thunder clouds roll in, there are even projects that bring nature indoors. But don't worry, there aren't any cards that say, "stuff your pockets with all manners of outdoor life and let mom find them at laundry time".
-Christina