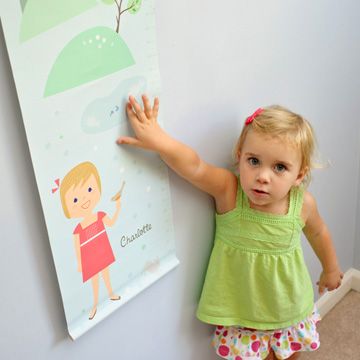 I'm always looking for cool alternatives to our current growth chart – pencil markings on our kitchen doorway. Classy, huh?
I suppose anything would be a step up. But the amazingly cute personalized ones we just found are a huge, welcome leap.


Truth be told, we've long admired the work of the folks at Olliegraphic, and now they've opened their brand spankin' new shop, complete with some of our past faves, and new ones – like these canvas personalized growth charts. Pick everything from hairstyle, skin tone, even eye shape and facial expression, and they'll whip up a special, one-of-a-kind chart just for your kiddo or that lucky gift recipient. What a fantastic toddler birthday gift!
And best of all, when your kids have outgrown it (sniff), you can easily roll it up and pop it in your keepsake box. I won't say what I use as mine, but you can probably guess. Maybe cool keepsake boxes are next on their list? -Kristen
Order a personalized growth chart at the new Olliegraphic website. And for a limited time (thru 10/15/10), get a free printable with every purchase (boy, are they cute!).