True Parent Confession: Life is so hectic that I once served crackers to my toddler in one of her own shoes.
I couldn't give her the giant, store-fresh bag of cheesy crunchers in her car seat, but I had promised her a snack. So she had an empty Mary Jane of slightly sandy crackers.
So here's a better idea. (As if there were a worse idea.) And it's a better idea than mystery plastic from China, too: The awesome new BPA-free feeding line from OXO.
This brand new line of BPA-free snack and feeding line for kids has something for every stage of snacking and feeding, from the convenient and ergonomic flip-top snack cup to the clever training plate with curved sides to help keep the oatmeal in the bowl and not on the table. They also have lidded bowls, silverware, and snack disks, and everything comes in a bright array of non-pastels.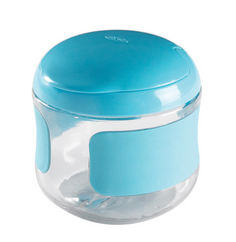 They sent me some samples for a test run, and one of my favorite features isn't even what you'd expect–the packages are ridiculously easy and fun to open. You just pull one little tab, and you're ready to snack, which is refreshing after trying to pry open some store-brand sippy cup packages.
We definitely use the flip-top snack cup (above) the most, because it's the only one with an attached lid–we've already lost the lids to both bowls and the snack disk. I also find the curved-side plate is ideal for oatmeal and yogurt, my toddler's two favorite artistic media.
Cute, easy, BPA-free, and no Stinky Toddler Foot Taste. I'm sold. –XOXO, Delilah

You can find the BPA-free snack and feeding line for babies and kids at OXO or from our affiliate, Amazon.