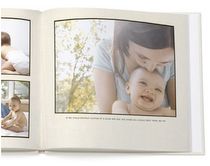 One year, I got my mom an electronic photo album for her holiday gift. Well, that was a flop. She told me she really wanted a regular photo book of her grandkids, just like I gave her the year before. But, I like to complicate things! So, the next year, I gave her a photo mug, then a photo calendar and a photo t-shirt.
(No, I'm kidding, I've never made photo t-shirts.Yikes!)
With all the photo centric gifts out there, the good old photo book is still her favorite and mine because it preserves the photos nicely and I get to show off all my favorites.
Pretty much every website that does photo books (and I've tried a lot) has its pros and cons and Shutterfly is no different. If you're considering one of their books this holiday, the quality of Shutterfly's photo printing is excellent as you might expect, and the quality of the entire book from the hard cover binding, photo paper to the colorful background pages is truly impressive.
This is not a service that's all about customized layouts, however; the Shutterfly really does everything for you–even when you don't want it to. I tried to manipulate the layout and change the order of the photos and finally just gave up and let the technology do its thing. On the up side, that means you can make a book in an hour or less, instead of a week like with some sites. Good for lazy moms, not so good for obsessive people like me who have something very specific in mind.
If you can save your obsessing for which photos to include and which of the beautiful themes to choose (and they are beautiful) then you've found the right service for you -Elizabeth
Make a Shutterfly Photo Book for the holidays at Shutterfly.
And for other photo book ideas, compare our past reviews of photo books, including Blurb, Pixtorie, Shutterfly, Heritage Makers, Lulu and more.