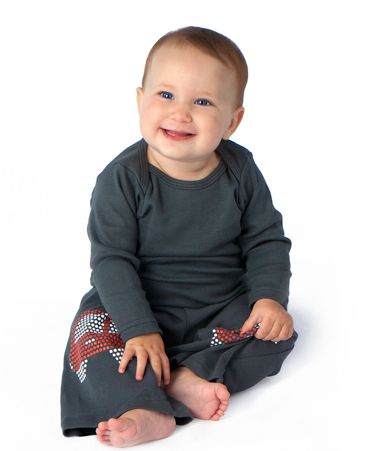 Before we had babies, we decided that what our house needed was stained concrete floors. Slippery-as-heck concrete floors, as we found out after we had babies, are not exactly the easiest place for them to learn to crawl. We ended up investing in a lot of rugs.
So I find the idea behind these non-skid play pants totally ingenious.

The brainchildren of mom-to-three Amy Shoaff of
Dot Dot Couture
, these 100% cotton
non-skid play pants
are pants with traction. Adorable
traction. Check out the designs on the knees: retro cars (the cutest one), giraffes,
hearts, dragons. Each design is made up entirely of soft rubber dots
that help babies' knees grip the floor, no matter how slippery.
The
$32 pants are super-soft, and they even have bigger kids' sizes, too, up to
6T. Who knows, maybe your child is like my 3-year-old, and likes to
crawl-race her baby brother. -Lexi