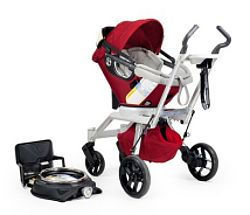 You're going to think I'm crazy, but believe me when I tell you that the Orbit Baby infant car seat has totally changed my life.
It comes with the Orbit Baby Stroller Travel System G2–which includes the amazing stroller frame, too– and has some magical tricks up its sleeve that aren't in any other car seats on the market. Like a flexible carry handle, amazing eco-foam and fabric, and the easiest to install base I've ever seen.


The real life-changer, though, is the special circular "SmartHub," which
actually allows you to dock your baby into the car or the stroller
frame from any angle.
Any angle. This is the part that wows me every time I take
advantage of it. I'm more of a baby-wearer than a giant-car-seat-holder,
so to be given the opportunity to put baby into the seat in the car is a
dream come true. I know, I know, you could do this with any car seat,
but the Orbit makes it so easy because you can turn the seat to face
you. My back hurts just thinking about trying to finagle a small infant
into any other car seat while it's in the car.
All this means a much happier baby on car rides, too, since he
doesn't have to be in his seat all that extra time before I get to the
car. I love that. So does he, I imagine.
And the stroller? What don't I love about it? It's amazing. A
totally smooth ride, during which baby can easily face any direction you
choose. You can even add special Sidekick Stroller Boards
for big kids to hitch a ride. The stroller would be quite wide if you
were to add two boards to the back (I've only tried one), but it's nice
to know that's an an option for mamas of three.
Now, since we're always seeing celebrities with their Orbit Baby
stroller systems and car seats, we know they're going to be among the
more expensive brands. And they are. But if you think you can afford it,
the conveniences and quality more than justify the price and the happy
mama and baby really seal the deal. –Stephanie
Find the Orbit Baby Travel System G2 at Orbit Baby or from indie retailers like Magic Beans