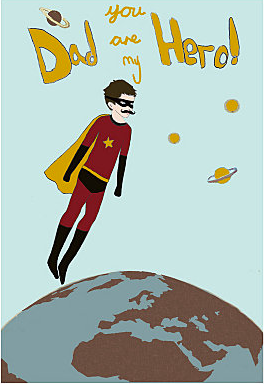 I bought the photo mug for Grandpa, and the Kindle for my husband (lucky dog!), but I've yet to find the perfect card. Leave it to new discovery TinyUs to do the work for me, and even better, for free.

All you need is a printer to give the dad in your life this adorable "Dad, You are my hero!" card, available as a downloadble, printable PDF on the TinyUs blog. Whether or not he has the ironic moustache, we can't think of a better way to celebrate that special dad in your life for free. Besides telling him you love him. -Kristen
You can download the free printable Father's Day card at TinyUs.
EDITED TO ADD: The card has just been added back to the shop. Happy downloading!