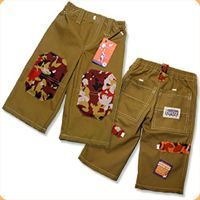 Look; I really can't get behind putting a pair of kneepads on a toddler. Aside from the hassle (and how dumb it looks) I'm of the "we all crawled on our bare knees and survived" camp of parenting. But when mom Kathryn Ames was faced with her hemophiliac crawling son's bruised knees, she decided to come up with a solution that would be stylish enough for everyone.

Thus Bruz Wear
padded-knee pants were born. They offer protection for a crawling baby or
rough-and-tumble little kid, plus support and advocacy for the
hemophilia community with every purchase.
No need for
a medical condition to love these fun bottoms. Whether you feel your kid actually needs the
extra padding or you just want to make a fashion statement, Bruz Wear pants, and the story behind them,
are just plain cool. -Mir