I'm back in town from a delicious jaunt to the Rogue Valley in southern Oregon, and I've got all the dirt on one of my favorite holiday gift companies, Harry & David. (You know, the pear people. With all the catalogs?)
So here's my confession: I am probably the only person in America who can say this, but I never tried a single item from Harry & David until I landed there and found a gorgeous basket with my name on it in the hotel lobby. My only run-ins with gift baskets have been of the blue-light special variety, with plastic cheese and apples that tasted like mush. I was a little dubious.
But the second I tasted Moose Munch, I become a convert. And when I met the people behind the products, I became a friend. There's Matt, who wakes up at 2AM to light the fires that keep the pears from freezing–and who also hangs pheromone-dipped ornaments (!!) on the trees so he won't have to use pesticides. There's Charlie and Connie, the duo who took 162 tries to make the exact pink chocolate mix for the Pink Hand-Dipped Chocolate Pear–and I've tried to dip the pears myself. Trust me, harder than it looks.
Whether you're passionate for their pears or tender for their truffles, here are six more reasons I'm now officially a H&D convert; not to mention an explanation for why those pears are so darned expensive.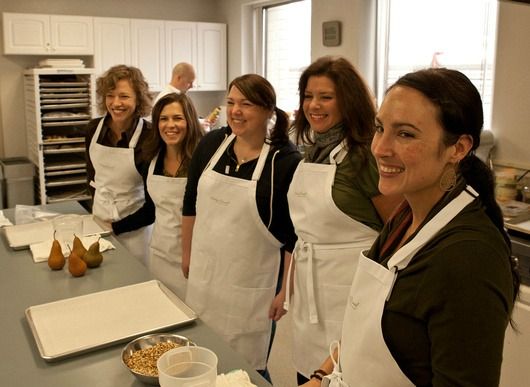 1. The people who work there love Harry & David as much as we do
From the beautiful orchards where the Royal Rivera pear is lovingly harvested by hand to the Willy Wonka-esque food factory, I was struck by the passion and authenticity of everyone I met. Every stage of gift preparation is handled by people who have been there for thirty years and are still smiling as they roll up your cinnamon rolls or carefully sort and package your pears.
And the factory is possibly the best thing I've ever smelled. I recommended they bottle it and sell it as a perfume. Go on a public tour there; it's so worth it.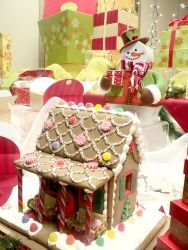 2. It's not just pears and random gift baskets.
Okay, so the gorgeous, sweet pears are pretty important, because those orchards get more tender lovin' care than trust fund babies. But all of the food is delicious, which is why I officially gained four pounds. My picks:
I have a crush on their Mild Chorizo, which is available only in the Spanish Tapas Basket. The Moose Munch was a big favorite, especially the Dark Chocolate variety–and it was really fun to see 50 pounds of it on a conveyor belt. The new Gingerbread Petit Fours were enormous–and yet I didn't want to share them. And as much as I wanted to dig right into the new pre-made Gingerbread House, they said that one was only for display. And several months old.
Still, bookmark it for holiday gifts this year. It's an awesome idea to knock off a whole household of nieces and nephews with one delivery.
There are plenty of other great ideas under $50, such as my beloved Snowman Tower, which is $49.95. And I think the phenomenal Martha Stewart Harvest to Holidays Gift might finally get my mother-in-law in a good mood, which would be totally worth $134.95.
One caveat: Stay away from the pepper-encrusted sausage. I'm not a fan.
3. They partner with and support local business.
Harry & David is a big part of the Rogue Valley, and they partner with local businesses for lots of their products. In items like the Rogue Valley Gift Box filled with local artisanal cheeses, or the trio of Pacific Northwest wines, you can truly taste the flavors of the beautiful, mountain-rimmed valley where the fancy pears flourish.
4. They guarantee you'll like your order.
When you're spending good money on a food gift, it's especially nice to know Harry & David will provide a replacement or refund if you don't like it. I got the feeling that they really want to make sure it's done right. If for some reason your apples are mealy or–although it's highly unlikely–if something breaks during transit, they'll fix it. I like that. A lot.
5. They give back.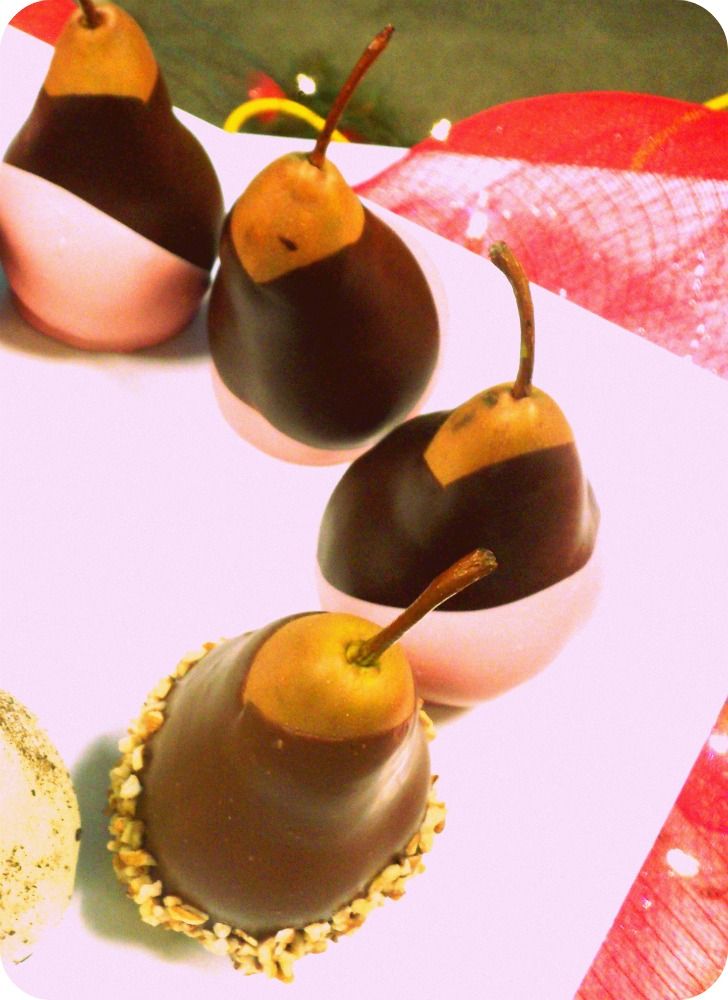 First of all, if you like delicious desserts or want to send a beautiful gift to a breast cancer survivor, check out the Pink Hand-Dipped Pears that donate 20% of profits to the Noreen Fraser Foundation. I've tried them, and they are unbelievably luscious and indulgent. Harry & David also partners with Soldiers' Angels in the Support Our Troops with Moose Munch program. It may sound silly, but most perishable desserts can't be mailed into war zones. Soldiers in desert climes love the gooey decadence that occurs when the bars melt, and they've sent over 38,000 of them (and plastic spoons!) to U.S. soldiers serving overseas since 2009.
Purchase your own in Harry & David stores in thirty states during May, June, and July, and they will ship them to soldiers with your handwritten note.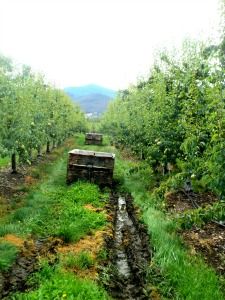 6. The environment isn't an afterthought
The company cares for the environment in many ways, including using recycled packaging for their baskets, eliminating energy waste in offices and factories, and employing sustainable and eco-conscious methods in farming their 725,000 trees. Of course there are a whole lot of boxes that come with those towers (to say nothing of all those catalogs in the mail), but if your kids are like most, they'll turn those into craft projects and keepsake boxes after the treats are gone.
We also saw organic trees sprayed with clay, propane smudge pots for frost protection, and gorgeous valleys filled with healthy trees and verdant grass. I can't begin to tell you how good the air smelled in the orchards–crisp, clean, and pure. They also pulled packaging right off the factory floor to show us the post-consumer grades. They're pretty serious about it.
I wish I could say the trip was perfect; Oregon was pretty rainy and I gained four pounds in three days. Otherwise? I'm going to be dreaming about the scent of those orchards for a good long time. -Delilah
Thanks to Harry and David for allowing Cool Mom Picks behind the scenes on this press trip.