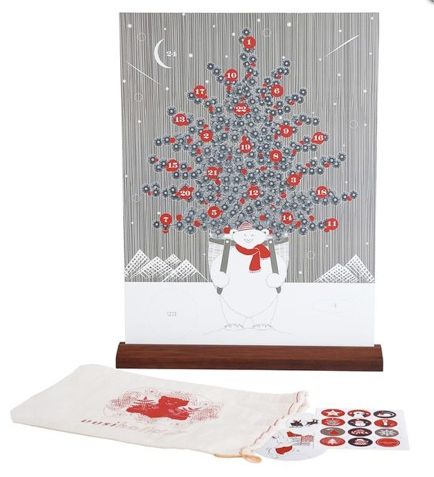 Fewer things throw my kids into a tizzy of Christmastime anticipation as an advent calendar with its counting down of days. But the calendar grandma gets them with the waxy chocolate behind each door isn't much to look at and barely makes it to the 25th.
I think I've found the calendar worthy of such an important daily ritual that is both beautiful to look at and will make it through several annual countdowns. And while it doesn't have chocolate, it does have something else my kids adore: stickers.

The Yuletide Harvest Advent Calendar from Uusi walks that fine line between cute and sophisticated perfectly. Created by the team that started Binth Studio, Linnea and Peter Dunham have once again created a calendar that is all about their amazing attention to detail, much like they did in their Alpine Winter Chalet version that we adore as well.
My kids will want to hug the big friendly polar bear who comes bearing a Christmas Tree on his back. And they'll love covering the red ornaments on the tree's branches with an illustrated sticker as each day of December arrives. After this year has come and gone, the stickers will peel away easily from the heavy mat board, and another set of stickers will be produced for next year—what a nice way to keep this calendar "new" for years to come.
From a design aesthetic, I love the contrast between the darker, yet festive, holiday
tree and the gently lined background that has been achieved with a
single color. With its muted palette, the pop of red color and its
solid reclaimed Redwood stand, the Yuletide Harvest Advent Calendar has a lot of impact without being gaudy or loud. And that sounds pretty great to me. –Christina

The Yuletide Harvest Advent Calendar is available at Uusi.