One of my favorite aspects of the holidays is pulling out all our holiday books and reading together with all my kids huddled under a blanket with popcorn and hot chocolate. But even though we really only read our books once a year, I'm sort of ready to retire our same version of "'Twas the Night Before Christmas" and add a few new books to our collection.
So, we asked our editors and contributors to share their own family's favorite holiday books and why they love them. Here's hoping you enjoy this list as much as I will.
The Spirit of Christmas
One book that I'm more than happy to read each year is The Spirit of Christmas. Aside from the beautiful graphics and lovely rhyming prose that cleverly incorporates lines from well-known holiday songs, the message of this book is what gets me teary every time I read it. That the most important part of Christmas is being with family. – Kristen
Olive, the Other Reindeer
This is the sweetest story about a puppy who mistakenly thinks she's a reindeer and ends up being
Santa's biggest helper with her special doggie powers. The illustrations look as fresh and modern as they did more than a decade ago, and the story is full of "awwwww." – Christina
Little House on the Prairie
In the days of, "Mommy, why isn't my LeapPad piiiink?"  I love to pull out the Little House books and remind my daughter of a time when an orange was the best Christmas present a kid could hope for. Plus, I always cry when Mr. Edwards fords the river to bring Christmas on the prairie. I got the boxed set when I was 7, and now we're reading it together. – Delilah
The Nutcracker: A Pop-Up Book
My young children have been entranced with this book every since we received it a few years ago. Each page is so beautiful and engaging, and the pop-up craftsmanship is just phenomenal. Plus, it's a lot shorter than sitting through the actual Nutcracker–which we happen to love too. – Liz
Eloise at Christmastime
I can't not love Eloise. She's charming and festive (if a bit noisy), and for me, she embodies that joyous carefree feeling of being a child at the holidays. This season can be way too stressful; I say we all ought to channel our inner Eloise a lot more often. – Julie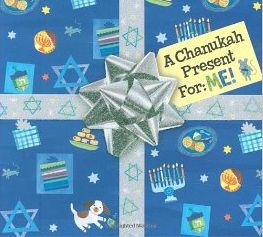 A Chanukah Present for: Me!
My husband brought this book home last year to drum up some interest in Hanukkah and mission accomplished, we now read this book year round. First of all it looks like a present (and who doesn't like presents) but what we really love is how it goes through the various holiday traditions in such a gentle and playful way. Our daughter, now 2 1/2, loves to read us her own version going through all the customs she's learned. Too cute! – Stephanie M.
Toot and Puddle: I'll Be Home for Christmas
Toot and Puddle were my sons' favorite storybook characters when they were smaller; we still get this book out to read at the holidays. The illustrations are lovely and the story is sweet without being saccharine. – Susan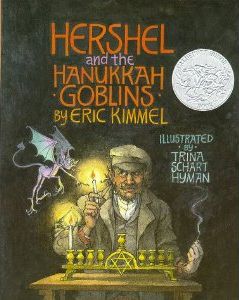 Hershel and the Hanukkah Goblins
Hershel and the Hanukkah Goblins is the perfect twist on the traditional Hanukkah story, particularly for kids who like their stories with a little extra monster flavoring. The illustrations are fantastic (creepy, but not too scary) and it's a compelling take on the light-crowds-out-darkness theme that truly is the story of Hanukkah. Note: No need to be Jewish to enjoy this one! – Mir
Dear Santa
With a baby in our house again this year, Dear Santa is the book getting the most demands for "More!" This sweet and simple board book from the author of Dear Zoo, has baby lifting little flaps to see what Santa has wrapped up. And who doesn't want to find a fluffy kitten waiting on Christmas morning? Uh, aside from every parent. – Stephanie S.
The holidays can be an overwhelming blur for kids (AND their parents–ahem), and this adorable rhyming book is so helpful in pointing out what really matters during this time of parties and presents. – Lexi
How the Grinch Stole Christmas
Because Christmas "doesn't come from a store" is one of the truest things that has ever been said–but something that we never seem to remember. – Roxanna
You can find all these books at our affiliate Amazon or at your local independent bookseller.
What are your family's favorite holiday books? We'd love to hear them!