Of all the children's books we have amassed on our collective bookshelves over the years, there are several Dr. Seuss books that my would be in the short stack of our kids' favorite titles. We suspect the same would be true for many of us grown-ups.
So in honor of both Dr. Seuss' 108th birthday and the Read Across America campaign begun in his honor, the Cool Mom Picks contributors have each picked one of our favorite Dr. Seuss books to share. It's interesting how a book choice says so much about the reader!
We're pretty sure you've got a few of these in your home, though we hope to introduce you to a few that you might want to add.
CMP is an Amazon affiliate. Find these books there or at your local indie bookseller.
Liz: If you're a fan of Oh, the Places You'll Go (come on, didn't someone get you one for your college graduation?) the lesser-known My Many Colored Days is in the same vein. It's a beautifully, sometimes moodily illustrated book that's perfect for teaching kids about emotions and feelings by using color as metaphor. (On bright red days how good it feels to be a horse and kick my heels…) My girls have loved the board book since they were little, and now as they get older, they find more meaning–and comfort–in the pages that let you know, it's okay to have grey days or brown days. Because the very next day can be a happy, buzzy yellow one.
Kristen: I'm a huge fan of all the Seuss books, but The Foot Book is my all-time fave. It's especially perfect for little Seuss lovers, since you can make all the rhymes interactive. Or maybe I just have a foot fetish.
Delilah: If you think the artwork that made it into your kids' books is weird, wait until you see the seriously bizarre stuff in The Secret Art of Dr. Seuss. As an art teacher, I loved showing my students the sketches, sculptures, and ethereal oil paintings created by their favorite illustrator. For extra fun, ask them to tell their own stories based on the pictures!
Stacie: What can I say–I've been obsessed with food from the beginning. Green Eggs and Ham was my favorite book for years beyond the age for which it is meant. A foreshadowing of the mantra I would later encourage parents to use with their children: you do not like them, so you say, try them, try them and you may!
Stephanie S: Hop on Pop is always in the bedtime reading pile in our house. My kids adore the crazy rhymes and goofy stories. Almost as much as they love being able to read them aloud all by themselves!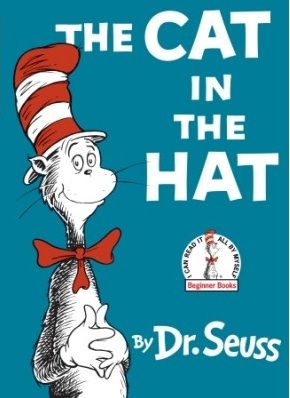 Lexi: Call me a purist, but The Cat in the Hat was the very first book I actually READ on my own–and the magic and fun of that sticks with me through every subsequent reading. That I get to share it with my kids makes it all the more special.
Julie: Maybe I ought to be a little embarrassed by how many of the nonsensical words in There's a Wocket in My Pocket are in regular rotation around here, but I'm not. Through three kids and over ten years, we've all grown attached to the silly creatures lurking around our house.
Roxanna: Okay so I Can Lick 30 Tigers Today! is a little weird, but else would you expect from the good doctor? There are lessons about biting off more than you can chew, about being more "demo-catic", and about the perils of expensive long distance calls.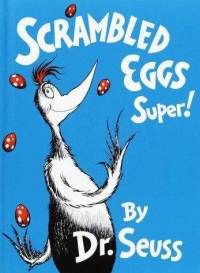 Mir: Peter T. Hooper turns cooking into one part adventure, one part gastronomy, and one part magic in Scrambled Eggs Super. Not only are the long tongue-twisty sentences fun to say (and even more fun to hear), when you're done reading chances are excellent that your kiddo will want to help you in the kitchen. Love.
Eva: The Lorax is a classic that is still as valid today as it was when Dr. Seuss first penned it. If the Lorax doesn't speak for the trees, who will? No wonder I adored the new Lorax movie so much.
Kirsten: For sentimental reasons, One Fish Two Fish is my all time favorite Dr. Seuss Book. I would beg my brothers to read this colorful masterpiece to me over and over. Now I beg my kids to allow me to read it to them!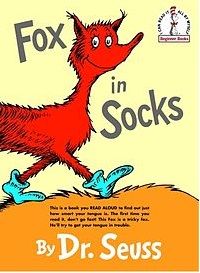 Christina: I love reading books out loud to my kids, and Fox in Socks aways made us laugh with its increasingly madcap rhymes and tricky tongue twisters. The only thing funnier is hearing my thickly-accented Austrian mother trying to read this book to her grandchildren. Wunderbar!
So, what is your favorite Dr. Seuss book? We know you have strong opinions about such things! And search our archives for all of our Seuss-related picks over the years, and you can even check out our Dr. Seuss pinterest board! Happy birthday Dr. S.