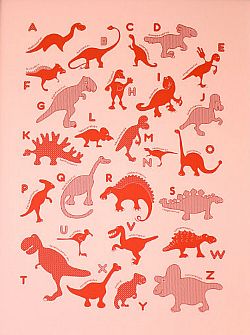 Both of my kids were huge dinosaur fans from the moment they discovered the magic of the enormous T. Rex at the Museum of Science in Boston. One look at those glinty eyes and tiny hands, and they were hooked.
And while I was able to find a lot of plastic, rubber and wooden dinos to fit the bill for for playtime, I quickly discovered that even dinosaurs reside in a mostly gender-specific universe.
Recently, a reader asked us to track down dinosaur dresses for girls, and for those of you nodding your heads vigorously in agreement, I'm happy to find another source for equal-opportunity dinosaur goods.


This 18″x24″ dinosaur print from Aloha Baby
features the ABCs of dinos and comes in pink or blue or yellow. I'd
like to think that girls could have their choice of all three. Or their
moms. I'm pretty keen on pterosaurs, myself. – Barbara

Find the dinosaur ABCs print from Aloha Baby online from Etsy's Aloha Baby.