We imagine that it's every jewelry-loving woman's dream to have a special piece custom designed just for her by an amazing designer. So when we were approached by designer Emily Maynard of Elva Fields for just that, we jumped at the chance. As part of her monthly "Leading Ladies" series, we're so honored join a long list of incredible design bloggers (how much do we love Joy Cho of Oh Joy!?) with own signature Elva Fields necklaces.
We thought it would be fun to show you the cool process that goes into creating a one-of-a-kind piece from start to finish; the finish being the most perfect baubles we could imagine.
For the last month, we've been working closely with Emily to put together our design inspiration, and Pinterest was the perfect venue for that.
Our savvy followers may have noticed Kristen's Style Inspiration and Liz's Style Inspiration crop up amongst our other boards. We each pulled in things we loved, from art and design to clothes, shoes, and other pieces of jewelry. Since we're so accustomed to creating boards for other people, it was quite a treat to be able work on something for ourselves!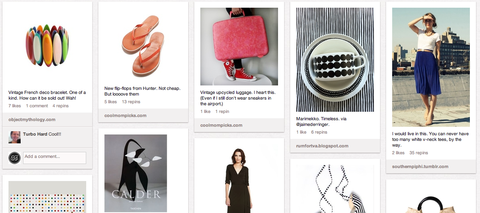 Liz: I realized looking at all the things I loved that a distinctive style emerged–simple, bold, architectural. Contemporary with whimsical mid-century accents–like the Calder mobile, Marimekko dish set, or a Vespa scooter. I gravitate towards hints of strong solid colors to complement neutrals. And while I like my clothing relatively simple and sophisticated, I love my jewelry chunky and bold. (Boy, I love chunky and bold. As if my jewelry picks here don't reflect that!)
Kristen: I've always been drawn to vivid colors and geometric shapes, juxtaposed
with classic silhouettes. Lucky for me that brights and color blocking are so hot this spring and I have so much to choose from. I love jewelry that's playful and fun, as you can see in the rings, bracelets, and necklaces on my board. But I tend to shy away from patterns in my tops, giving my necklaces more of a chance to make a statement.
Once we had about 12-15 images, we shared our boards with Emily, who replied with photos of bead samples that combined the colors and textures from our own style inspiration, as she interpreted it. The samples included everything from vintage buckles to recycled beads, bracelets that could become links in a necklace…it was really pretty incredible to see the way she thinks.
We gave a little direction and each ended up with a distinctive favorite. From that point, Emily did an initial mock-up of our necklaces, which you can see in our Leading Ladies feature on the Elva Fields blog. (Click over–it's pretty cool!)
A few tweaks later, and some genius solutions from Emily who was wildly responsive and intuitive about our personal tastes, we landed on the final designs. And we couldn't be more thrilled with the results.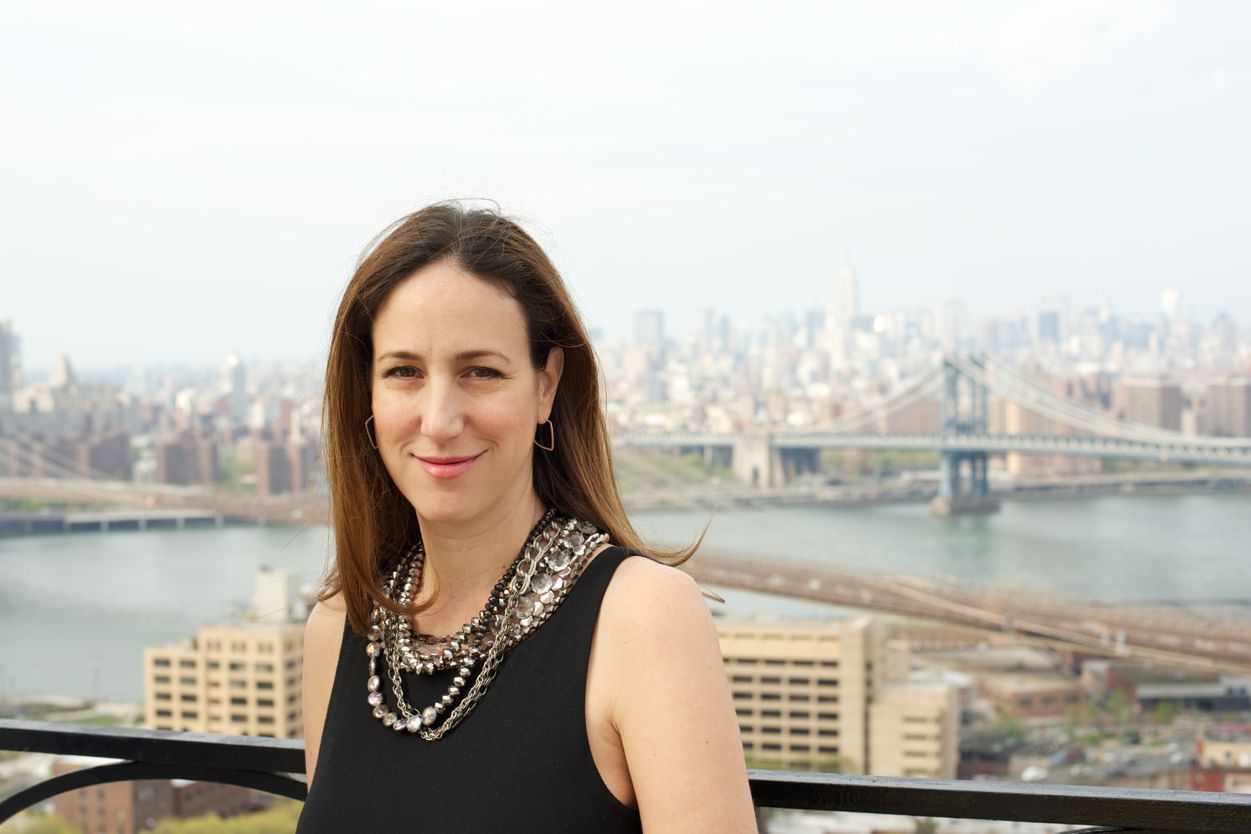 Liz: My necklace is absolutely to die for–a big twist of chunky chains, beads, and even vintage upcycled chandelier crystals. The black-metallic combo means it will go with absolutely everything I own, from white v-neck tees, to swankier dresses. When you see the final necklace close-up, you can see why I'll be wearing it to pretty much every event for oh…the next 30 years.
Kristen: My necklace is really more than I could have imagined and a true reflection of my own personal style. As someone who typically wears solid tanks and tops, the necklace is such a great statement piece — whether I'm headed out for a rare lunch with girlfriends sans kids, or even a night out with my husband. And I admit, it's lovely getting compliments everywhere I go when I wear it.
—-
Huge thanks to Emily Maynard and Elva Fields for honoring us as your April Leading Ladies! You can learn a little more about us over on the Elva Fields blog, as well as take a peek at the design process in photos from start to finish. It's cool!
And if you'd like to purchase your own one-of-a-kind Elva Fields necklace or peruse their beautiful jewelry collection (swooning over those earrings) please visit shopelvafields.com