Fresh fruit is so glorious this time of year that sometimes whirling up a smoothie from a great recipe is the most I need to do with my farmer's market score. All you need at the very least is ice and a killer combination of seasonal fruit. Or, get more fancy if you're up for it with one of these tasty summer smoothie blends. Any of these 8 delicious recipes are worthy of a permanent spot on the counter for your blender. Believe me–you're going to need it.
Adding melon to a smoothie–like in this Green Melon Summer Smoothie from Dash of East–is a great way to switch up the usual berry-banana-peach routine.And psst…there's also an amazing Honeydew and Matcha Tea Smoothie recipe in Peko Peko, the charity cookbook for Japan that I helped to create, which is filled with family-friendly Japanese recipes.
Peaches are on the way and I'll celebrate their return to Brooklyn with Veggie Wedgie's 
Peach Smoothie recipe
made with a frozen banana, vanilla and hazelnut milk. I bet almond milk would work, too, and it's easier to find.
If you want something more decadent, try this White Peach and Ginger Milkshake from Salt & Spatula. Blended with vanilla ice cream, it makes for a healthier dessert that still tastes indulgent.
Lychees and strawberries are quite possibly the most refreshing combination ever. Well, right after lychees, strawberries and mint, which makes this 
Strawberry Lychee Mint Smoothie
that I developed, summer perfection.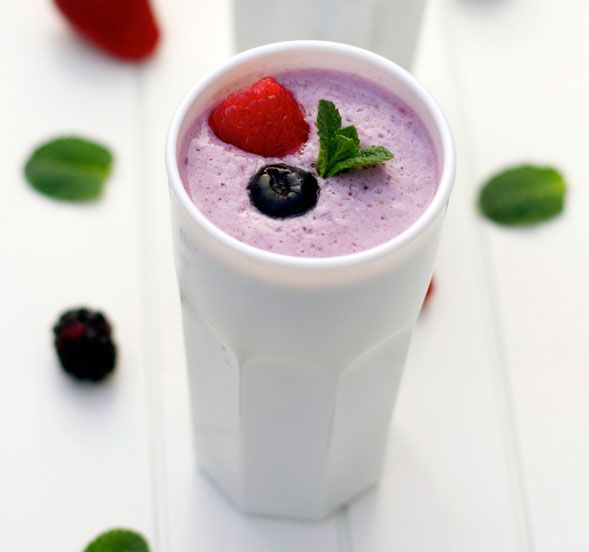 A
Cherry Almond Vanilla Smoothie
sounds pretty delicious, too, which Gina at Running to the Kitchen claims tastes just like Cherry Garcia. Do I need to say any more?