I've always liked BuiltNY's lunch totes, so much so that I own a few of them myself. I can assure you they've all stood the test of time. And the test of peanut butter.
Now they're offering new kid's lunchboxes and brand new reusable sandwich bags that are so cute, we featured them last week on the TODAY Show, and in our back to school shopping guide. I think it might have also made me their new biggest fan.
Their adorable Big Apple Buddies are some of the cutest and well-priced lunch bags I've seen, with insulation, sturdy construction, a wipe-clean interior, and plenty of room for lots of yummy homemade lunches. But I really love that you can now purchase matching reusable sandwich bags, which are such a smart way to cut back on plastic bags and save yourself some money while you're at it.
The velcro closure ensures that snacks or sandwiches stay tight, and when your kids are done with them, you can just pop them right in the dishwasher. Hooray for that.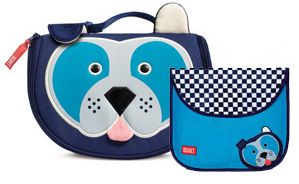 Even better, you can get the value pack, which includes both the lunch bag and coordinating sandwich bag for under $25–something this mom of three school-aged kids really appreciates.