I've always been envious of those crafty upcycle types who can turn a cardboard box or egg carton into an adorable toy or trinket holder. I just don't have enough of the craft gene to make trash look like much more than…well, trash. But now that I've discovered these seriously adorable stickers, that's all about to change.

Eco-friendly craft stickers from Box Play for Kids give regular old recyclables like a quart of juice, a tissue box, or an egg carton a second life by turning them into a bright fire truck, a smiling kitty bank, or a clever place to store little toy animals.
I love the mix of open-play and practical-use items here. My kids will have so much fun tooting on the pretend trumpet made of a paper towel roll, after playing a little game of bowling in the hallway.
I also ike the smiling turtle box which can hold all those little birthday party favors or favorite rocks they just can't bear to throw away. Just as long as they don't try to put a real turtle in it. And this tissue-box cover would look so sweet next to their bed. One tip if you have a rabid tissue user: Grab an inexpensive reusable tissue box cover and affix the stickers to that instead of directly on the cardboard box, and you'll have it for a good long time.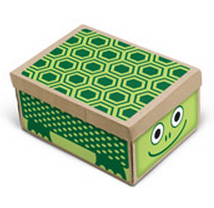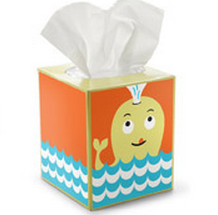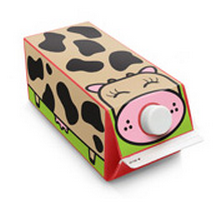 The stickers aren't just super cute, but they are super eco too: Made in the USA, they're printed on uncoated recycled paper. And while it seems logical that you'd need to keep a cardboard tube out of the water, the stickers themselves are also not waterproof–so no taking the little shark into the tub. He's strictly a land shark.
–Christina