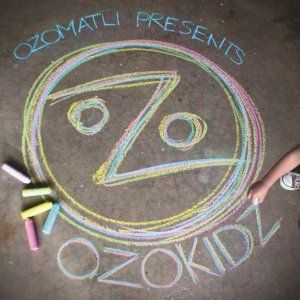 Eighteen years of rocking out plus a Grammy win thrown in for good measure, makes Ozomatli a band for the ages. Yet as big as they've become, the band still rocks a happy home-grown vibe. And their latest venture is a kids' album every bit as awesome as fans like me might expect.

The sound of
Ozomatli
is infectiously fun, especially in the new album,
OzoKidz
. It's a great way to introduce kids to songs that don't fit into a
conventional genre. The
Skateboard
song, one of my favorite tracks, feels like a punk rock anthem in the style of The
Ramones; although
Moose
on the Loose
is easily a close second. And I think it's rad that they mix Spanish and English lyrics in a
natural, unforced way.
I was lucky
enough to catch a live show of theirs when they were testing out their
kids' material. The crowd was loving it, clapping and bouncing along–so I'm thrilled to learn the same comes through in the album. Except for the part where someone was wearing a Lucha Libre mask on
stage, with the Chicken Dance thrown in for good
measure. For that, you'll have to see a live concert yourself. –Eva
OzoKidz is available from our affiliate Amazon. Or find it at a local record store and you will get a box of cool chalk and the chance to enter an art contest.