When you think of custom photo gifts, most people probably think of calendars for Grandma–sweet, but a bit predictable. So why not use photos to make gifts for the littlest members of your family too?
Kids love to look at faces–especially familiar ones–so we think it's a terrific idea to make custom photo gifts for our kiddos. For a few years, we've happened to love the quality of Pinhole Press holiday cards and photo products, so we're thrilled to see some of the amazing new products they have out just in time for the holidays.
Check out the collection of sweet and unique photo gifts that feature your kid's favorite folks. For instance, simple flash cards (above) become a special treat when they feature familiar friends and toys instead of the usual generic cats and dogs. Neat, right?
Your fridge will be the friendliest appliance in your house when you replace those boring old alphabet fridge magnets with these custom photo magnets. Best of all, you can make one set of twelve for the whole family, or three sets of four, so that all your kids can have their own.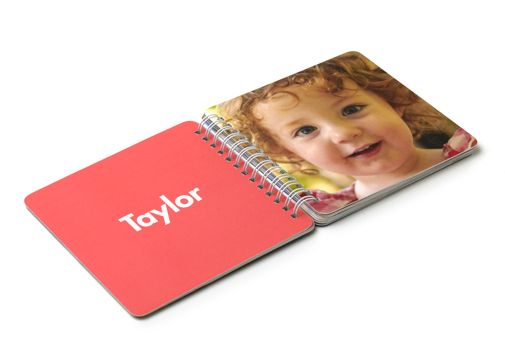 Move over, Goodnight Moon! This ultra thick mini photo book of names and faces makes for an adorable alternative to a board book. Upload the names and faces of up to 25 favorite people (or toys!) and your toddler will be delighted to point out all the people he knows.
Encourage your kid's creativity with a large custom photo scribble pad of their very own! A great idea for families with multiple kids, these pads have a big, gorgeous picture on the cover, so there's no confusion about the owner. (i.e. less fighting)
Older kids will love this custom photo jigsaw puzzle made with a full 252 pieces. Seriously, what a great way to preserve that fun group photo from a birthday party. This makes for a nifty family heirloom as well. In fact, I think I might just make one from my family's holiday card photo. –Roxanna

Find lots of beautiful, high-end quality custom photo gifts online at Pinhole Press, We suggest you get your orders in early for the holidays.