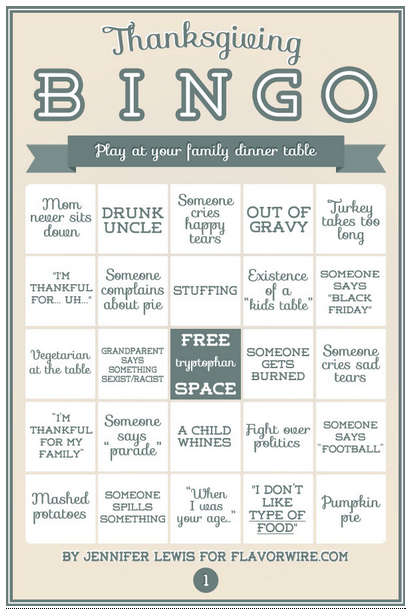 Of all the things I'm thankful for this holiday, my family and friends rank right at the top–which is why I love this funny game we play during our Thanksgiving meal. It keeps us on our toes (and laughing hysterically), even after we've gone for seconds. Or thirds.

The ingenious (and frequently hilarious)
Thanksgiving Bingo game
from Jennifer Lewis for FlavorWire includes bingo squares for those quintessential Thanksgiving moments, like when relatives begin fighting over politics, or one of the kids spills her drink. Some of the spots are pretty easy to fill–like "stuffing" or "pumpkin pie"–while others may prove a bit more challenging, depending on your crowd (in other words, you'd better hope you've got a vegetarian stopping by for something to eat).
Now when Grandma says something that's not politically correct, instead of rolling your eyes and biting your tongue, you may instead cheer and yell
Bingo!
Yup, here's an activity that is certainly more fun than the Annual Pulling Apart of the Wishbone. –
Christina