When decorating a new baby's room, most people don't think, wallpaper. Even if you do decide to entertain the thought, how many of us these days have the slightest clue how to hang it?
I'm not saying that this wallpaper hangs itself, but I am saying that it's beautiful, it will change the look of any room and that it is easier to install than most. Plus, it comes from one of our very favorite companies to turn to for all things cool for babies.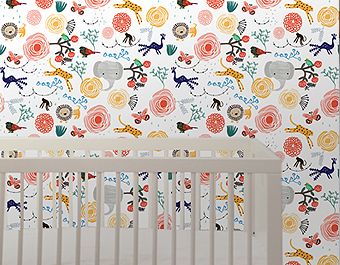 Wee Gallery, makers of the most beautiful baby soft books, inspired activity books for toddlers, and wall decals that bring any nursery to life,
has just introduced their new adorable jungle and cloud wallpaper for children's rooms. The peel and stick
wallpaper rolls are removable and reusable. That's a wallpaper miracle!
They are also PVC-free, which is a really big deal for me, especially when they're arm's (and mouth's) length from a child at any time.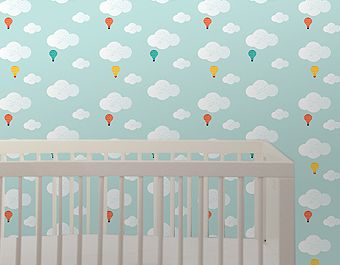 Another
great detail is that they come in half kits and whole kits, depending
on how much paper you need. Now you won't need to worry about having too
much excess paper when completing your project. I give this two thumbs
up!- Kirsten
Shop easy peel-and-stick wallpaper for children's rooms and much more at Wee Gallery.