Whether you're cozying up with family or hosting a big New Year's party, New Year's Eve calls for party food that's easy, potentially kid-friendly, but also elegant for us cool parents. High maintenance? Nah. We've got New Year's Eve eats and drinks that hit all those marks and then some, no problem.
These five appetizer recipes are just as easily turned into a fun family tapas style dinner. And the cocktails pairings? They're just as good spiked with booze as they are without, so that everyone can have a fancy sip. Celebrating the New Year with fabulous family style has never been so easy. –Stacie
Appetizer: Roasted Grape Bruschetta
I love this beautiful and unexpected take on bruschetta (above) by Sacramento Street, made with fresh ricotta. Fresh ricotta is worth a little extra effort, so do skip the tubs in the supermarket and head to your local cheese shop for the good stuff–you'll notice the difference immediately.
Cocktail: Pomegranate Mint Spritzers
Pair these bites with Pomegranate Mint Spritzers from Turntable Kitchen (at top). The recipe is non-alcoholic, but you can easily swap champagne for the sparkling water if you want to buzz in the new year.
Appetizer:  Grilled Cheese with Thyme Honey and Fresh Figs
Listen for the ooh's and ahh's when you place this gourmet take on Grilled Cheese from Not Without Salt on the table. This gorgeous sweet and salty app can be made with whatever's your favorite soft cheese. Triple cream brie anyone? Pair with slices of baguette.
Cocktail: Lady Mary Champagne Cocktail,
Whether you're serving grilled cheese or not, I'd love to sip on this fresh combination of Lilet Blanc, lemon juice, basil and champagne, courtesy of The Kitchn. Use sparkling pear juice in lieu of the Lilet Blanc to go virgin, and swap champagne for gingerale or a lemon-lime soda.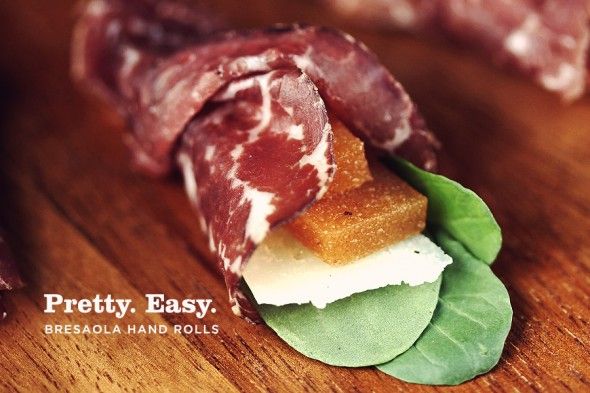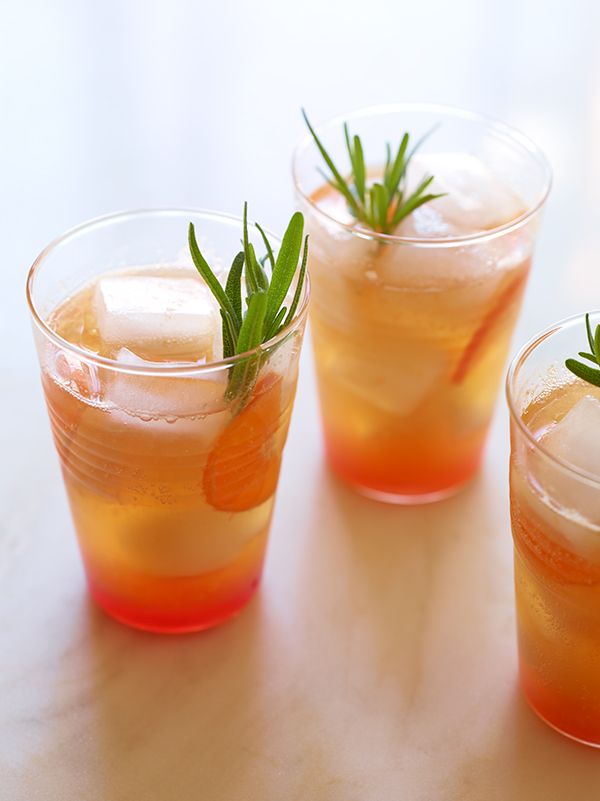 Appetizer: Bresaola Hand Rolls
No cooking is required to whip up these genius Bresaola Hand Rolls from Aida Mollenkamp. All you have to do is wrap a few pieces of arugula topped with cheese and quince paste with a thin slice of bresaola, a delicious, Italian air-dried beef. Can't find bresaola? No worries: Use proscuitto or plain old ham for the kiddos.
Cocktail: Cranberry Tangerine Rosemary and Cream Soda Mocktail
The bold flavors of this app call for a fruity drink like this delicious recipe from Spoon Fork Bacon that couples fruit juice, fresh rosemary and cream soda. Adults can just add vodka for a spiked version. Mmm.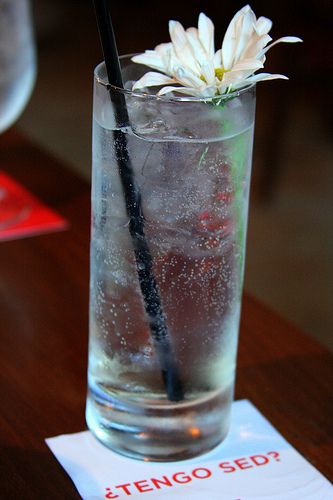 Appetizer: Warm Pear and Blue Cheese Tart
I have sung the praises of frozen puff pastry many times on my site, One Hungry Mama. The stuff is embarrassingly easy. Just thaw, roll out, top and bake. This tart recipe posted on Leites Culinaria layers a heavenly combination of juicy pears, sweet honey, salty blue cheese, and slivered almonds over puff pastry. Leave one area free of the cheese if you want to share with kiddos who are not yet down with the stinky variety but they just might be okay with the balance.
Cocktail: St. Germain Champagne Cocktail
Whether your appetizers are as flavorful as the tart or otherwise, the St. Germain champagne cocktail from famed Chef Marcus Samuelsson looks like a delicious take on regular old champagne. Use sparkling cider and a dash of lychee–or some other sweet fruit–juice to make a non-alcoholic version for the kids.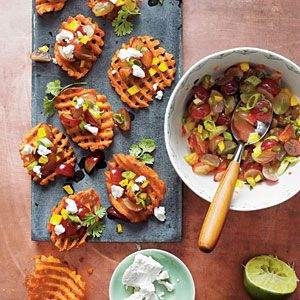 Appetizer: Sweet Potato Crostini with Goat Cheese and Grape Salsa
This crostini recipe from Southern Living may yield a single bite each, but just try eating one. Impossible! No worries: making a big batch is a sanp with this recipe from that calls for frozen sweet potato fries.
Cocktail: Improved Mendota cocktail
Pair this spunky app with Serious Eats' recipe for a fun riff on the Mimosa using beer. Use ginger ale instead of IPA for a non-alcoholic version. I bet it would be delicious New Year's morning too.