Let's talk storage solutions, shall we? Or rather, my lack thereof. Bills and random paperwork end up mishmashed into the Play-Doh tub (which, of course, contains no actual Play-Doh). There's not one item of winter clothing in the winter clothing box, but for some reason there are six spoons in the bathroom drawer.
My only real consolation? A lot of you are living exactly the same way. Luckily, these storage options offer those of us dreaming of a more organized home the chance to sort out our stuff in the most stylish, prettiest way possible–meaning that this just might be the year for Operation Find a Place for Everything. –Lexi
Big plastic storage tubs are convenient and all, but they're–you know–plastic. And they just can't hold a candle to the loveliness that is a Jenna Rose Handmade round cotton bucket (we've adored her stuff for ages). This soft bucket has an original design hand-screened right onto it–so worth the $50 it costs to snag one.
Chewing the Cud is tops when it comes to home organization that looks great and gets the job done. Their fabric bins are made with recycled fabric and soy-based inks, and they come a wide range of sizes, so you can use them for anything from organizing the snack cabinet to getting all the towels in order ($12 to $69.50).
See Jane Work is always a great resource for pretty stuff for your home and office, and this desk caddy is just one of the dozens of reasons why. Not that we expect you to make sure all your pencils are the same color. ($30)
We've been absolutely smitten with these wildly clever vintage train case charging stations since we first found them. We'd imagine an intrepid crafter could make her own, but I'll stick with the ones from Minneapolis's SugarScout. Wouldn't you much rather look at this next to your bed or desk than a tangle of cords?
One of the biggest contributors to bedroom clutter is the mess of jewelry on the night table. One of my resolutions is to get it wrangled into a pretty jewelry box–with a cover. That closes. I like the 70's-inspired jewelry boxes from Wolf Designs at Gracious Home, which are a smart investment. Especially now that they're on sale. (Now $84, down from $120.)
This wooden book bin looks like it's DIY, but it's actually the product of Abel and Baker, which takes old books that have been thrown out and upcycles them into one of the coolest storage boxes around ($58). It's one of our favorite recent discoveries!
Sometimes it's the little things that make the difference. Look for decorative pushpins, paperclips or even these cool binder clips from Jonathan Adler with retro floral designs. When they're clipping papers together that hang from your bulletin board, it just makes the whole thing nicer to look at.
Ninety-six percent of what kids bring home from school is artwork (I may have made up that stat–but that's exactly what it feels like), and these pretty art storage boxes ($18, See Jane Work) are way more elegant than shoeboxes for the preservation of your childrens' masterpieces.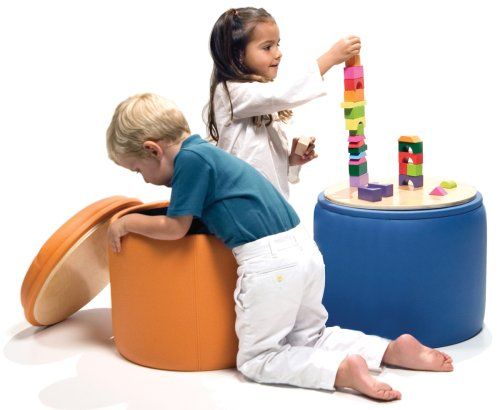 Need a storage solution that you don't mind the kids getting into? The P'kolino Ottoman is so mod, I can't even take it. But it's also hollow, so it hides all kinds of odds and ends, and has a board underneath its top, so it transforms into a little tabletop for kids to build on or use for art projects. All of which means that the dining table might finally (finally!) be clear of crayons and glitter long enough for us to have dinner on it. ($159.25)