This year, a lot of parents are resolving to buy healthier lunchbox snacks that are kid and cool mom approved. Seem like a tall order? Not with these five healthy snacks.
I know that healthy snacks can be hard. So many taste, well,
healthy
. These five products are different. They get high marks on health and taste, and I'm not the only one doing the grading. My boys have signed off on these treats, too. Hooray for one no-brainer resolution! –
Stacie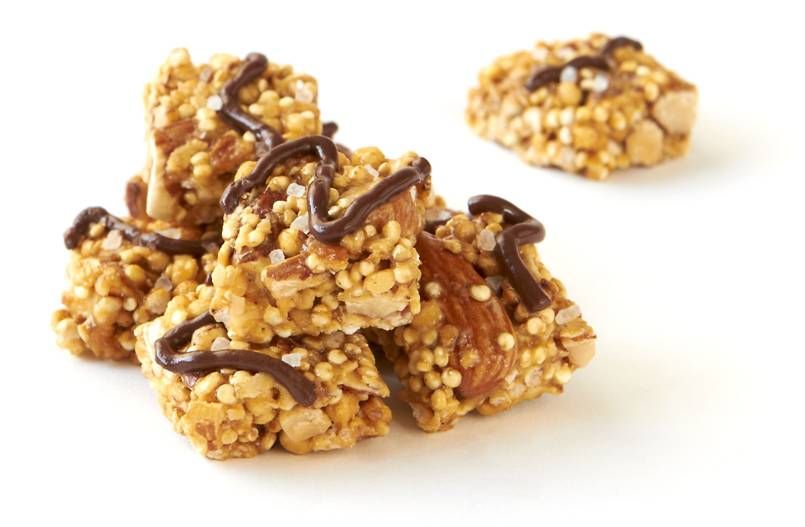 Thought
the quinoa trend was over? Think again. The most genius product churned
out by the quinoa craze is just hitting stores now in the form of this
tasty, bite-sized snack. Made with puffed quinoa flakes, whole quinoa,
nuts and all-natural sweeteners, these naturally gluten free snack
clusters are nutritious and delicious. They have a hint of quinoa's
trademark smoky flavor, which goes particularly well with the dark
chocolate drizzled on top of the chocolate sea salt flavor. If chocolate
isn't your thing, choose from one of the other three flavors: almond,
cranberry cashew or ginger peanut.
I've
got to admit: I tired the all-natural roasted chickpea snacks by The
Good Bean a while back and wasn't so sure about them. Many months later,
I decided to give them a second try. Lo and behold, the boys and I were
pleasantly surprised. Turns out, they adjusted their recipe ands are
churning out undeniably delicious treats in four flavors: sea salt,
cracked pepper, smoky chili and lime and, my our favorite, sweet
cinnamon. Now we munch on these high-fiber, high protein snacks all of
the time. Good thing they are also low fat, gluten free and non-gmo! The
Good Bean has also started making a tasty
Fruit & NO-NUT Bar
in three flavors that's especially awesome for families following allergy-free diets.
The
OneBar is a simple concept: one perfectly sized snack bar with one pure
serving of fruit. The OneBar has no added sugars, is gluten-free,
peanut-free and vegan. It is also enriched with baobab, an African super
fruit high in antioxidants, calcium, essential minerals, and vitamins C
and B complex. It's just the right size for little ones and–the best
part–at $0.99/bar, it's just the right price for you. OneBar comes in
three flavors: apple, cherry and mango. We have a hard time choosing our
favorite!
You can buy these snack bars through the OneBar site.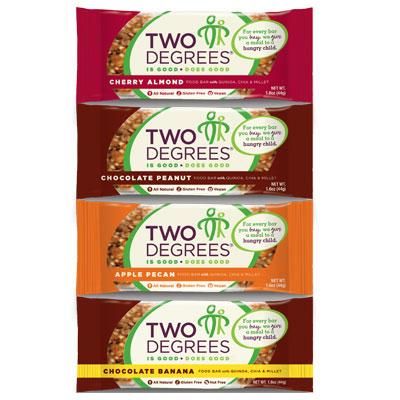 I
was initially drawn into this brand by their mission: committed to
helping feed 200 million hungry children, Two Degrees donates one meal
to a hungry child for ever bar that you buy. When all it takes is buying
an all-natural, vegan, GMO and gluten free snack bar to help feed
hungry children, consider me in. When the bars actually taste good,
consider me in over and over again. These snack bars, made with quinoa,
chia and millet, come in
four flavors
. I'm partial to cherry almond, but my boys like the chocolate peanut best.
You can buy these snack bars through the Two Degrees site, where you can also buy a virtual bar to donate money to their hunger-fighting cause.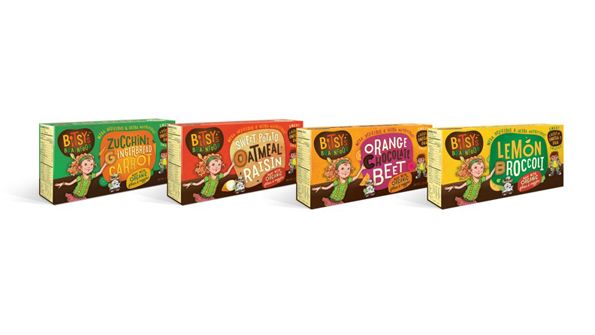 I'm
not one for secretly tucking veggies into kid favorite foods, but that
doesn't mean that veggies shouldn't be incorporated in unexpected
recipes. If I wasn't okay with that, there would be no such thing as
deliciously sweet zucchini bread and that would not be okay! Bitsy's
Brainfood cookies are a lot like my favorite zucchini snack: a sweet
treat packed with veggie goodness and delicious flavor. These are still
cookies, but reasonably sized ones that serve as a source of Omega-3's,
vitamins, calcium and whole grains. They come in
four flavors
. I
like the Zucchini Gingerbread Carrot (of course), but my kids dig the
Lemon Broccoli. And, yes, they know there's broccoli in there, but yours
don't have to.