I was a crazy obsessive reader as a child (still am), and I can still remember the absolute thrill of opening a new book and entering the new world of a story. So it was pure joy to relive that feeling with my daughter as we opened a new world together: the world of Jennifer Fosberry's Isabella.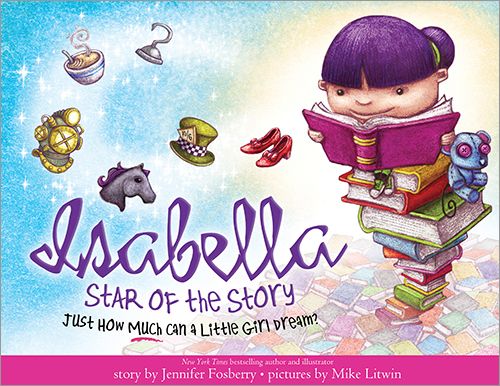 Those familiar with the award-winning Isabella series know that our girl Izzy explores the idea of herself as famous women in history (My Name Is Not Isabella) and travels the world without leaving her neighborhood (Isabella: Girl On The Go), but my favorite by far is the new book, Isabella: Star of the Story, because armed with only a library card and a fantastic imagination, Isabella becomes Alice tumbling down the rabbit hole, Peter Pan flying to Never Land, Dorothy on the yellow brick road and even more of the characters that I dearly loved as a child. To see my daughter's interest be stirred by Isabella's trip into these great stories was confirmation that the Isabella series does exactly what it sets out to do: get kids curious about books, or historic figures, or faraway lands.
My daughter has now added Alice's Adventures in Wonderland, Peter Pan, Black Beauty, and The Wizard of Oz to her reading list. Thank you, Isabella. –Shari
Find Isabella: Star Of The Story at the Sourcebooks Store.