It's May the Fourth, Star Wars fans. Get it? May the Fourth…be with you. So party hard, we must with these recommendations for the coolest items and tips for throwing a great Star Wars themed party for the kids. Or…not the kids?
One of the great things about Star Wars is that all ages can enjoy it, especially as relates to parties. For example, even the tiniest padawans can enjoy these Star Wars party kawaii cupcake toppers from Party Paper Parade on Etsy without any of the scary rancors or the Emperor's creepy, veiny face.
Before descending on a wretched hive of villainy, be sure to grab this PDF for ten printable Star Wars character masks that will fit kids and adults of all ages, depending on the length of elastic you attach. With kids decked out in nine trilogy characters and one adorable Padme Amidala to give girly girls an extra choice, we're willing to bet your house will be crazier than a brawl at Mos Eisley Cantina. [Edited to add: Unfortunately, this product is no longer available.]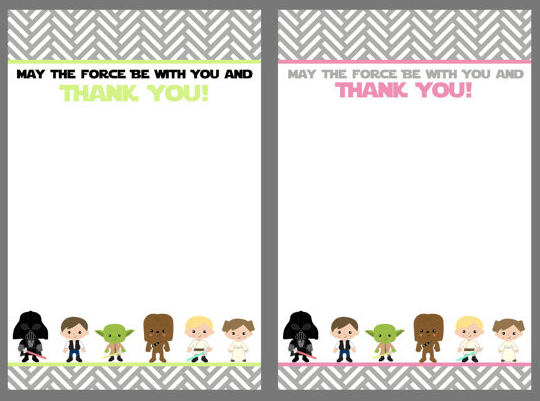 Girls like Star Wars too, and we love that this set of Star Wars party printables on PDF from A Pretty Little Party on Etsy comes in green or pink. (And yes, girls like green too.) The set includes notecards, thank you cards, a banner, favor tags, and cupcake toppers and comes with customization.
With this Star Wars Glowing Lightsaber Ice Pop maker, you're in control of your own destiny…and the flavor of your treat. Just add juice, yogurt, or other goodies to the two Luke and two Vader screen-accurate hilts, pop 'em in the freezer for four hours, and soon you'll have a room full of kids slurping away at LED-lit glowing blades. (Don't forget two AAA batteries per hilt.)
Having a Star Wars party for the grown-up Jedi? Dagobah's pretty dark at night, so you might need these handy R2D2 lights<. They're safe for indoor or outdoor use and include ten handsome little bots. [Edited to add: Unfortunately, this product is no longer available.]
That's no moon! For a high concept/low work treat that will impress the entire party, you can carve a watermelon like the Death Star. We can't find any instructions, but you should be able to pull it off with a veggie peeler and a melon baller.
The search for cute, cheap, creative party favors is as futile as fighting a Sarlaac pit. Or is it? These adorable DIY Star Wars cards let you add a ten-cent glowstick for an impressive touch, and you could easily modify the wording or use your own graphic to thank your guests for their service to the Empire.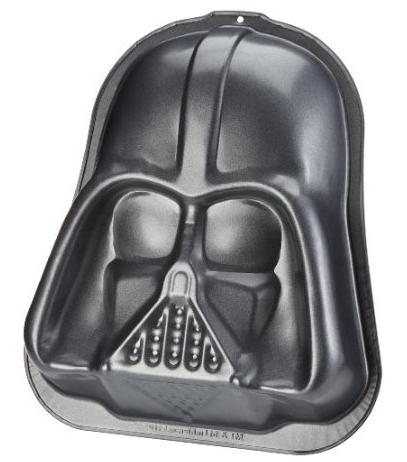 There's no Darth of amazing cake options, but if you're going big, we dig this Darth Vader helmet cake pan. Rig up an iPod playing his breathing behind it, get some dry ice smoking, and play the Imperial March as you bring in the red, glowing candle eyes.
Another favor idea: iced cookies, which are cooler than Hoth. You can get a set of four characters of Star Wars cookies or four Star Wars vehicle cookies from our Amazon affiliate. Ice 'em, wrap 'em in cellophane, and try to keep Salacious Crumb from stealing 'em.
Whether you're aiming for a mob of little padawans, a cantina of brawling Bith, or an Ewok dance for all ages, May the Fourth be with you!