At some point this school year–sooner than you think–both you and your child will grow weary of the humble school lunch sandwich. It's a known quantity, which is comforting some days, but not every day, right?
So here are 9 easy school lunch recipes–most of which require zero planning, the rest of which can be made ahead and stored in the freezer–that will inspire you to throw caution to the wind and ditch that sandwich bread. –Stacie
Threading yummy ingredients onto skewers is maybe my favorite way to change up school lunch, especially when the results are as cute as these Ham, Cheese and Tomato Skewers (above) from Skinnytaste.
A great option to fill those bento boxes: DIY Hummus Plate like this one from the One Hungry Mama Facebook page, where I have a homemade school lunch gallery filled with photos of the school lunches that I make all year long. (Seriously–I start again on Sept 9th!). Add hummus, pita or tortilla chips, some cut veggies, a hunk of cheese, and, if you have one in the fridge, a hard-boiled egg…and there you have it: a work of lunch art.
Sometimes, it's just as easy as skipping the bread, like with these Ham, Cheese and Apple Wraps from Momables. Super simple, and you can create other combos using lettuce, kale, bologna, sliced cheese, or other wrap-happy ingredients to hold it all together.
Get funky for your monkey with my Peanut Butter Banana Bites, substituting bananas for bread. And, yes, this two-ingredient school lunch is just as delicious with SunButter or other peanut butter alternatives.
We can't talk classic kid bites without talking about English Muffin Pizzas. This simple recipe from Baked By Rachel can easily be thrown together the same morning that you want to send it to school. Or prep the English muffin, sauce, and shredded cheese and wrap tightly in plastic wrap to store in the freezer. Pop a frozen "pie" in the oven when you get up, and it'll be ready in plenty of time to go into your little one's lunch box. And, yes, these hold up well enough to make a tasty, non-soggy lunch: my kids can vouch for that!
Wanna really think outside of the (lunch)box? I love these Mini Corn Dog Bites from Iowa Girl Eats. She swears that they taste exactly like State Fair corn dogs. This isn't a morning-of recipe, but you can easily whip up a big batch on the weekend to pop in the freezer. Then, when you want to pack them for lunch, toss a few in the oven during breakfast.
Have a fancy eater on your hands? My older son, who will try anything, has a particular weakness for Japanese food. Onigiri, or Japanese Rice Balls, give him a fix of his favorite cuisine in his lunch box without giving me extra work in the morning. This post with video on La Fuji Mama shows just how easy they are to make. Fill with leftover veggies–unless your kid likes seaweed like mine. And by the way, I know from personal experience that if you mess up, you can toss the whole shebang into a thermos container and call it a Japanese rice bowl. Done.
Julie at The Little Kitchen takes her time with these Spinach and Dubliner Cheese Egg Cups. She adds hash browns, bakes those until they are browned, then adds eggs and cheese, and bakes some more. Knock yourself out if you feel like doing the same, or skip the potatoes and bake up a dozen spinach, egg and cheese bites in 15 minutes. Then pack the quiche-y bites for a protein-packed lunch.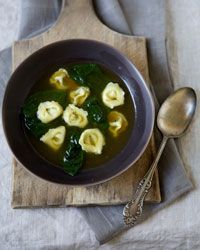 Skip the bread and pull out the thermos! The easiest way to ditch the sandwich is to make use of leftovers or warm up a quick soup. I love using leftover rice and beans to make a lunchtime burrito bowl or throwing together a quick tortellini and spinach soup (pictured) using chicken broth, baby spinach and frozen tortellini.