Now that we've covered awesome school lunch resources and simple lunch ideas–it's time to tackle dinner recipes for the kids. Here are six fairly fast dinner recipes sure to fit into your back-to-school routine, no matter how hectic. These dinners are a little different and a lot delicious. No spaghetti here. –Stacie
I'm obsessed with this Asian Salmon Bowl with Lime Drizzle (above) from Epicurious and so is my family. It's healthy and ridiculously delicious–even my picky 3 1/2 year old digs this tangy, garlicky dish. Best of all, it takes about 30 minutes to make and can be served in a single bowl. Hello, easy clean up!
Jenny from Dinner: A Love Story is one of the best quick-draw dinner chefs this side of the blogosphere. This Pretzel Chicken is one of her favorite-ever weeknight dinners. I can vouch for why it's one of Jenny's keepers: it's crazy good. And an easy sell for kids: pretzel plus chicken.
I love the idea of sloppy joes, but a mound of beef piled on a big roll isn't exactly the healthiest dinner. Unless, of course, you adapt them like these Beef and Lentil Sloppy Joes by Andie of Can You Stay for Dinner. These lighter joes are packed with healthy legumes and, with a big salad or side of steamed broccoli, make a quick, filling meal that's fun, too.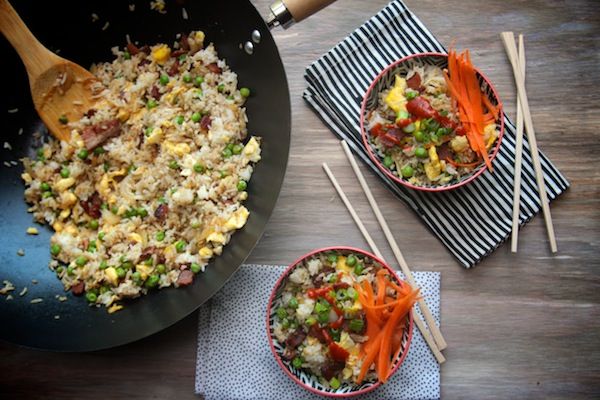 Okay, forget healthy. I do happen to love the idea of Bacon Fried Rice. My kids and I have decided this is worth a try. It's easy, quick…and made with bacon. Which is clearly not just for breakfast.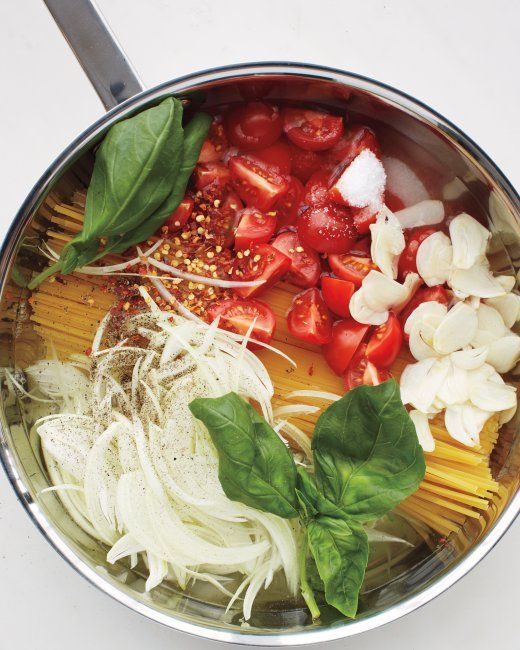 This One Pan Pasta from Martha Stewart is pure genius. It's not just served in a single bowl, it's made in a single pot, in a single step. This crazy method worked like a charm for me and will for you, too, if you're a lover of super simple, light pasta dishes. Perfect for a quick weeknight dinner.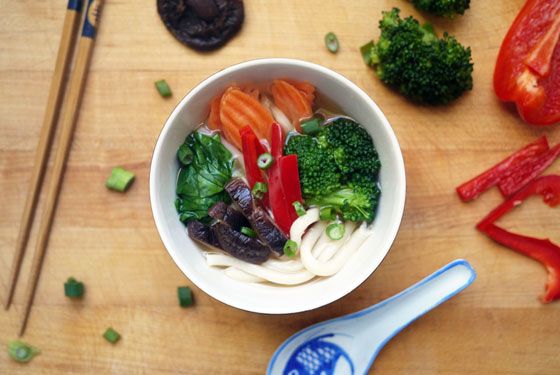 The vegetarian Weeknight Udon Noodles from my own site, One Hungry Mama, is one of my personal fave quick weeknight meals. It comes together in about 30 minutes and is packed with veggies. Everything you need to feel good about a quick dinner in one bowl! I use pepper, carrots, spinach and broccoli, but you can use whatever you have on hand–whatever your kids will eat without a fuss. I keep udon noodles in my cupboard but, in a pinch, you can substitute any kind of pasta.