The ever-growing lead time on holiday marketing can be overwhelming. I'm really not ready to think about Hanukkah or Christmas. But Halloween? That's a different story. Especially Halloween party snacks. Bring it on!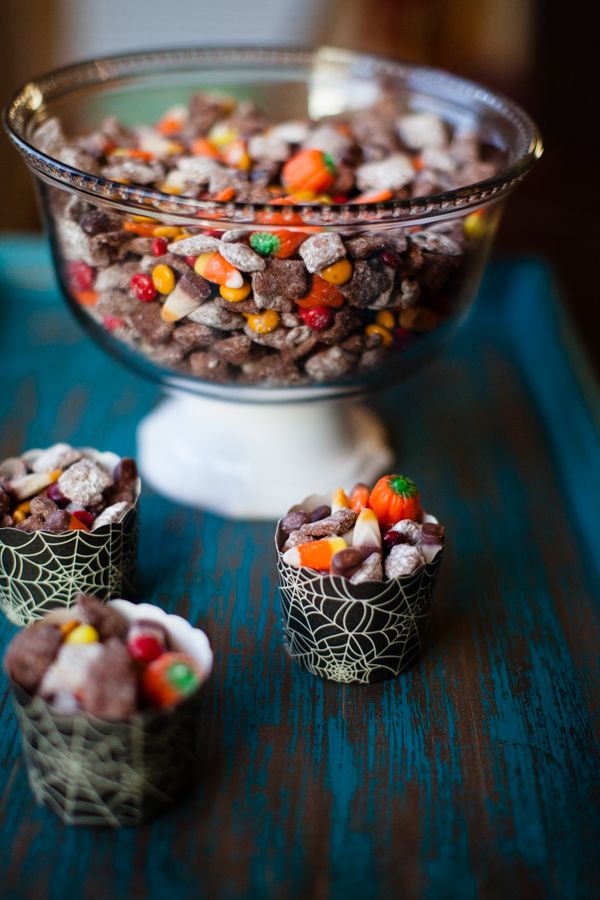 We've already had a Halloween party (no joke) and I'm happy to report back with six simple, festive snacks that will get you excited to dress up and party down. These snacks are easy to make whether you're hosting a big gathering or just a few friends. Yup, there's no way I'm going to give you an excuse to let the Halloween season pass without a proper celebration. –Stacie
Beware of the Halloween Puppy Chow with Nutella recipe (above) from a Southern Fairy Tale which is more creative than just dumping M-n-M's into a bowl. Try it once and it will haunt you forever. It's that good.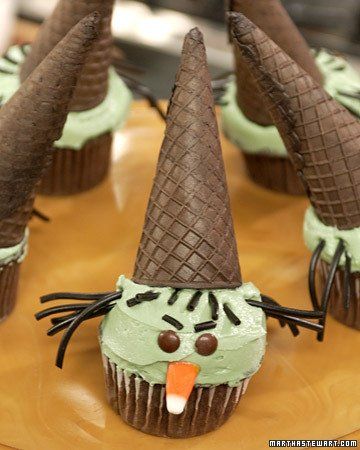 Could these Halloween witch cupcakes spied at Martha Stewart be any cuter? The upside down cone as a hat is inspired. You can certainly make cupcakes from scratch, but even Martha's recipe calls for store-bought.
I love these skull and bones chocolates from Shauna Younge because they manage to be fun and spooky without being gory. Plus you won't be spooked by the process one bit: Melt white chocolate, pour in mold, pop out, serve. Shauna used molds from her local Super Target, and you can find similar Halloween molds via our affiliate, Amazon.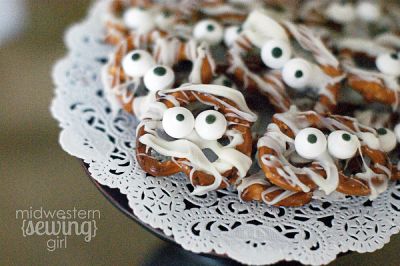 Not only are these pretzel mummies from Midwestern Girl DIY adorable, but even little kids can help make them. Get the little ones to work before guests arrive, or turn this into a fun party activity. You can grab candy eyeballs from our Amazon affiliate store.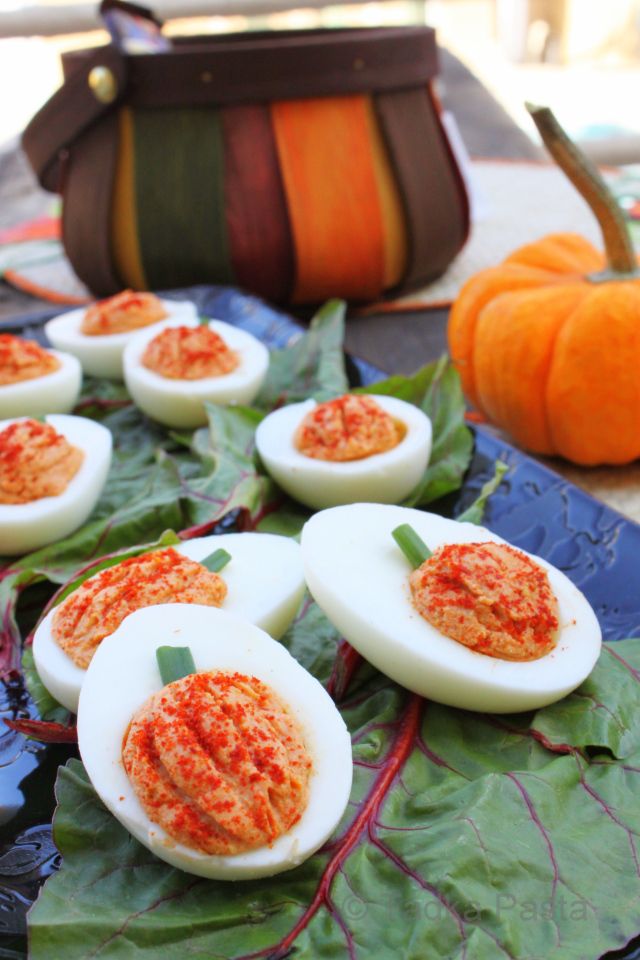 If you're looking to trick out your treat table with a healthier snack, I love the idea of these deviled eggs shaped like pumpkins from Tadka Pasta. The Thai-spiced recipe sounds crazy amazing, but feel free to make whatever deviled eggs you like best. As long as you have paprika and chives, you'll be able to pull off this protein-packed snack, no problem.
No Halloween party is complete without a parting treat and I vote for these genius S'mores Goody Bags. Stuff a bag with graham crackers, a marshmallow, and mini chocolate bar and top with a pretty printable from the Anders Ruff shop.