Apple season is in full swing, which means we've got to find things to make with all them apples! As much as I love them, I'm finding myself seriously challenged by the the huge quantity of fruit I end up with during apple season. It doesn't help that everyone's clamoring for pies, cakes, dumplings, and other sweets that take a lot of time to make.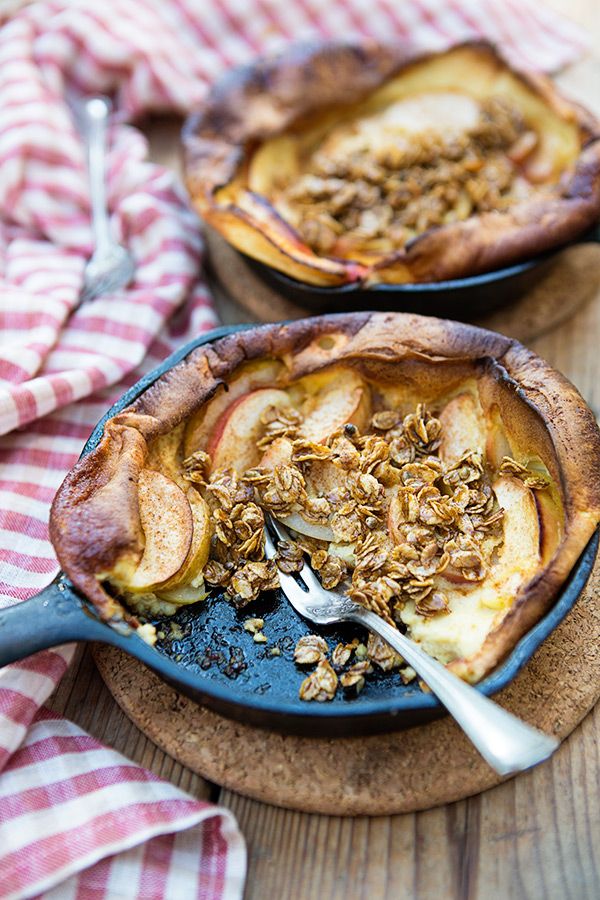 This year, I'm taking apples into my own hands with these 6 easy-to-make apple snacks and desserts, that go a little further than slicing apples up and dipping them in peanut butter. Still, your family will be super happy with the results of your not-so-hard work. So fear not, mamas: apple-pick with abandon. I've got you covered. –Stacie
Not everything that requires a batter is labor intensive. In fact, you can whip up these Maple Crunch Apple Puff Pancakes (above) from Food For My Family in just a few minutes. What comes out is a thing of beauty that's just as good as dessert as it is for a snack or breakfast.
These Baked Apple Donuts from The Cake Blog are another great example of a special treat that comes from a simple batter, no mixer required. Just pull out a whisk, your wooden spoon, and two bowls, and get to work. I bet these are delicious plain, straight out of the oven, but you can be sure that I'll take the extra step to coat them in cinnamon sugar.
Apple chips are good, but Baked Almond Apple Crisp Rings from Running into the Kitchen are better. Why? Because you can eat them like a snack or do as Gina does and top them with maple syrup or vanilla ice cream (or both?) for dessert.
I had never heard of Taffy Apple Pizza before spying it on Love Grows Wild. How did I survive without this apple, peanut buttery, sugar cookie treat in my life? Must make. You can whip up homemade sugar cookie dough, but remember, we're keeping it easy. I'm going to use store bought since, thanks to brands like Cool Mom favorite Immaculate Baking Company, it's easy to find all-natural, pre-made sugar cookie dough these days.
I can't stop making this Slow Cooker Chai-Spiced Apple Butter from my own site, One Hungry Mama. Probably because it takes 10 minutes of work, tops. When the slow cooker is done doing it's thing, you're left with a sweet apple spread that turns everything from toast to waffles into a special apple-y treat.
You may think that raw apples don't compare to all of the other fabulous treats I've found, but this Mango Apple Salad from Shutterbean is different thanks to the sugared lime zest sprinkled over the top. This is an insanely good way to serve up fresh, crisp apples, even if you don't have mango on hand.