Sometimes a gift comes to you, and you can tell before you even open it that it's going to be really special. From the hand-lettered mailing label to the Swiss-dot mini clothespin and vellum gift bag, you can totally feel the love that went into making even the smallest package from the Etsy shop Ordinary Mommy.
Faith Lex, a mom (obviously) from eastern Pennsylvania, designs exquisite felt animals and accessories and sells them at her Ordinary Mommy Etsy shop. These whimsical little guys would make perfect ornaments for your Christmas tree, would be darling tied onto Christmas gifts, or they'd be sweet to hang from a mobile over your baby's crib. I got the momma and baby owl (above) and have hung it on the chalkboard in our kitchen where we write out our to-do list–a reminder to us to use our time wisely, right?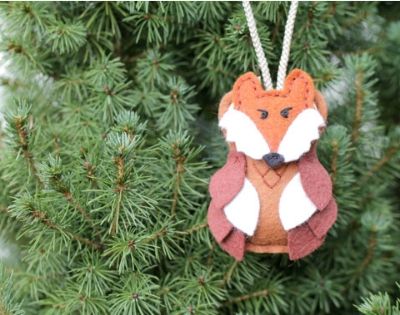 Ordinary Mommy has dozens of variations on the owls–I particularly like the guardian angel owl and the super hero owl, but there are also owls for the different astrological signs, or she'll customize an ornament for you with your initials or the year. I can't help but love this little fox too–he just looks like he has something up his sleeve.
If you're not an animal fan but still love some handmade felt, her handmade baby buntings are a really fabulous design touch to your little girl's room and the hair accessories are to die for. Yup, pretty much nothing ordinary here. -Kate
Visit Ordinary Mommy's Etsy shop for extraordinary handmade gifts. Place orders before 12/10 to make Christmas delivery in the US.