This year marks the first Thanksgivukkah–when the first day of Hanukkah falls on Thanksgiving day–since 1888. That pretty much requires amazing Thanksgivukkah hybrid dishes, considering the next one isn't going to happen for another 78,000 years or so.
Traditional Hanukkah foods like donuts, fried potato pancakes, apples, and sweet potatoes pair perfectly with classic Thanksgiving ingredients (like uh, apples and sweet potatoes), which means that Thanksgivukkah has opened the doors to the ultimate holiday food mash up. Donuts meet cranberry sauce. Latkes and turkey. Challah for stuffing. Yes, yes, yes!
Check out these six ultimate Thanksgivukkah recipes for a once-in-a-lifetime meal. You don't even have to be Jewish to love them.
It may not be the quickest recipe, but it's impossible not to share these Pecan Pie Rugelach by Christine Byrne for BuzzFeed. What an amazingly seamless combination of two traditional holiday foods! If you're feeling ambitious, you should give this recipe a try. It has lots of steps but it's not particularly complicated, especially with Christine's step-by-step photos.
If you're one of those people who tries to get a little bit of the entire Thanksgiving meal on your fork for every bite, you'll appreciate these Potato Latkes topped with Turkey and Cranberry Chutney (above) from The Girl In The Little Red Kitchen. It's the same idea, but using a fried potato pancake as the food delivery mechanism instead of a fork. Genius.
Tzimmes is a sweet stew of carrots, other root vegetables, dried fruits, and raisins served at some Jewish holiday meals. I think of it as being a dish for Rosh Hashanah, the Jewish New Year, but won't complain that Stefani Pollack of The Cupcake Project drew inspiration from this dish for her Thanksgivukkah Tzimmes Pie published in Parade magazine. This dessert is a cross between sweet potato pie and apple pie with some carrot cake thrown in for good measure, finished with a raisin crumb topping. An epic dessert for an epic holiday.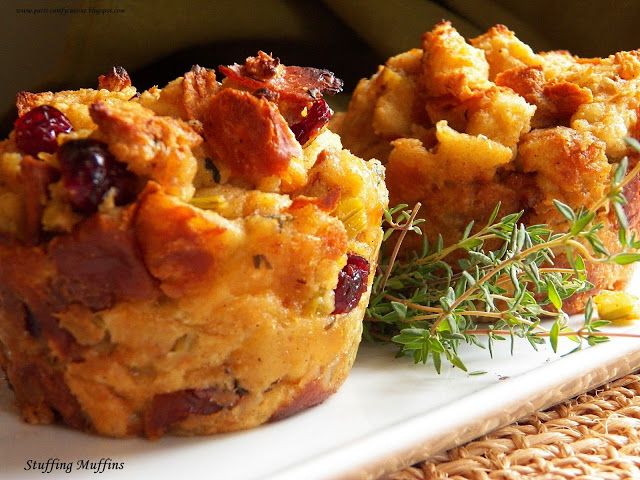 Challah bread is so amazing in every way, and while of course you can use it to make challah stuffing, I also love the idea of baking challah stuffing in a muffin tin to make individual portions. How pretty are these Caramelized Onion Challah Stuffing Muffins from Comfy Cuisine? And a great way to make sure that nobody hogs all the dressing. (You know who you are!)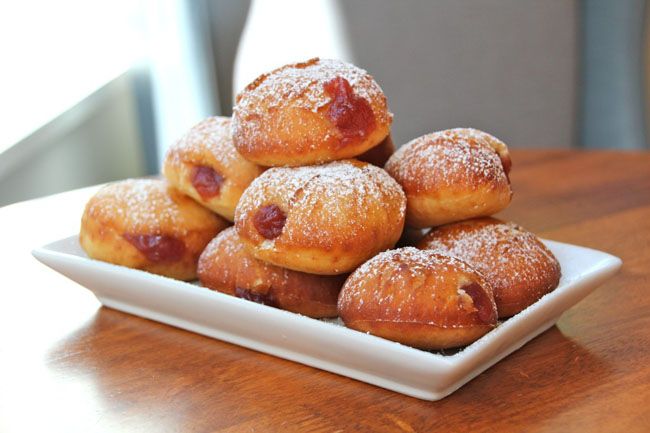 These Cranberry Sauce Filled Sufganiyot, a kind of jelly donut traditionally served at Hanukkah, and spotted on Jewish Boston, look amazing. But honestly, making donuts at home isn't as easy as pie. (I know, I've done it.) That said, this is a special occasion and it's not like you'll have to make these again, well, ever. If that doesn't convince you, perhaps a cheat is in order? Try a cranberry sauce "dip" for sugared donuts and save yourself a whole lot of time.
If you ask me, chocolate is underrated at the Hanukkah table with Gelt typically relegated to snack and play time. That must be why I love this Chocolate Cranberry Cake with Gelt Glaze from What Jew Wanna Eat. I love how Amy bakes her cake in a star of David pan, but any bundt will do. And–shhh–you can use any milk chocolate to make the glaze if you don't have gelt.
I can't stop! I have to share a bonus recipe from Serious Eats. File this one under ZOMG-SOMEBODY-MAKE-THIS-FOR-ME (because I'll never make it myself): Latke-Crusted Turkey Stuffing Fritters With Liquid Cranberry Core and Schmaltz Gravy. The. End. –Stacie