We're so excited to present our Editors Best of 2013 series. As always, no voting, no vote-begging, no entrance fees. Just the stuff we really really loved this year–starting with the cutest baby clothes of the year in 0-12mo. This is always one of the hardest for us–not necessarily because there are thousands of great ones, though there are lots, but because every single one makes us miss those little toes and little fingers and sweet little baby heads. (Though not so much the diapers.)
Nununu (at top)
It's always refreshing to find cool clothes for baby that go beyond the pastels and primary colors that aren't everyone's cup of tea. Nununu does just that. We love everything about their styling, their construction, and the fact that they can endure dozens of washes and still look great. This makes them my favorite baby line of the year and lucky mamas, they make their collection in big kid sizes too. 

J Crew for Baby
We are so thrilled to see J Crew's beautifully curated baby collection launch this year. While they carry lots of our favorite baby brands like 7AM Enfant, Oeuf, and Rikshaw Designs an (Editors' Best of 2010) they also have a really stellar collection of their own, from organic cottons to luxurious cashmere, should you be the odd parent totally unafraid of babies in cashmere. Or own a dry cleaning facility.
Guava Baby Booties 
Some of us pshawed baby booties for our kids, but ones that actually stay on like these ones from Guava? Perfect. Plus, they're super cute. 
Wordsation Onesies
We really like this site that commissions indie artist to design cool, urban-feeling baby apparel. It's child-friendly with a great range of designs, and a slight quirky edge. Katherine Streeter's Heroes collection, above, is just awesome.  

Mabel Retro
Hooray for Etsy artists making baby clothes as nice as those in any fancy boutique. The vintage styling is awesome from baby varsity sweaters to booties that harken back to Grandpa's spats.
Kayo Master Baby Clothes
We can never resist a great geeky baby gift, and the designs from Kayo Master at the Etsy shop MicieloMicielo, are perfect in that sense. Provided you're a fan of Star Wars, Star Trek, and Mr. Tee-inspired designs you'll probably agree.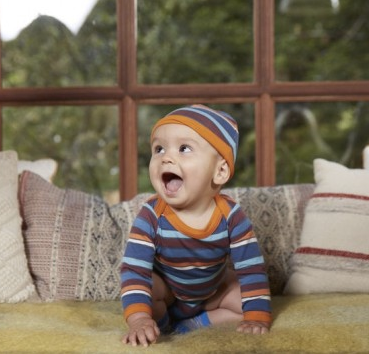 Pact Organic Baby Clothes
We have to give a shout-out to a new line that was founded to help PACT and Whole Planet Foundation provide microloans to small entrepreneurs around the world.  The clothes are really well made, and the recycled packing is perfect for giving, even if you didn't have time to gift wrap. Thumbs up from busy gift-givers with big hearts.
Congrats to all our winners! We'll be sharing our Editors' Best of 2013 in every category from babies to adults, so check back in for other top picks through the rest of December and follow on Twitter at #CoolMomBestof2013