Whether you've got boys or girls, there are so many great superhero party ideas out there, especially considering it's one of those party themes that remains popular every year. The great news is, you don't need to spend a fortune to throw an awesome party for your kids.
And that's where our newest sponsor Sew Plain Jane comes in. Several years ago, we first discovered their amazingly affordable handmade superhero capes for kids a birthday party  ourselves, and couldn't believe how adorable–and reasonably priced–they were. The capes, masks and accessories are even handmade in the USA by work-at-home-moms, which we love.
So if you're looking for superhero party ideas, definitely stop by their site for tons of inspiration at a truly awesome prices. If you're like us, it's nice to know that you don't need a custom $600 Wonder Woman cake for kids to say "best party ever!"
Aside from the costumes, here are other ideas to make your party a hit:
Superhero Party Invitations
Sending invitations online is free, easy, and totally acceptable these days. It's nice to find some cool, relatively gender-neutral superhero invitations on evite. If you want to make it more personal, use the photo superhero invitation template  and add a picture of the birthday boy or girl.
If you prefer paper invitations to hand out to your child's friends, here's a free retro superhero invitation pdf you can print and handwrite. Or just pop into your printer if you've got a long guest list.
Superhero Party DIY Decorations
If you're having an outdoor party, we love how you can just decorate with chalk on a wall, like this shot from Lil Luna. So simple. It works as a great photo booth backdrop, too.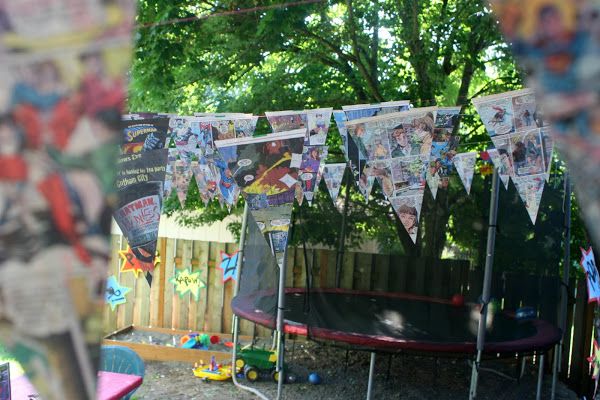 For more superhero party ideas in the DIY department, these DIY superhero party banners are fairly easy to make. Just grab some old comic books, cut the pages into triangles and find the rest of the instructions at On My Side of the Room. You can even use tape instead of sewing for an easy shortcut.
Another neat idea: making your own superhero decorations using a bunch of inexpensive frames to hold themed photos, drawings, or even comic book covers. Head Above Water has some great tips.
Superhero Party Activities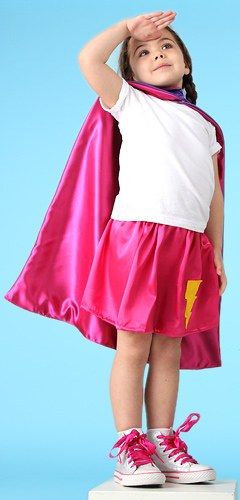 The Sew Plain Jane cape decorating kit is just $10.50 on sale right now. It's a craft, it's a costume, and it's a take-home gift that beats the little plastic trinkets and candy any day. You can make them during the party, then let the kids play (a superhero dance off using an upbeat Spotify playlist, perhaps?) and then wear them home.
Print out these free superhero party printables from Mariah de Marco either in full-color, or ready for kids to color them in. Then offer up crayons, colored pencils, even kid-friendly scissors if you want to turn them into puppets with some paper plates and glue sticks. It's another fun idea your guests can take home at the end of the party.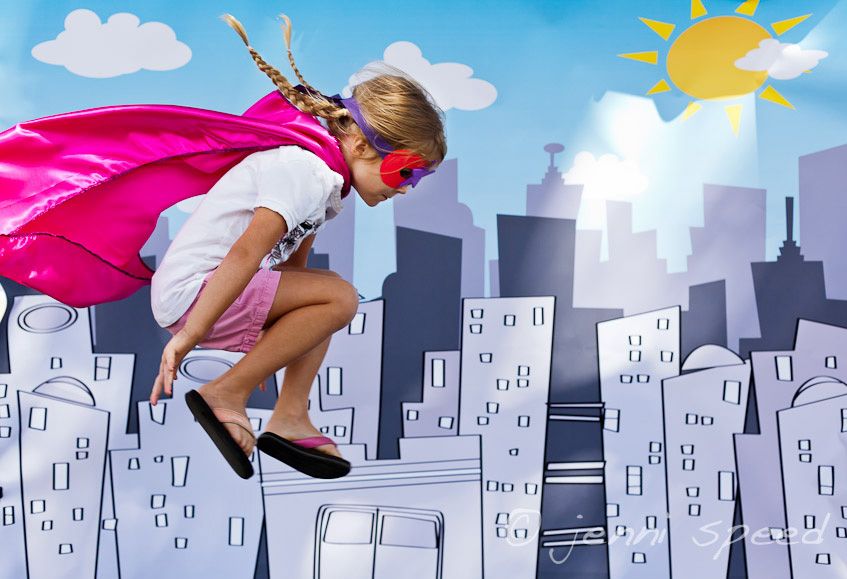 What a fun superhero photo booth idea! Just grab a mini trampoline, kids in capes and start shooting. A backdrop helps, whether it's this  amazing one from photographer Jenni Speed, or even a blue sky or a plain white sheet. From a low angle, take photos of your superheroes in action, then email them to your guests later to thank them for coming.
You can also check out this post at Queen of the Theme filled with superhero party game ideas, from an obstacle course to a phone booth dress-up relay race, which is hilarious. Not that kids necessarily understand what a phone booth is any more.
Superhero Party Food and Snacks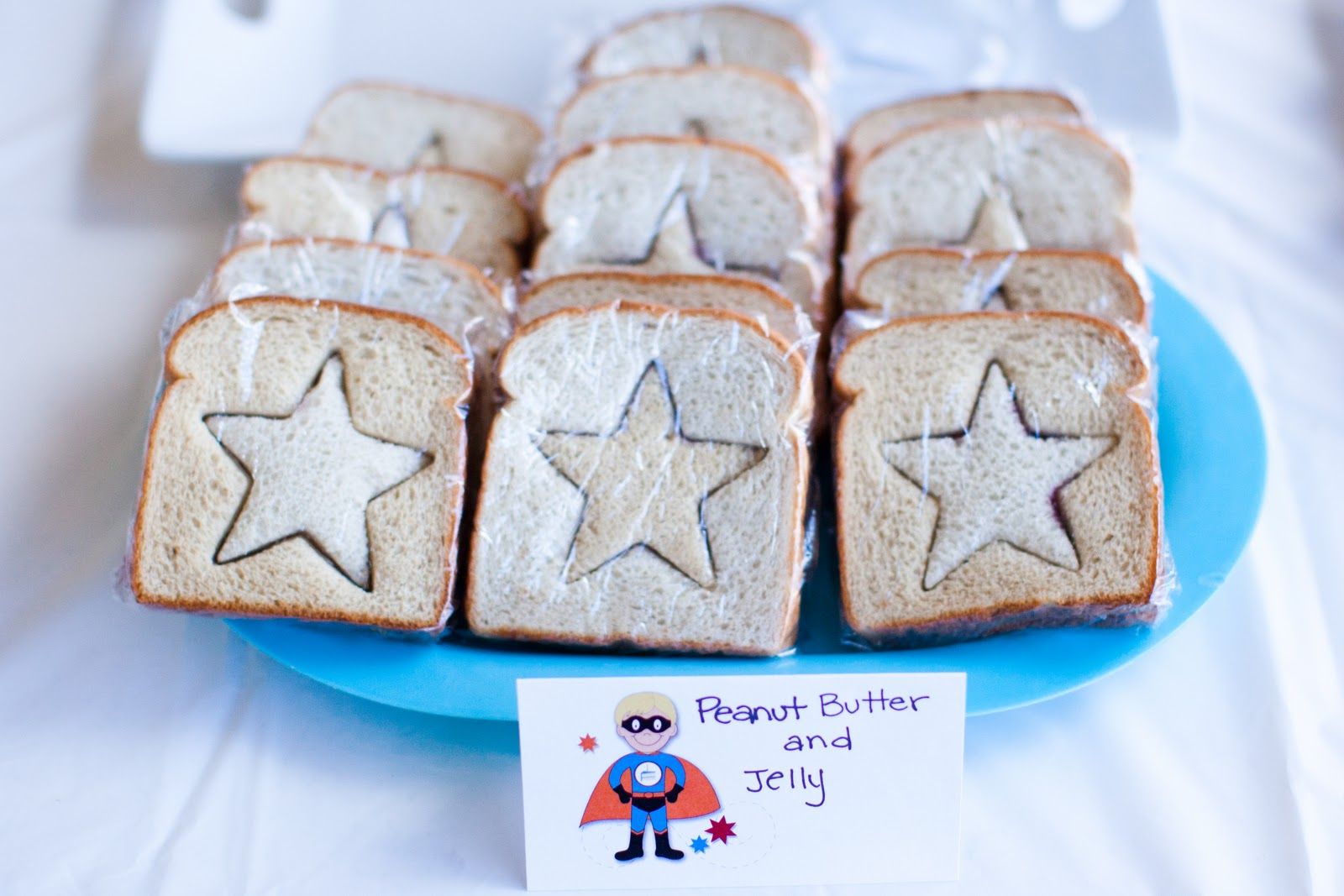 Serving lunch? We adore these star sandwiches at Domestic Charm which are so easy to make. If you use the lunch punch sandwich cutters like we do, you might even already have them in your kitchen or just grab any old star cookie cutter.
All you need is some popcorn and some coloring pages to make this fun superhero party snack. So cute, right? And it makes it a little easier for kids to move around and eat at the same time.
We are smitten with these Superhero marshmallow cake pops from Look What I Made. Easy!
How awesome are these superhero cookies we found at Less Than Perfect Life of Bliss? She has lots of great superhero party ideas–and she tracked down the superhero cookie cutters to make the cookies on Amazon.
She also has free printable superhero cupcake toppers. As much as there are tons of fascinating superhero cake ideas floating around, we're fans of keeping it simple–and what kid doesn't love cupcakes?
Superhero Party Favors
We still can't believe these handmade felt superhero masks start at just $1.75 at Sew Plain Jane. If your kids are like ours, they'll get tons and tons of use long after the party is over. We can't say the same about the candy.
Plus, they've added a slew of amazing items to their shop. You'll find no shortage of awesome ideas there including a whole section of $1-3 party favors.  And you can even order last minute since Sew Plain Jane is always fully stocked and ready to ship.
Thanks to our sponsor Sew Plain Jane for making party-throwing so much more affordable and a whole lot easier for parents. Keep doing what you do!