After checking hotel prices for a recent trip to Los Angeles (yikes), I decided to finally figure out how to use Airbnb for a vacation, after hearing so much about this booming community marketplace for accommodations all over the world. I'm usually a VRBO and Homeaway user for family travel, but after several friends recommended airbnb, I figured it would be worth a try. And I'm thrilled to say that it definitely was worth it. Says my wallet.
If you're planning your family summer vacation or a little getaway with your girlfriends or partner, here's the inside scoop on some Airbnb booking tips, and ways to make sure you have an experience as wonderful as mine.
Getting started with Airbnb
When you hop on the Airbnb website, you'll input your destination and dates as you do on most travel sites. Be sure to pick your settings carefully, though, since on airbnb you can rent a private or shared room as opposed to an entire place. I strongly suggested picking "entire place" for obvious reasons if you're on a family trip. If you are looking for a hostel experience, then I'd suggest you actually go with a dedicated hostel site since they're actually cheaper.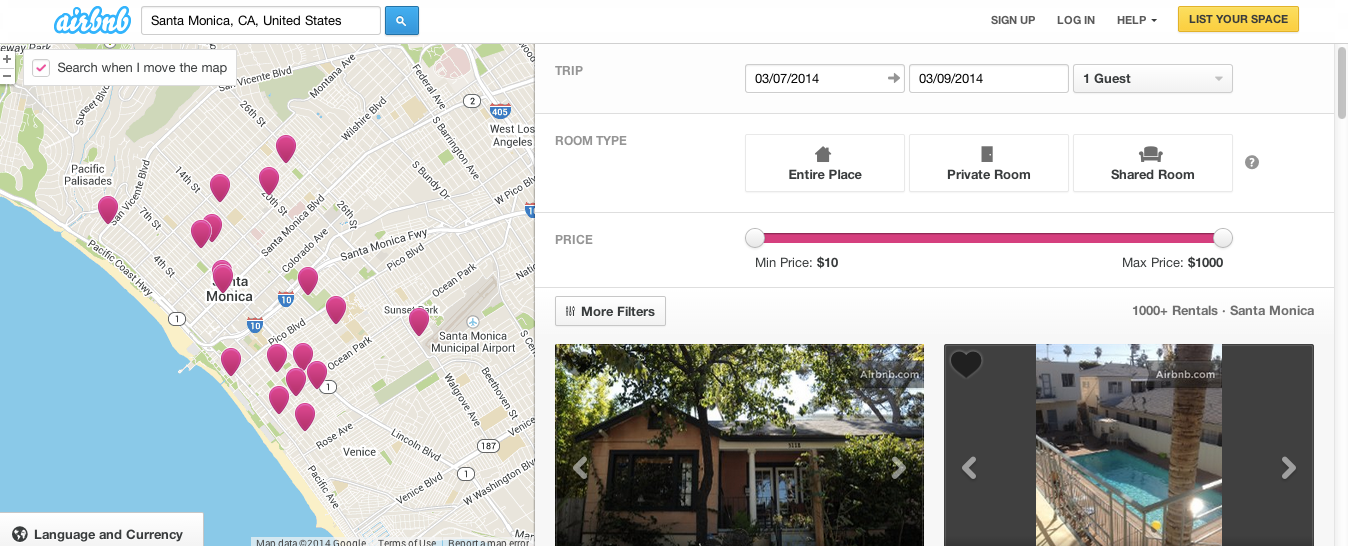 You'll also want to your budget minimum and maximum, which makes your searches far more targeted.
Listings with photos will then appear underneath your settings with a map to your left–one of my favorite features, actually–showing you exactly where the property is located, as well as the number of reviews it has. I would definitely take reviews into strong consideration, in addition to price and location. As much as I value the star ratings, reading what people have had to say about the hosts as well as the place itself is extremely valuable in terms of setting expectations.

Creating a Profile
The owners are going to want to learn more about you too, of course. So if you're going to book, take a few minutes and update your profile with a photo and a bit about yourself. You should create a user name that's not your real name; there's a good chance the owners will looking closely at your profile in evaluating your application. It's also smart to get friends and family to write testimonials for you on the site, though it's not completely necessary.
Picking the right place: Details, details, details
Once you find a place that looks interesting, you'll want to click on the photo to get more information.
Here's the place I ended up picking in Santa Monica. Sweet, right?

Like other accommodation sites, you'll get all sorts of details about the Airbnb rental place itself written by the owners or the agency renting, so read thoughtfully. You'll want to be sure the things that are important to you are on the list. And you want to learn to be a smart, critical interpreter; a fireplace isn't the same as a working fireplace and a random photo of a flower with header, location location location probably means that the best part about the apartment is getting out of it each day.
Also be aware of what is missing from the listing that is important to you, like parking, a washer/dryer if you're traveling with the family, or outdoor space.
If you're traveling with kids, you'll want to be sure there's enough room, too. Just because a place "sleeps 4-6" doesn't necessarily mean it will be comfortable for six people. (Remember those college days where six on the floor was totally cool?) And if your kids are like mine, you'll want to be sure there isn't all-white furniture, or famous art pieces displayed in easy to touch places.
An Airbnb rental is not a hotel 
This may sound obvious, but it's important to keep in mind that most Airbnb places are lived in daily, unlike traditional rental properties. So for me personally, that means I look at the beds–are they actual beds? Futons? Pull-out couches? On the floor? And since I'm allergic to cats, I make sure they do not have any pets at all. Also, WiFi is a dealbreaker for me, as you can imagine.
Then there are other details that may or may not be important to you. A selling point for my most recent rental was that it had a parking pass, something that really sweetened the deal in a neighborhood where affordable parking is a challenge
You can also learn about the owners, like if they're verified (important!), as well as how long it takes them to reply.
What I love about Airbnb is that you can converse with the owners, and I encourage you to do so. That could mean asking for more photos, getting the actual square footage, or even speaking frankly about how kid-friendly the place is.
Taking the plunge: Booking
You will need to sign-up (it's free!) for Airbnb if you want to book a place, which creates a profile for you in the process. Booking then requires approval from the owner, during which time you're given the option to message the owner which I recommend. It will give them a sense of who you are and why you're visiting, and could be the difference between them choosing you or someone else, should more than one party be interested in their place.
The costs are pretty clear on the site, but keep in mind that Airbnb also charges a security deposit that will (hopefully) be fully reimbursed at the end of your stay. Also, look carefully at the cleaning fees, which can vary greatly. And do not miss the refund policy, especially if you're traveling with a family; some owners have fairly strict policies so you might want to pick a property that gives you a little more flexibility.
$545 /night Soho Loft vs $205/night Soho Loft
If you feel like you really want a place but the fee will put you over budget, it's worth messaging the owner. This is where your profile and testimonials will come in handy because they might be more willing to give you some wiggle room and fill an otherwise unoccupied few days with your family if they see you've got good ratings.
After the Fact: Leaving Reviews 
Once your trip is over, and you've hopefully had an amazing experience (or hey, maybe not), it's not quite over. One of the important parts of learning how to use airbnb is writing a review after your trip to help other folks like you choose a place. If you don't feel comfortable leaving a public review, there is a private option that will only be seen by the owner.
And I always suggest talking to the owner during your visit if you have a problem to get them resolved, instead of spending your trip grumpy that the dishwasher is broken or there's pet hair all over the couch. That way you can detail how responsive the owner was to you in your review. In my experience, owners have been more than willing to make things right by you, even after the stay. At least give them the chance before leaving a scathing review.
The Bottom Line
If you've got last minute travel plans, particularly to a popular and generally expensive destination, I strongly suggest using Airbnb. For families, it can admittedly be a bit trickier, mostly because at least in my case, I'm much pickier about where I'm staying with my kids than where I stay alone. Let's be honest: there are fewer things that can break in a hotel room. But given my experience and the experiences of others I've spoken to, it can be a huge money saver, even allowing you to put more of your budgets towards great restaurants or a longer trip, instead of giving it all to a pricy hotel.
Visit airbnb.com to sign-up and peruse their listings. Thanks to Kara and Stacie for contributing their own tips and tricks as well.