We love teachers so much which is why we're always excited to track down great ideas for teacher gifts from the class. After all, they give to our kids all day long without complaining (to us, anyway) about the runny noses they wipe, or the fifth round of lice to hit the school this year. With the school year wrapping up as we speak, if you haven't started thinking about gifts from the class for your teacher yet we've got some great ideas, both new and from years past.
One thing we've learned from talking to dozens of teachers over the years: While those envelopes of cash and designer handbags are lovely gestures, what they really appreciate and remember most is something heartfelt from the class or an individual student that acknowledges the difference they may have made in a child's life that year. Even if it's just a thoughtful card.
Hope these ideas help.
Related: The best teacher gift ideas from people who know: actual teachers
1. DIY ARTWORK FROM THE KIDS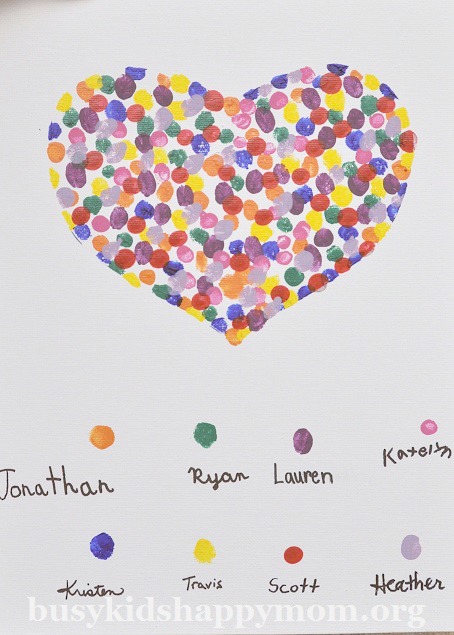 This DIY teacher art from the class is one of many we shared recently. It's so terrific from a preschool or kindergarten class. It's easy to do (especially if you can steal a half-hour with the kids while the teacher is out of the classroom somehow) and to make it even easier, cut the heart out first, then apply it to a larger piece of poster board. Unless you can trust the kids to do it right on the canvas (some masking tape to mark out the heart should help). The truth is though, even imperfections make it perfect.
2. A SCHOOL YEAR MEMORY BOOK
A favorite go-to gift idea of ours and so easy! Ask each child to write and illustrate a flat notecard with a prompt like The best thing about Ms. K is ______ or My favorite memory of second grade is ______. Paste them all into a beautiful blank album like the ones from Rag & Bone Bindery. It's simple, quick, and the kids will have the best time watching their teacher open it and read it out loud.
You can also compile a scrapbook of students drawings of the teacher (especially great for preschoolers) as seen in the photo at top via Bee in Our Bonnet. We love the way she added a photo of each child next to it, plus a note, if have time to put together something really impressive. And if you can wrangle the work from each kid!
3. A DIY BOOK BAG OR TOTE
We have always liked this DIY teacher tote bag idea which you can make yourself (lucky class parent, you) or get each kid to draw a heart or his name on it. Fill it with books from her favorite author (we have one teacher who loves everything Roald Dahl) or just add a thoughtful gift card to a local bookstore.
Related: 7 of the best DIY teacher gift ideas to make gift cards more personal
4. A VIDEO MESSAGE FOR THE TEACHER FROM THE CLASS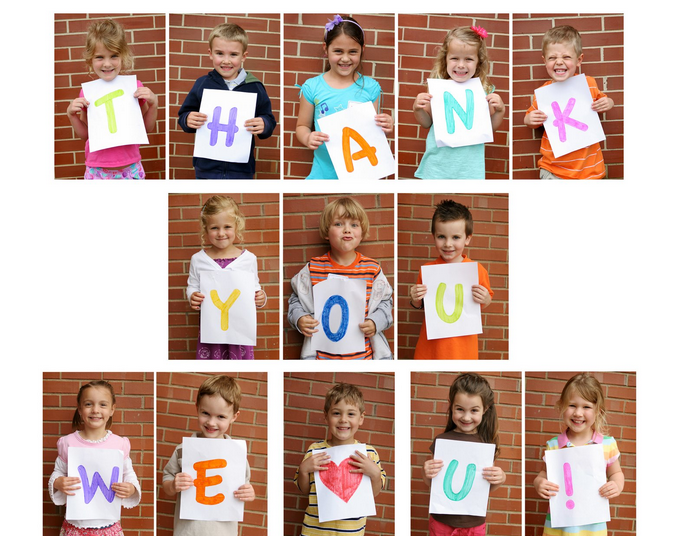 Inspired by this thank a teacher photography project from Tutus and Turtles, have each kid hold up a single word on a card that spells out a meaningful sentence. Then grab a smartphone video camera, and shoot! You can even use an easy photo editing app like Animoto to edit it into something that looks like a pro did it. Make a presentation to show it to the teacher on the last day of school, then upload it to a jump drive that he or she can keep forever.  (How neat is the Einstein jump drive from Mimobot!)
Alternatively, you can record a simple video asking each child to share one favorite memory. It's so easy to edit together because there's no real order you have to follow. And Animoto lets you put in a few art cards if you want to punctuate the kids' messages with your own.
5. A CLASSROOM MEMORY JAR FOR THE TEACHER
One of the absolute easiest DIY teacher gifts, we love Steamy Kitchen's memory jar craft project which she designed for New Year's but is perfect for kids to make for their teachers. All it takes is some little colorful cards that you pop into a pretty glass vase or even a mason jar. Teachers will appreciate that it doesn't take up a lot of room in the classroom, too.
6. A READY-FOR-SUMMER CARE PACKAGE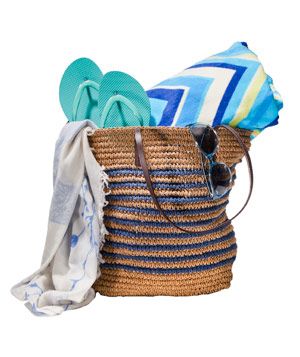 Putting together a gift basket based on your teacher's hobbies or favorite things shows that kids really were listening all year. One way to go is with a thoughtful beach-themed gift basket like this one from Real Simple, including flip-flops and a beach towel, sunscreen, a journal, movie tickets, a pedicure coupon, and a gift card to your local indie bookstore. Be sure to include a card that all the kids sign about how hard the teacher has worked all year. Bonus: If any of the parents in your class have a vacation home, see if they'd be willing to donate a long weekend. Can you imagine the look on his or her face?
 7. GIFT CARDS…DIALED UP A NOTCH
Of course gift cards are always a top pick for classroom gifts for the teacher, and some schools even require them in lieu of spendy gifts or cash. To make it a little more special, look for free downloads like this Target Gift Card printable at Landeelu
Related: 12 terrific printable gift card holders for teachers for end-of-year gifts
We also love genius Starbucks gift card teacher gift printable from our friends at Alpha Mom–it's actually a free printable sleeve that goes around a cup. Check off the teacher attributes (kind, smart, loved) then glue around a cup and drop the card in. Fantastic!
8. A Teacher's Change Lives Account
If your teacher is anything like ours (or 90% of the teachers in the US who spend their own money on supplies), they have a classroom wish list a mile long. You can set up a Teacher's Change Lives account at Office Depot in conjunction with Adopt a Classroom, so that teacher who you know always goes the extra supply mile doesn't have to spend another dime of his or her hard-earned money on glue and markers…or iPads or piccolos or microscopes or a high-tech projection screen. This way, each family contributes what they can and hopefully together you make a big difference for subsequent classes.
-Kate + Liz
Thank you to all the wonderful teachers who have helped to shape our kids' lives in so many wonderful ways. We appreciate you so much. And if you have an all-time favorite gift you've gotten from your students, please leave a comment. We'd love to hear it.