At the end of these long summer days at the pool and kids being bored and me trying to cram work in whenever I can, I'd love to kick back in front of the TV or with friends and sip a cold, delicious drink–umbrella optional. My favorite fruity cocktail recipes feature fresh, in-season fruit, have a bit of a kick, and are best served on a sweltering porch on a mid-July evening.
Melon Cocktail
The taste of melon is so light and sweet, it's the perfect little bite, or sip, of summer. And this Triple-Melon Rumballa cocktail recipe (at top) by Brooke McLay of Cheeky Kitchen has all that melony sweetness, with a crisp edge thanks to ginger ale and lime. Yum.
Peach and Raspberry Cocktail

Is there anything more perfect than a crisp sangria on a hot summer evening? We've shared a yummy skinny sangria recipe recently, then a sangria shortcut, and now to add to the list:  A White Sangria Sparkler from Damn Delicious. While it includes peaches and raspberries to brighten the flavor, it inclues the unexpected tropical flavor of kiwi too.
Pink Grapefruit Cocktail

We're always happy to find a new twist on our favorite margarita recipes for the summer, and right now this Pink Grapefruit Margarita by Pretty Plain Janes is hitting the spot. The brightness of the grapefruit will have us coming back for seconds. With salt, please.
Strawberry Cocktail

The window on really great strawberries is so short that you should enjoy them in every possible form in early summer. This Strawberry Vodka Cocktail by Straight to the Hips, Baby looks sweet and fresh, but the lime and club soda (not to mention the vodka) give it the just the right bit of kick to balance the sweetness.
Blueberry Cocktail

Our resident food and drink expert, Stacie at One Hungry Mama, suggests you go ahead and mix up two pitchers' worth of this in-season blueberry mojito recipe by The Novice Chef. It's seriously mouth-watering, and looks absolutely gorgeous whether you serve it in a Mason Jar or something a little fancier.
Raspberry Cocktail, with or without Vodka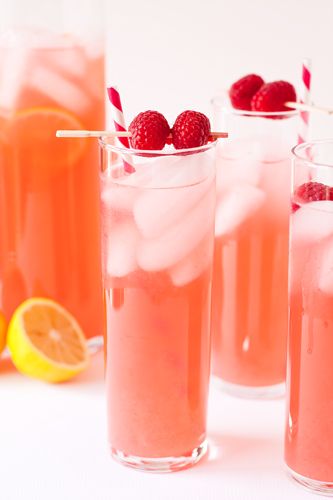 Most of us will have kids around at our parties to be honest, so I like to make a huge batch of this delicious Raspberry Lemonade by My Baking Addiction for everyone to enjoy. Set a bottle of vodka or tequila nearby so the over-21s can add a little something extra to their drinks. Just make sure your kids don't mistake your alcoholic version for their virgin one. Using nice glasses for the adults and plastic cups for the children helps!