We are so blown-away by some of the creative birth announcement photo ideas we've seen on Pinterest and beyond lately. Is it a new trend or just something that's now in the hands of more regular photographers than the pros? Either way…impressive!
Here, 15 of the most creative birth announcement photo ideas we've seen, we think most people could pull off with varying degrees of skill. None require much more than minimal props and a little bit of help from parents and siblings; or sometimes you just need a little forethought and  planning throughout the pregnancy.That's it. In other words, no tulle-wrapped baby in a giant egg next to a delivery ticket from heaven and a plastic stork standing guard.
Hopefully these ideas help you get your perfect picture, if you're going for something a little off the beaten path.
Related: This brilliant play mat makes photographing babies' milestones beautifully easy
1. With services like Pic Monkey, which let you easily create high-res edits and imagery, start with a full a picture you like and create a text overlay like the announcement from Sappy Apple (at top). Of course great typography is key and if you don't know your Bodoni from your Baskerville, you might ask a friend with a great eye to help out.
2. Everyone wants to know the important details about the new baby, and we're impressed by how use items you already have at home, like this idea from Alphabet Monkey, can creatively share that vital information.
3. Plan ahead — as in the moment you find out you're pregnant–and recreate this lovely series of pregnancy photos by photographer Bron Bates from Baby Space for your baby's birth announcement. It's so simple if you think about it, and guaranteed to nail the awww factor. (Just keep in mind your relatives may actually want to see the baby's face. But that's entirely up to you.)
Related: 6 Creative Ways to Document Your Baby's First Year in Photos
4. If you can take some pictures of your baby lying down against a white background, doodles can change the mood entirely. We find ourselves inspired by this amazing series of baby images by Adele Enerson. So, so great!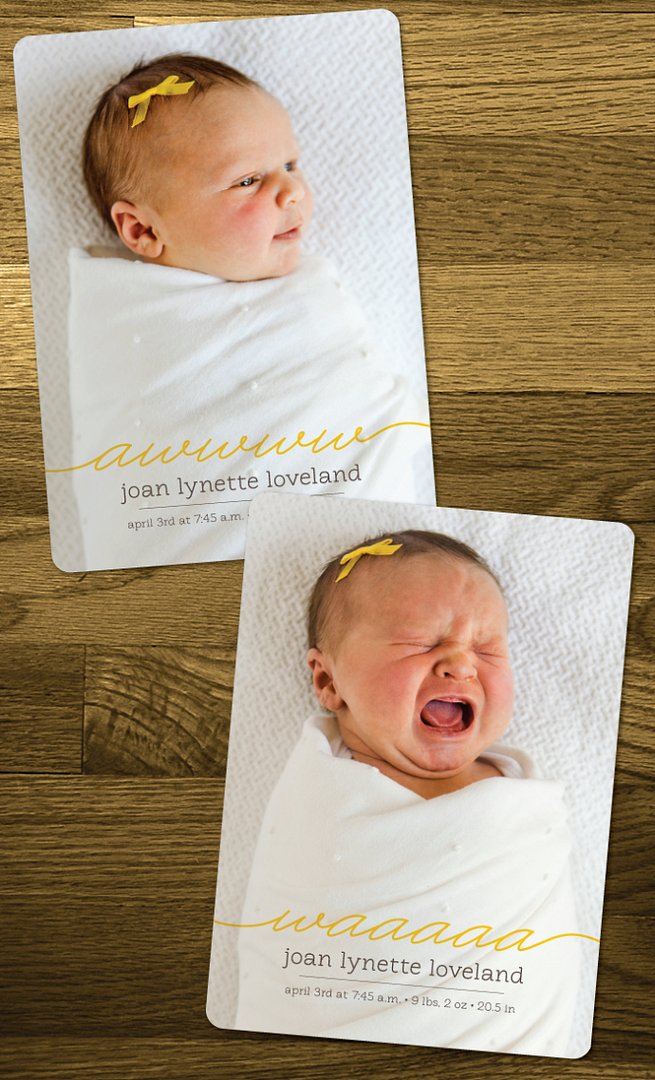 5. How funny is this two-sided Awww-Waaaa birth announcement we found from our friend Alma Loveland at Ollibird? Enough with all the perfect happy photos; sometimes the less-than-happy outtakes make the most memorable moments.
6. If you have a great picture of your baby but don't love the background, this custom hand-lettered baby announcement at Etsy shop JoeKayse is a great way to accentuate the positive. Send them your photo, and they'll create a lovely custom poster complete with hand lettering of all the vital facts. Including "exceptionally proud parents."
Note: CMP is an rstyle affiliate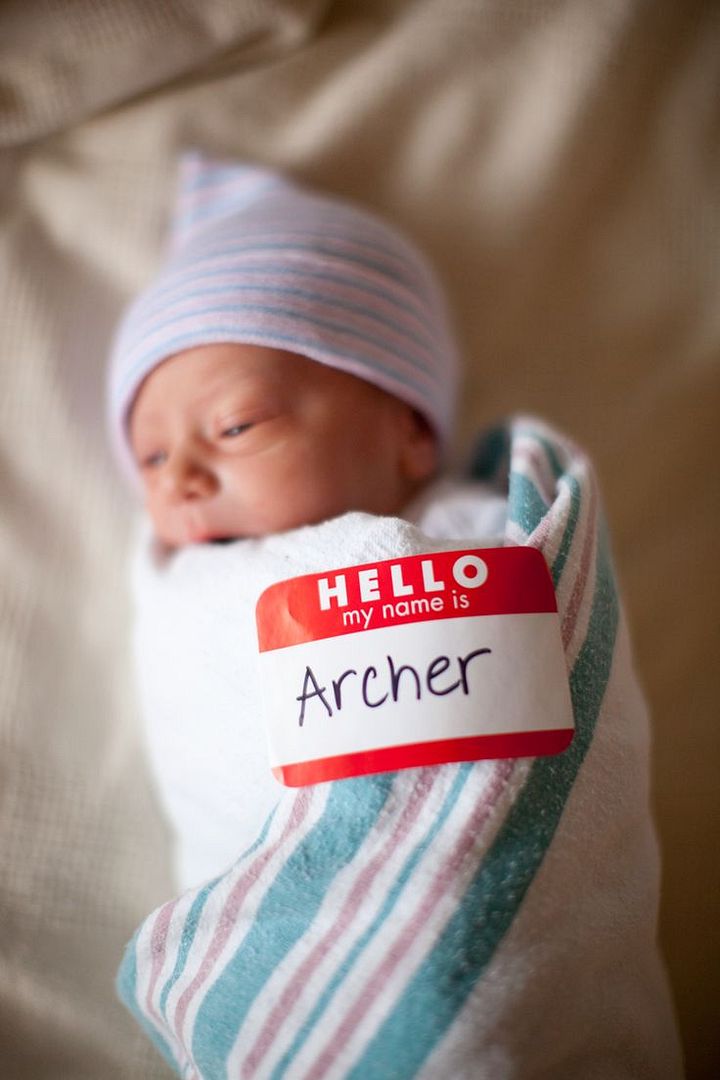 7. In terms of simple ideas, we are so taken with this one: A Hello: My Name Is name tag stuck onto a baby's swaddle blanket, as seen here in this birth announcement photo idea by photographer Heather Golde. We even love that the nametag is in focus, with the baby set a bit back on the background, giving priority to a name that was probably kept secret until the big reveal.

8. Yes, it's over-the-top, and requires serious propping. But we're laughing at this hilarious air pump baby announcement. This took significant planning over 40 weeks and yeah, professional art direction and uh, a photo shoot with Patrice La Roche. But what a fun-loving family for this lucky baby has been born into.
9. In similar vintage film-strip style, check out theatrical The Magic Show creative birth announcement photos snapped by pro Dan Culberson. It's definitely not for everyone, but for this couple, it's perfect. Plus they seem like people we want to hang out with, even after the baby. That's always a plus for announcements.
10. It's so sweet to get older siblings involved, and this one incorporates a chalkboard, which we all know by now is the hottest prop to hit photo cards this decade — besides letter boards, of course.  It was assembled by a (paid) editing tool called Compositor which makes storyboard style layouts, and we spotted it on Momtog but would love to track down super clever parents who took part in this one.
Related: 6 celeb-worthy, creative birth announcement ideas for twins + multiples.
11. Second only to blackboards: Writing baby's name in chalk on the sidewalk. A great example of how that can work is from photographer and lifestyle icon Kelle Hampton, resulting in a simple, memorable birth announcement photo idea. Of course this might be best for moms of two or more, who have gotten over their fear of laying a baby down on a sidewalk for a few minutes. (Ha.)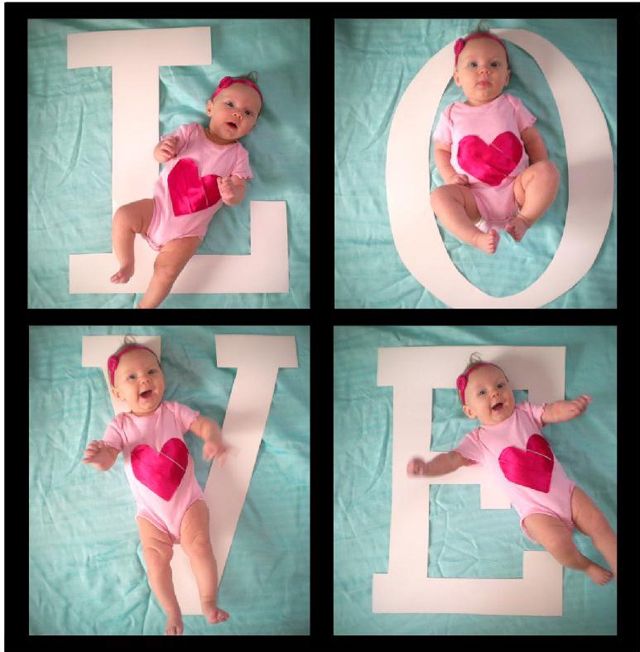 12. This version of the iconic LOVE graphic is so simple, but looks so impressive (like many of the best ideas, right?). We found it at How to Nest for Less, but again, we wish we could find the original source for more creative ideas like this one. Notice how the sheets aren't perfectly pressed and the baby's arms aren't perfectly in focused? That's okay.
13. How great is this custom birth announcement onesie by Petite Lemon, designed with all of your baby's important birth stats? We've seen quite a few of these, but the strong colors will make the photo much easier to take, like this baby photo from Ahhmazing Reviews. Just set your baby down on a neutral but interesting background (this bedspread works well) and…easy. Plus, you don't need to take up the front of the card with all the stats since it's built right into the photo.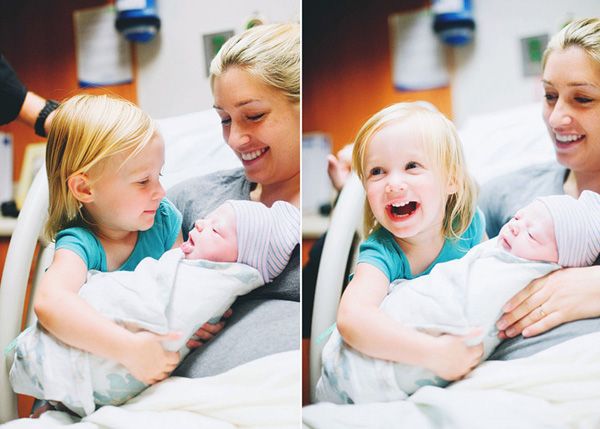 14. I love incorporating older siblings' authentic reactions to the new baby in a birth announcement, and there are some great tips on how to get a good shot of big sibling with the new baby at I Heart Faces photography site. One or two perfect ones is all you need.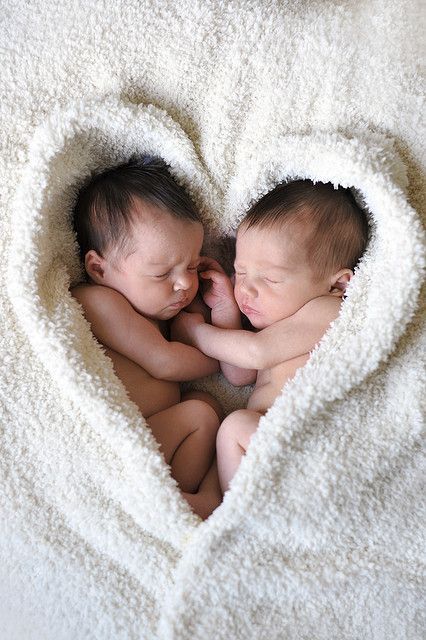 15. Twins can be harder to shoot, since there are—well—two of them. You can always feature two separate shot, as most parents of twins do, but we have to give a nod to this sweet towel-wrapped heart twins photo announcement by YellowBlueBus. Bonus: they're bundled and happy the whole time, and hey, we think they even kind of like each other.
We can't wait to see your own creative birth announcement pics! Share them with us on Instagram by tagging us @coolmompicks.
All photographs © the original owners