First Beyoncé and Jay Z, now the Clooneys and Madonna? In case you haven't heard, twins are seriously hot right now. So I've rounded up some super creative birth announcement ideas for twins with a little extra oomph — for those of you lucky enough to be in on the doubles game.
I had so much fun finding these adorable birth announcement photo ideas for twins and multiples making their red carpet debut, but hey…if you're expecting just one baby this year (like me!), we've got you covered too.
CMP is an rstyle affiliate
At top: custom birth announcements by Todd Borka
Related: 15 creative birth announcement ideas way more interesting than just sleeping babies. 
An event poster birth announcement for twins
How sweet are these tiny boxers! If you're looking for a clever, funny birth announcement but you don't want to pore over photoshop while you're nursing two at a time (if that's even possible?), look no further than this Lightweight Champs birth announcement for twins at Lyons Prints. It feels totally original and fun, even if you didn't think of the joke yourself.
A Star Wars birth announcement for twins
Geeky parents who know The Force is strong with their little ones even in utero, will love this Star Wars twins birth announcement  at Me and Morning Glory. May we gently suggest however that however big a fan you are, you don't name your actually kids Luke and Leia. (Or Kylo Ren, for that matter. But that's another story.)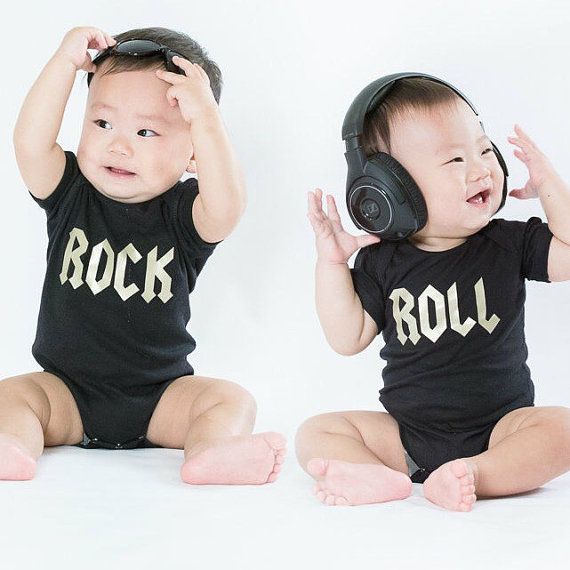 Two-of-a-kind onesies birth announcement for twins
Peanut butter and jelly, green eggs and ham, soy sauce and Sriracha … there are so many onesie sets that celebrate happy pairings, but what's important is that you find a theme that represents your own family. Even though the sizes from Buzz Bear Studio start at 3m, I'm especially fond of the Rock n' Roll twin onesie set which is great for a musically minded family. Headphones sold separately.
Related: 8 seriously fun, but not over-the-top, pregnancy announcement ideas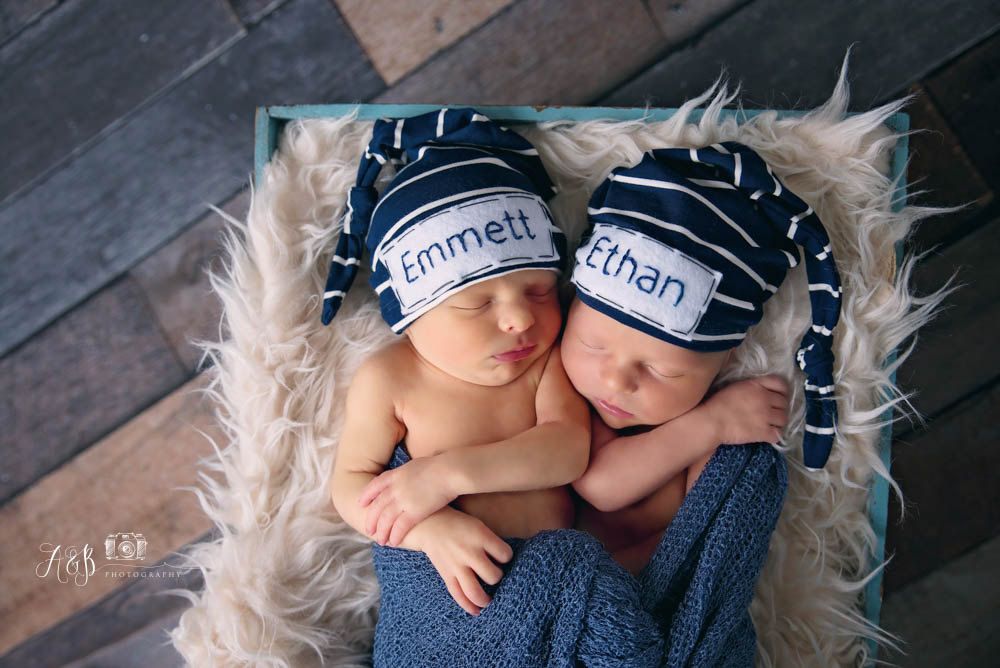 Say it with beanies birth announcement for twins
These little personalized newborn baby name hats at Little Ones Love are especially great for propping a birth announcement for identical twins. Not only do the hats make fabulous keepsakes, but they also help parents avoid that awkward Ethan's the one on the right language on the card. If not in real life.
Superhero birth announcements for twins
More geekery! We so love this idea for a creative twin birth announcement from the very talented Erin Morrison of Erin Morrison Photography in MD. Her work is so precious — we love how some of her subjects are propped like military babies, winged angels, or just precious little swaddled newborns in lush surroundings that would be suitable for celebs. Visit her site and see how you can set up your own session.
Birth announcements that let your twins be anything in the world
We've been obsessed with Todd Borka's creative, custom birth announcement photo illustrations (also shown at very top) for a while now, and of course his illustration magic extends to multiples too. Some of his ideas are more outrageous than others, but send in pictures of your babies and based on the pose, he can come up with the perfect style and subject of illustration to best welcomes your little star into the world.