As much as it drives you bananas, it's true: there's no way to control what or how much your kids eat at lunch. (Say it with me: I'll pack healthy food, the rest is up to them, everything will be fine.) The biggest worry for many parents is that their kids aren't getting enough protein, which is where these high protein snacks come in. I've tracked down some super snacks help alleviate parental-protein-anxiety—yes, that's an official diagnosis, according to me—by packing at least four grams of protein into every serving. And they are snacks, as in kids will actually eat them.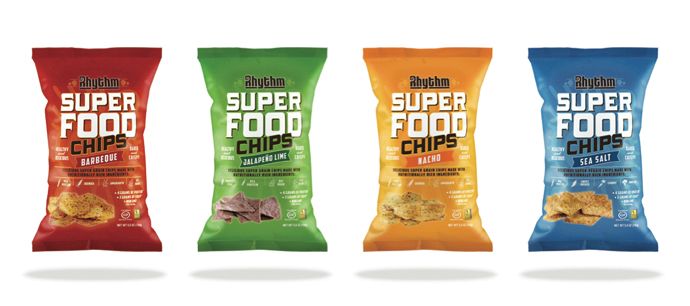 These crispy baked chips are made with ingredients like pea protein, quinoa, amaranth, oat bran, sweet potato and, in some cases, even broccoli, but you'd never know it from the taste. Like a cross between a wheat thin and a tortilla chip, these gluten-free chips satisfy while serving up four grams of protein per serving. They are also a good source of fiber and offer more than 12 grams of whole grains. We're not big on flavored chips in my house, so the Sea Salt is our favorite, but you can also get these in BBQ, Jalapeño Lime, and Nacho flavors.
You can find out where to buy Rhythm Food Chips at a store near you or buy them online on the Rhythm Super Foods website.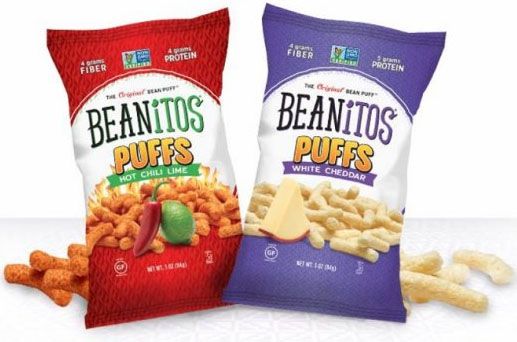 If you're a fan of Beanitos Bean Chips, which, by the way, offer four grams of protein per serving, you'll be excited to know that they've extended their snack line to include Beanitos Bean Puffs, a high protein puffed snack food that meets the U.S. national school nutrition standards. It's no wonder given that each serving of the White Cheddar Puffs has four grams of fiber, five grams of protein, and only contains four grams of fat. They are also non-GMO, contain no trans-fats and are gluten free. My kids don't like anything cheese-flavored or spicy, so they weren't so into these, but they tasted just like all the other delicious cheese puffs I've ever consumed in my life. And I've consumed a lot. If you and your family have, too, Beanitos White Cheddar Puffs are a find.
You can find out where to buy Beanitos snacks for kids using their store locator or order them online through the Beanitos website.
These crispy treats fall somewhere between a potato chip and a tortilla chip but, unlike either, each serving has a whopping eight-nine grams of protein thanks to quinoa flour, the predominant ingredient in this snack. These chips are gluten-free and free of GMOs, preservatives, artificial color, flavors and trans fat. The Sea Salt flavor is our favorite and has the simplest ingredients list (seven totally familiar ingredients), but you can also pick these up in Cheddar, Barbecue, or Sour Cream and Onion.
You can find out where to buy Simply 7 snacks using their store locator or order them online through the Simply 7 website.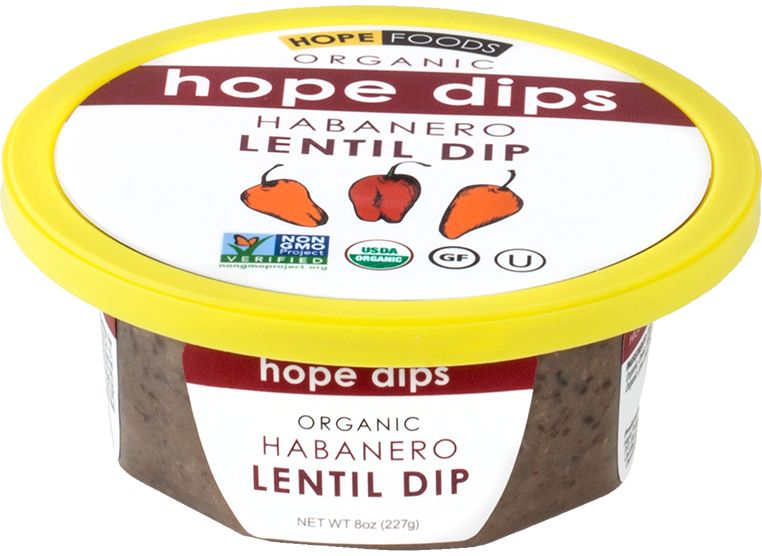 Hummus has become a staple in many American homes and although Hope Foods is excited about that (they make a line of yummy hummuses in awesome flavors like spicy avocado), they're onto a new bean spread: lentil dip. These organic, gluten-free, non-GMO dips have an ever-so-slight lentil soup flavor, with super fresh add-ins like curry, garlic and my personal favorite, habanero. They are a little thicker than hummus and have a grey color that may be off-putting to kids at first, but, hey, it's not like hummus has major eye appeal. My kids and I like lentils, so we dig this dip big time. With double the amount of protein (one gram/tablespoon), lentil dip has a permanent spot next to the hummus in my fridge.
You can find out where to buy Hope Foods Lentil Dips (and Hummuses) using the zip code store look up on the Hope Foods website. 
YummySnack is a new brand with two product lines, cheesy chip snacks and snack bars, both of which were created by a mom looking for healthier alternatives to junk food. All of the snacks are gluten-free and relatively low in sugar, high in omega 3s and–our favorite–high in protein. My kids aren't into cheese-flavored snacks so they didn't like the chips, which are like a cross between a potato chip and a super crispy rice cake with five grams of protein per serving. For the record, I could get down with these chips just fine. The snack bars, though, were a hit with my kids.
The cookie dough, brownie and peanut butter flavors have the most protein—seven to nine grams per bar—and totally passed our taste test. The brownie tastes a lot like the coconut flavored bar, but has much more protein. The cookie dough and peanut butter bars tasted remarkably like, well, cookie dough and peanut butter. The only catch is that these healthy snacks totally feel like candy. With only five-eight grams of sugar (which is even lower than some granola bars!), that might not be a bad thing.
You can buy these high protein healthy snacks at the online store on the YummySnack website.
For more great snack ideas for kids, and more, check out our Food Pinterest Board!