Next up in our back to school shopping guide: The coolest lunch boxes and bags. And wow, there are so many, whether it's your first year sending your preschooler off to school with lunch, or (lucky you) your kids are finally packing their own.
And what would our guide be without a killer giveaway? This year it's a $1000 back to school giveaway that we like to think of as a little something for you, a little something for the kids. Scroll down for all the details; entering is as easy as leaving a comment.
This all comes to you thanks to our amazing (amazing!) sponsor, HP, who has recently launched the HP Instant Ink replacement service which can save families as much as 50% on the cost of Original HP ink. Plus your printer actually alerts HP when it's time for more ink so it can be auto-shipped to you for as little as $2.99 a month.  We like saving time and money so, yay HP!
All our picks have been editorially selected by our staff. There has been no compensation in exchange for picks. Cool Mom Picks is an rstyle and Amazon affiliate and some picks may include affiliate links which you can click to help support what we do.

Soft lunch boxes from SoYoung ($31.99, SoYoung Modern Family)
We love this company's fun and durable backpacks, and they also have wonderful soft-side lunch boxes to mix or match them with. The coated linen keeps them very clean, and the detachable strap is great if your kid would rather wear it than tuck it into a backpack.
SoYoung also makes small and large cooler bags ($29.99-36.99) which give you the same durability and coolness factor in a different shape.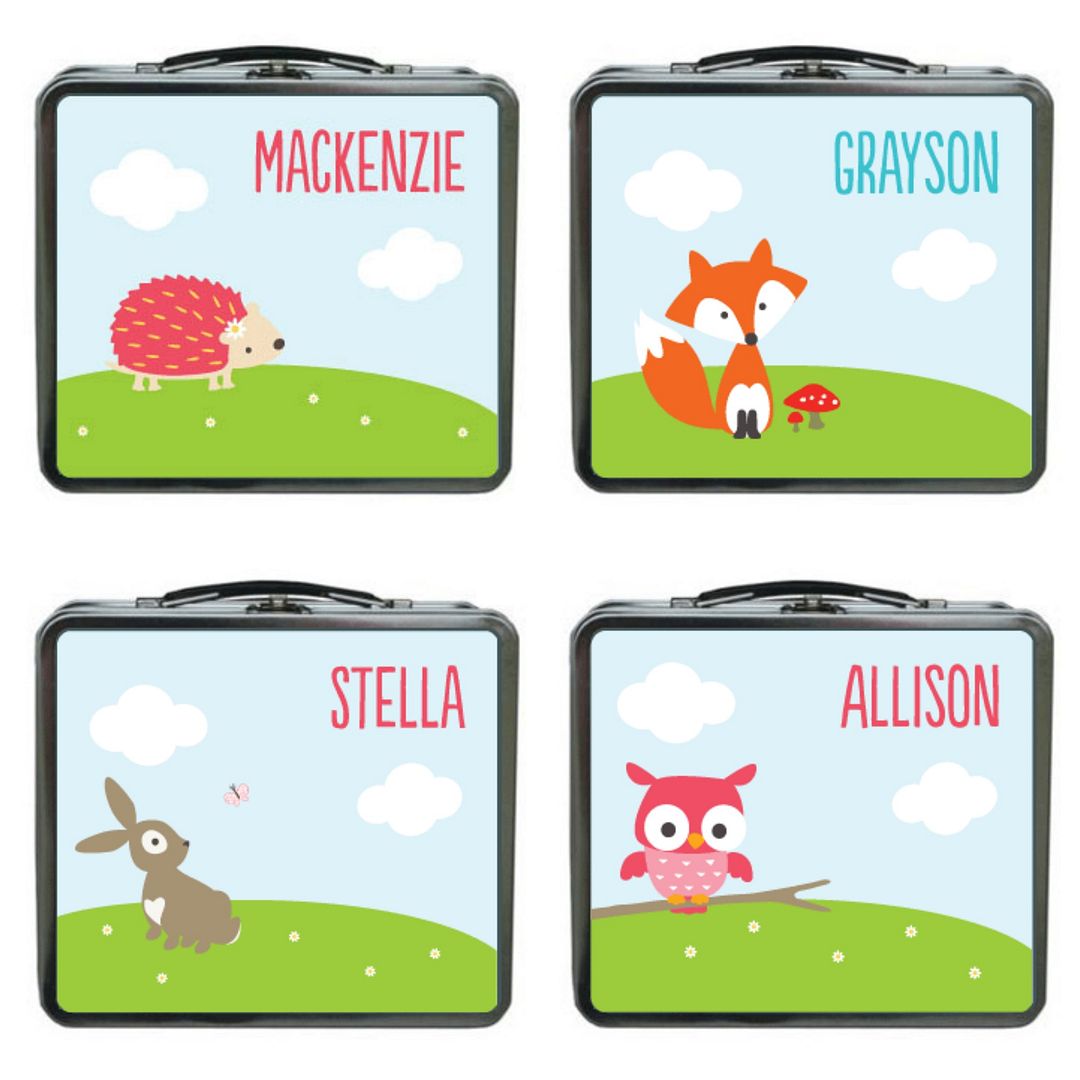 Personalized hedgehog (or other woodland creature!) lunch box ($25, Sarah + Abraham)
You can find so many cute personalized items for kids from Sarah + Abraham, but this time of year, we have our eyes on their too cute personalized lunch boxes. It's hard to pick a favorite–but we bet your kids can.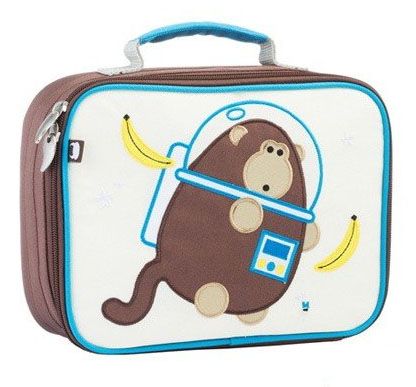 Space monkey lunchbox ($34, Beatrix NY)
Beatrix scores again with their always awesome soft lunch boxes featuring tons of fun animals. But the new space monkey? Total win.  [15% off with COOLMOM15 through 8/31]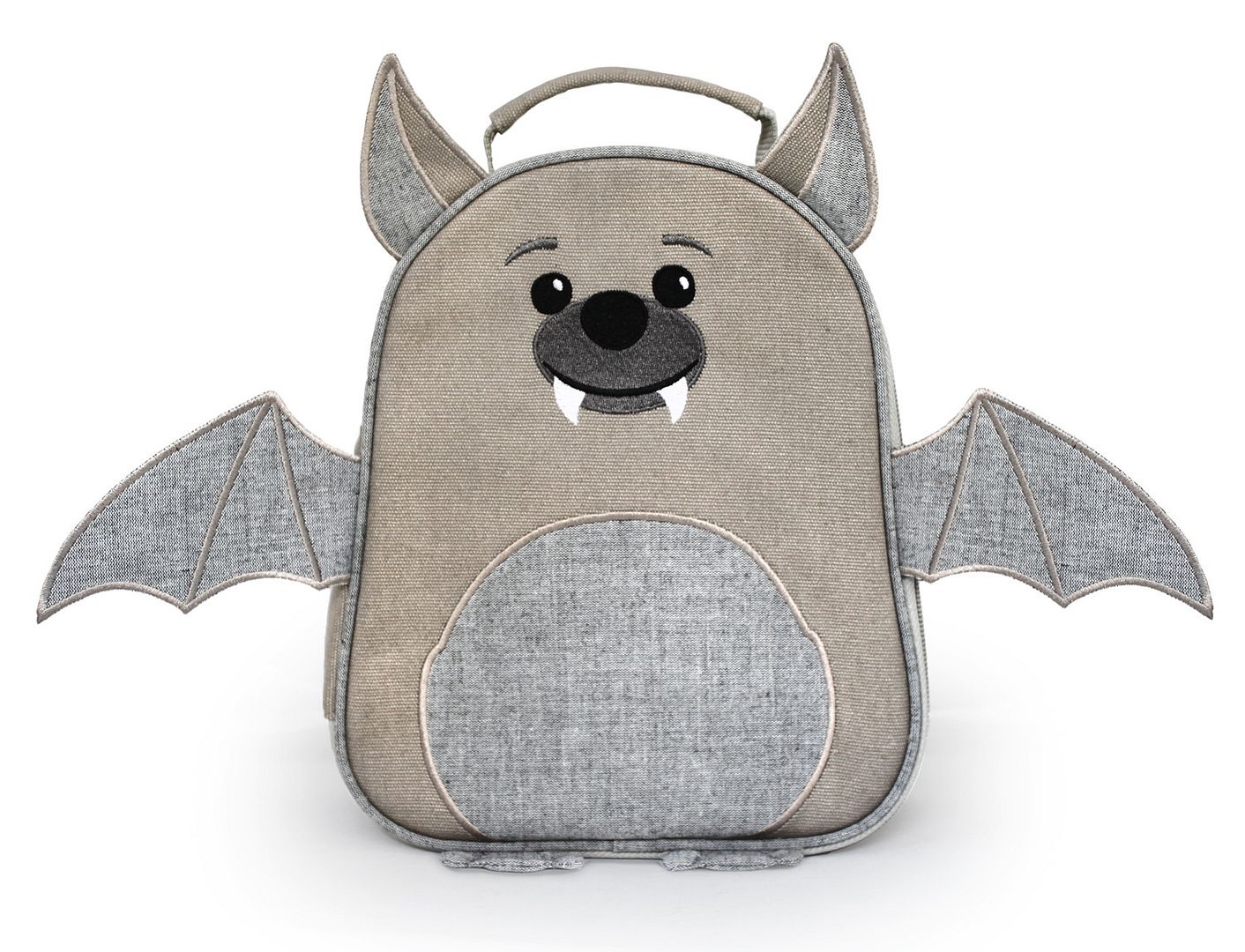 Bat lunch bag ($26, Apple Park)
Your younger kids will definitely be the coolest in the cafeteria with this bat lunch bag from Apple  Park, all made of recyclable materials.

Monster geek lunch bag ($30, Dabbawalla)
This brand new style from one of our favorite little indie companies is absolutely awesome. Monsters + Geeks? Is there any better combination? Okay, maybe a geeky unicorn. Dabbawalla: Maybe next year?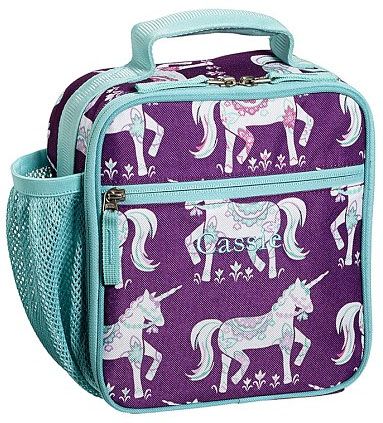 Unicorn lunch bag ($22.50, PBK)
Speaking of unicorns, your unicorn-crazy kid will probably love this lunch pack from Pottery Barn Kids. It's got all sorts of matching backpacks and other supplies to go with it if you can't get enough.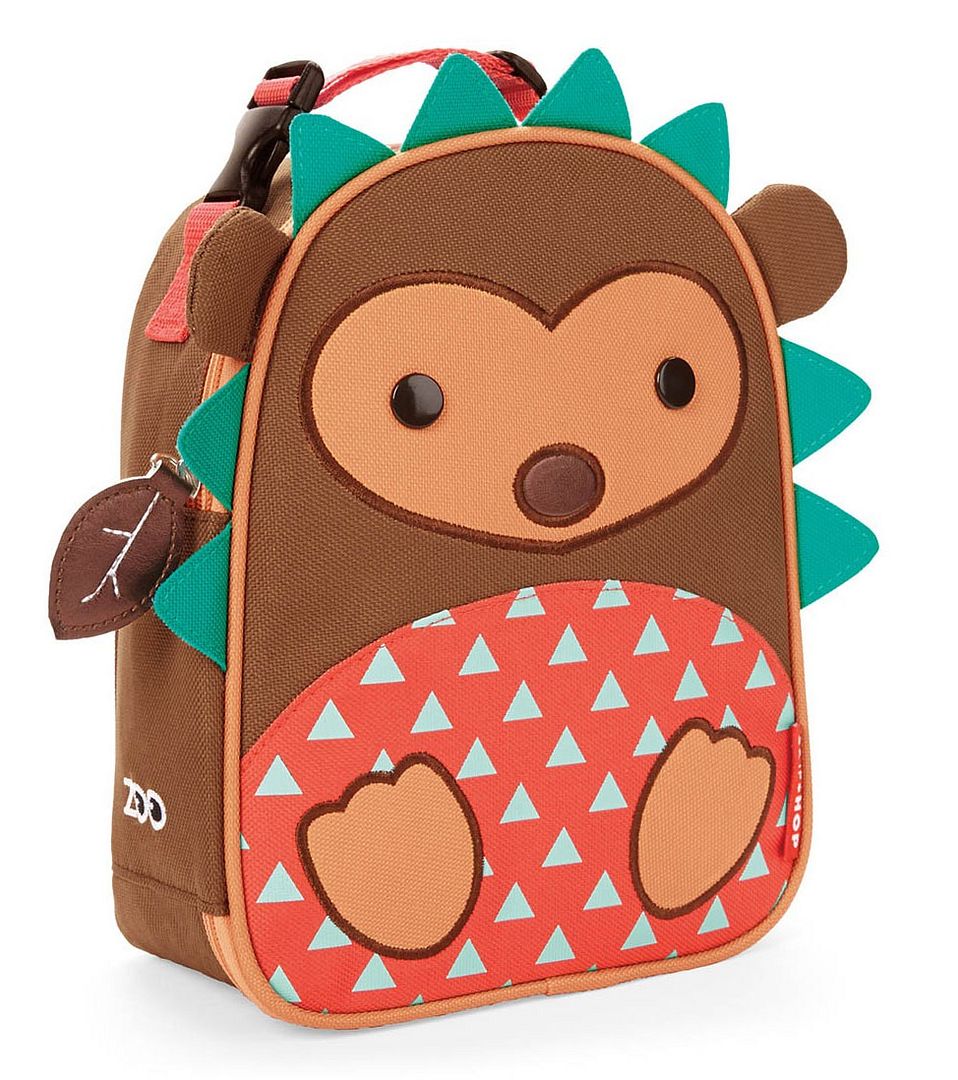 Hedgehog lunchbox ($14, Skip*Hop)
We knew the second we saw the new hedgehogs from Skip*Hop that they'd be on many a back to school shopping list this fall. The design is irresistibly cute as one of their Lunchie Zoo Packs, and perfect for preschoolers still nibbling on half-sandwiches for lunch.

Rocket lunch bag ($22.50, PBK)
Also from PBK, this personalized rocket bag has an awesome retro vibe straight out of the mid-century B movies. Our daughters and sons both call it "neat."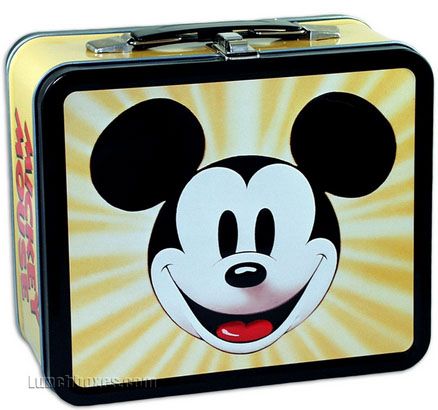 Vintage Mickey metal lunchbox ($12.95, Lunchboxes.com)
Another retro option: We're totally digging the old fashioned, metal lunch boxes that remind us of our own days of peanut butter sandwiches with the crusts cut off. Well, this or The Partridge Family.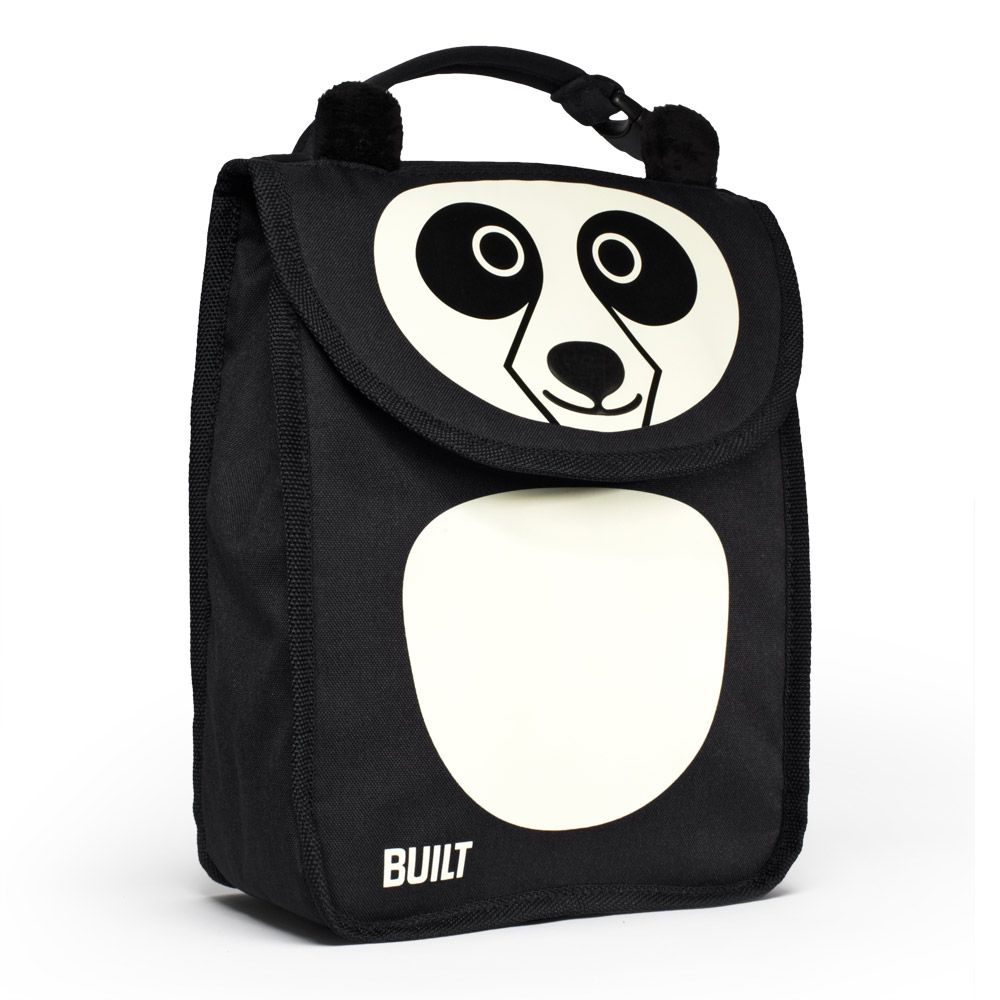 Panda lunch sack ($16.99, Built NY)
Built NY really does make durable, smart lunch accessories built to take something of a beating; don't let the cute exterior fool you. And if you love the panda thing, check out our post on panda back to school supplies. There are so many!

Hadaki insulated lunch pod ($28, All + Modern)
The pixel design and bright colors of this insulated soft lunch bag is so fun for kids of any age, from preschoolers to teens. And even their mothers. Says us.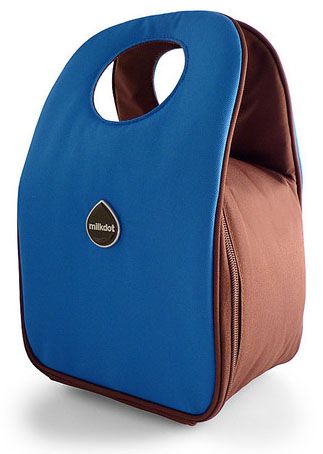 Milkdot Stoh lunch bag ($25, Amazon)
We continue to be fans of Milkdot, with soft lunch boxes that are structured and keep their shape, even when you squish them down flat to fit empty in a backpack. There are lots of fun designs and patterns, but the solids are smart for older kids.

Jujube Fuel Cell Lunch Bag ($30, Nordstrom)
Love the sophisticated styling of this lunch bag collection, and the subtle star embroidery keeps it fun for kids. Not that we wouldn't borrow it too.

Chewbacca lunch bag ($14.99 Think Geek)
Okay. Game over.
EXTRA COOL: WIN IT!
We're so excited to give away one massive Back to School prize pack valued at more than $1000, filled with back-to-school essentials for both kids…and moms! Because let's be honest, we're going to be working hard too, this school year.  We deserve a designer handbag, right?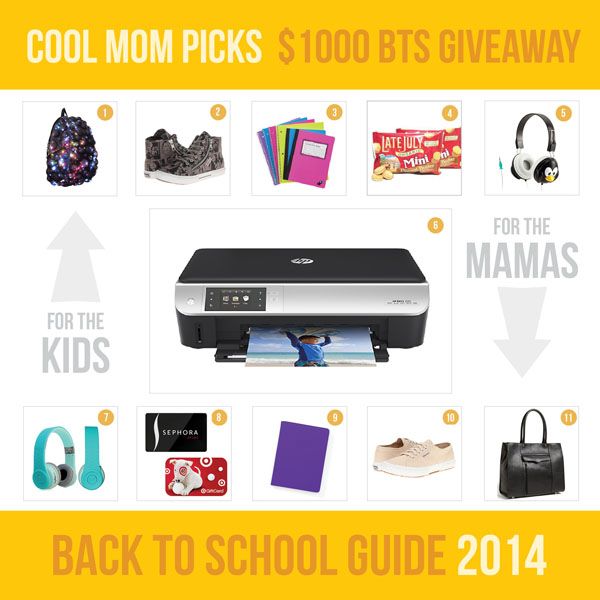 PRIZE INCLUDES:
1 Mad Pax Warp Speed Bubble backpack | 2. Superga sneakers for kids | 3. Big white box of Back to School essentials from Yoobi | 4. Late July snack pack | 5. Griffin Kazoo MyPhones kids' headphones | 6. HP ENVY 5530 e-All-in-One Printer + 6 months ink subscription from our sponsor HP | 7. Fanny Wang 1000 series on ear headphones for women | 8. Target gift card for the kids and a Sephora gift card for you |  9. momAgenda personal organizer | 10. Superga sneakers for moms | 11. Rebecca Minkoff 'MAB' Leather Tote. Because we love you.
Thanks to all that entered and congrats to the winner! THIS GIVEAWAY IS CLOSED
Thank you so so much to our wonderful sponsor HP, the makers of the HP ENVY 5530 e-All-in-One which is perfect for students and families. It features the innovative HP Instant Ink replacement service that makes printing easier and more affordable than ever, starting as low as $2.99/month.
Other 2014 Back to School Guide posts to check out:
The coolest preschool backpacks
The coolest backpacks and bags for big kids
The coolest lunch box accessories
The coolest back to school printables
The coolest school supplies