Sometimes it's the little things that make the biggest impression, and when it comes to back to school shopping, it may be the backpack we spend all our time stressing about, when it turns out to be the $1 hamster eraser or the personalized pencil case that our kids love and cherish like nothing else. So we've scoured the web for you to track down two dozen of the very coolest school supplies and fun accessories to make all this preparation a little more fun. For both of you.
Flying colors rainbow tape dispenser ($11.99, coming soon to Perpetual Kid)
And what would our guide be without a killer giveaway? We've got over $1000 worth of prizes up for grabs, including goodies for your kid and goodies for you. Just scroll down to the bottom of this post for the details. Promise, it's easy to enter.
We're so pleased that our guide is brought to you by HP, who we are thrilled to be working with this year. If you haven't taken a peek at the HP Instant Ink replacement service, then now is the time before the homework and school projects and 4000 things you need to print start piling up. You can save up to 50% off the cost of HP original ink, plus your printer will actually alert HP when you're running out of ink and auto-ship it to you for as little as $2.99 a month, which means saving more time and more money.  And psst…if you checked out our post on cool back to school printables, you know just how valuable that can be.
Happy shopping!
All our picks have been editorially picked by our staff. There has been no compensation for picks. Cool Mom Picks is a reward style and Amazon affiliate and some picks may include affiliate links which you can click to support what we do. 
Cork globe ($129, cb2) | Handmade pencil case upcycled from vintage jeans ($32, Cool Mom Picks indie shop) | Subway pattern Washi Tape ($3.99, Staples) | Retro cassette tape pencil holder ($13, Little Itsy store) | USA chalkboard map ($139 on sale, RH Baby and Child) | Novelty post-it notes ($3.29+/2 pad sets, Staples) |   Grunge 3-ring binder ($21.95, Zazzle)
Ninja Pencils ($7.99, Perpetual Kid)
Rock Star Journal ($17, Ecojot) | Draw-it-Yourself Calculator ($9.99, Perpetual Kid) | Wild Things iPod Case  ($15, Society 6) | Dream Big, Kid wall pennant ($64, Cool Mom Picks Indie Shop at Great.ly) | Giraffe chalkboard ($56, Cool Mom Picks indie shop at great.ly) | Cheerful pencils ($10, Burke Decor) | Heart push pins ($2.99, Yoobi for Target)
personalized children's bookplates  $18/12, the fox and the teacup
Personalized pencil cases ($24.95, Tiny Me) | Coordinated desk set ($49, other colors too, Poppin) | Mr Sulu Flash Drive ($19.99+, Mimobot) | Kawaii rainbow backpack key chain  ($8.50, mymini) | Printable bookplates  (Free, Orange You Lucky) | Acme Studio Rollerball Pen ($34, Design Mafia) |  hamster erasers  ($1, Stubby Pencil Studio)
EXTRA COOL: WIN IT!
We're so excited to give away one massive Back to School prize pack valued at more than $1000, filled with back-to-school essentials for both kids…and moms! Because let's be honest, we're going to be working hard too, this school year.  We deserve a designer handbag, right?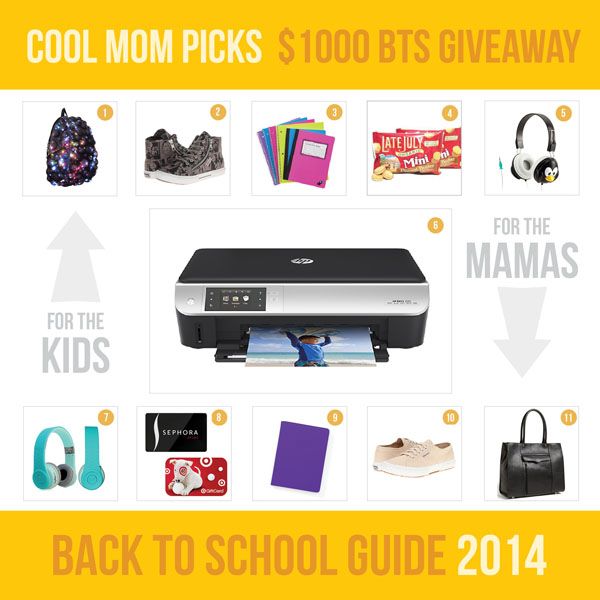 PRIZE INCLUDES:
1 Mad Pax Warp Speed Bubble backpack | 2. Superga sneakers for kids | 3. Big white box of Back to School essentials from Yoobi | 4. Late July snack pack | 5. Griffin Kazoo MyPhones kids' headphones | 6. HP ENVY 5530 e-All-in-One Printer + 6 months ink subscription from our sponsor HP | 7. Fanny Wang 1000 series on ear headphones for women | 8. Target gift card for the kids and a Sephora gift card for you |  9. momAgenda personal organizer | 10. Superga sneakers for moms | 11. Rebecca Minkoff 'MAB' Leather Tote. Because we love you.
Thanks to all that entered and congrats to the winner! THIS GIVEAWAY IS CLOSED
Thank you so so much to our wonderful sponsor HP, the makers of the HP ENVY 5530 e-All-in-One which is perfect for students and families. It features the innovative HP Instant Ink replacement service that makes printing easier and more affordable than ever, starting as low as $2.99/month.
Other 2014 Back to School Guide posts:
The coolest preschool backpacks
The coolest backpacks and bags for big kids
The coolest lunch boxes and lunch bags
The coolest lunch box accessories
The coolest back to school printables