As parents, one of our favorite things about the web is the ability to find so many cool–often free–printables for kids of all kinds that make us all look like crafty geniuses. They're especially abundant this time of year, as back to school printables help make back to school time easier, more organized, and sometimes just more fun. So in this installment of our Back to School Guide, we share some of our very fave back to school printables, with gratitude to the awesome designers who put their talents to work for all of our benefits.
Of course one thing you do need for any printable, free or not, is a printer. Also? Ink.  Which is where our fantastic sponsor, HP comes in.

HP Envy 5530 printer:
So smart, it automatically alerts HP when it's running low on ink. Also? We're giving one away!
They've recently launched the HP Instant Ink replacement service which can save families as much as 50% on the cost of Original HP ink. Plus your printer actually notifies HP when it's time for more ink cartridges so your subscription can be auto-shipped to you for as little as $2.99 a month.  We like saving time and money so, thank you HP!
Speaking of saving money, what would our guide be without a killer giveaway? This year it's a $1000 back to school giveaway that we like to think of as a little something for you, a little something for the kids. Including that HP Envy Printer. Scroll down for all the details; entering is as easy as leaving a comment and you have up to 18 chances to enter in total.
Happy printing!
Free printable lunch box notes by West and Main Design
We've found tons of cute printable lunch box notes over the years, but the fun gift tag shape and modern, simple design makes these a perennial favorite.
Printable 2014-15 School Year Calendar at ThumbAlinaLane
For $14, this Etsy shop offers this editable PDF calendar. Not only is the design cuter than the basic stuff you find online, but you can add in any important dates and hang it up, edit it as you see fit, even print out one for each kid so they can keep track of their own special dates. For a little less you can get a printable school year calendar that's not specifically editable, but if you use a service like HelloSign, you could work a little magic yourself.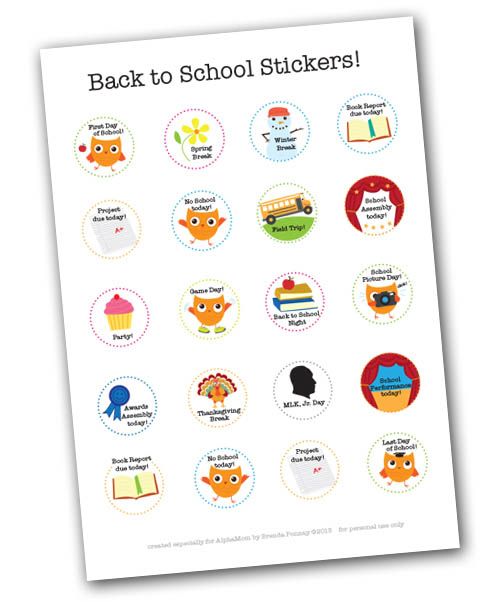 Free printable date stickers for back to school at Alpha Mom
Whether you're using a printable calendar or any wall calendar or date book at all, these free printable stickers are so fun for getting it organized. Kids can add important dates, events, and vacation days from the first day of school to the last.
Free printable lunch bag template by A Subtle Revelry 
While we're fans of reusable lunch boxes and bags whenever possible, when our kids go on a field trip they have to bring paper bags they can toss. This free printable is pretty adorable.
Free printable bookplates for kids by Orange You Lucky 
To customize your kid's books or notebooks, not sure we've come across free printable bookplates as awesome as the set of four from talented illustrator Helen Dardik. How lucky we are that she's made them available free of charge at her blog.
Free printable lunch box jokes by Handmade Charlotte
We admit we're giggling at these cute jokes (chestnuts though they may be to some of us) that you can pop in your kid's lunch box to make the first few days a little more fun. Just scale them to size, print them (on your  HP printer, of course) then cut and pop them in with the sandwiches.
Free printable optical illusion lunch box notes at Mr. Printable
We know our older kids would go nuts for these fun, trick-your-friends optical illusions cards.  And hey, they get a little science lesson in there to boot when you start talking about impossible shapes and peripheral drift patterns.  (PS Dare you to try and stop staring at the spinning circles card.)
Free printable kawaii bookmarks at Wild Olive
We are totally smitten with these adorable kawaii style bookmarks by Mollie Johanson. The ruler and pencil (and yeah, the bandage) are totally perfect for back to school season. But seriously, who can resist a slice of bacon holding your place in Harry Potter VII?
Free first day of school printable signs by How Does She
In our post on 5 creative ways to capture a first day of school photo, we found these cute free printables that help you mark this year–or any year. Print them all and start an annual tradition.
Another choice: These fun printable first day of school chalkboard signs by Classy Clutter, ready to print for every school year and labeled with 2014-15.  And the typography is quite nice.
Free printable foreign language alphabet flash cards by Mr. Printables
If your kids are starting to learn French, German, Danish, Portuguese, or even tighten up their English, there are super cute sets for all of them at Mr. Printables that are perfect for learning some basic A-B-C's.
Free printable alphabet coloring pages by Lost My Name Book 
Also for younger kids brushing up on alphabet basics, these alphabet coloring pages designed by real children's book illustrators are some of our very favorites. Print out the whole alphabet, or just the letters to make up your child's name. The PDF comes with all 26 letters covered.
Printable chore chart sets from Pixels and Company
For just $3, this PDF set by Gennifer Bursett comes with six chore charts in different colors and styles – one for each member of the household perhaps? One is even editable so you can print it out with a kid's name or set up a weekly list of chores and print out 52 of them all at once. (In our dreams.)
Free printable morning routine cards from Living Locurto
In our post about tips to get kids off to school on time, we talked about setting up some kind of morning routine list or chart that even young kids could get used to following. A great example of this are these cool printable cards which can be stacked up and handed to you or put into a basket by the front door when each one is completed. Though psst…she makes a "girl" and "boy" set but we think the green/blue is adorable for any kid.
Free back to school party printables by Printabelle for Catch My Party
The beginning of the school year is cause for celebration for a lot of reasons, and if you're planning a get together for classmates or new school friends, this free set has everything you need from invitations to treat toppers to a welcome sign for your front door. There are also non-party goodies, like the lunchbox notes shown here, and bookplates. For an extra $3 you can even have the designer customize it with your child's name – but it might be cute to add a classroom name. Mrs. Murphy's 3rd Grade class party, anyone?
EXTRA COOL: WIN IT!
We're so excited to give away one massive Back to School prize pack valued at more than $1000, filled with back-to-school essentials for both kids…and moms! Because let's be honest, we're going to be working hard too, this school year.  We deserve a designer handbag, right?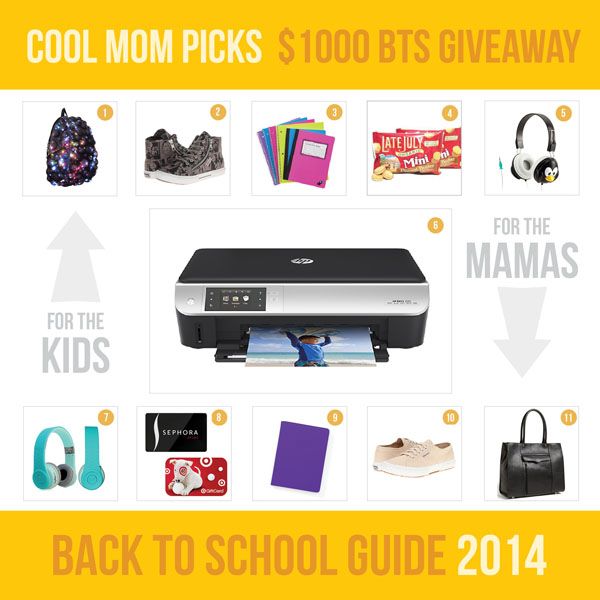 PRIZE INCLUDES:
1 Mad Pax Warp Speed Bubble backpack | 2. Superga sneakers for kids | 3. Big white box of Back to School essentials from Yoobi | 4. Late July snack pack | 5. Griffin Kazoo MyPhones kids' headphones | 6. HP ENVY 5530 e-All-in-One Printer + 6 months ink subscription from our sponsor HP | 7. Fanny Wang 1000 series on ear headphones for women | 8. Target gift card for the kids and a Sephora gift card for you |  9. momAgenda personal organizer | 10. Superga sneakers for moms | 11. Rebecca Minkoff 'MAB' Leather Tote. Because we love you.
Thanks to all that entered and congrats to the winner! THIS GIVEAWAY IS CLOSED
Thank you so so much to our wonderful sponsor HP, the makers of the HP ENVY 5530 e-All-in-One which is perfect for students and families. It features the innovative HP Instant Ink replacement service that makes printing easier and more affordable than ever, starting as low as $2.99/month.
Other 2014 Back to School Guide posts to check out:
The coolest preschool backpacks
The coolest backpacks and bags for big kids
The coolest lunch boxes and lunch bags
The coolest lunch box accessories
The coolest school supplies