For someone who prides herself in putting out multiple home-cooked meals a week, my cooking utensils are really old and in dire need of replacing. After spending some time poking around the Canadian Etsy shop Storiebrooke, everything about these bamboo cooking utensils has me saying it's time to fix that.
[Update: You can now find Storiebrooke at Gouniq instead of Etsy]
The 4 piece bamboo cooking collection–with slotted and solid cooking spoons and slotted and solid spatulas–would instantly brighten my stale decor. I just love the vibrant and modern color-dipped wood options here. If the sea urchin palette isn't your thing, maybe hot air balloon or solar flare will fit your taste. (These awesome color names actually make me love them more.)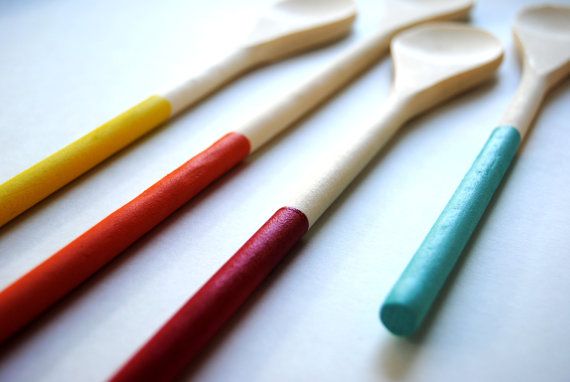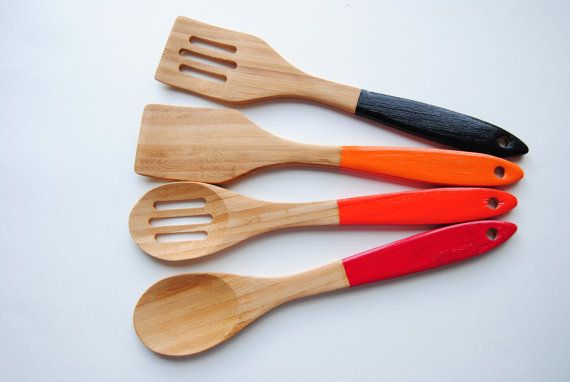 Heads up that hand-washing these handmade-to-order sets is definitely recommended–something you should do with your wooden utensils anyway. Sometimes you've got to give the quality pieces a little extra love and I have no problem with that for kitchen accessories that I want to last.
Very cool hostess gift for under $30. But I am most definitely starting with a present for me.
Shop the bamboo cooking utensil sets along with other cool accessories like chopsticks and recycled wood pencils.
Whip up more magic in the kitchen with the cooking utensils in our archives.