Candy may be the only Halloween treat that my kids are interested in, but with Halloween falling on a Friday night this year, I'm also looking forward to a fun Halloween cocktail to usher in the weekend. Whether you want a sweet sip, a serious drink, or a cocktail that can easily be adapted for kids and non-drinkers, one of these 8 Halloween cocktail recipes will surely do you right.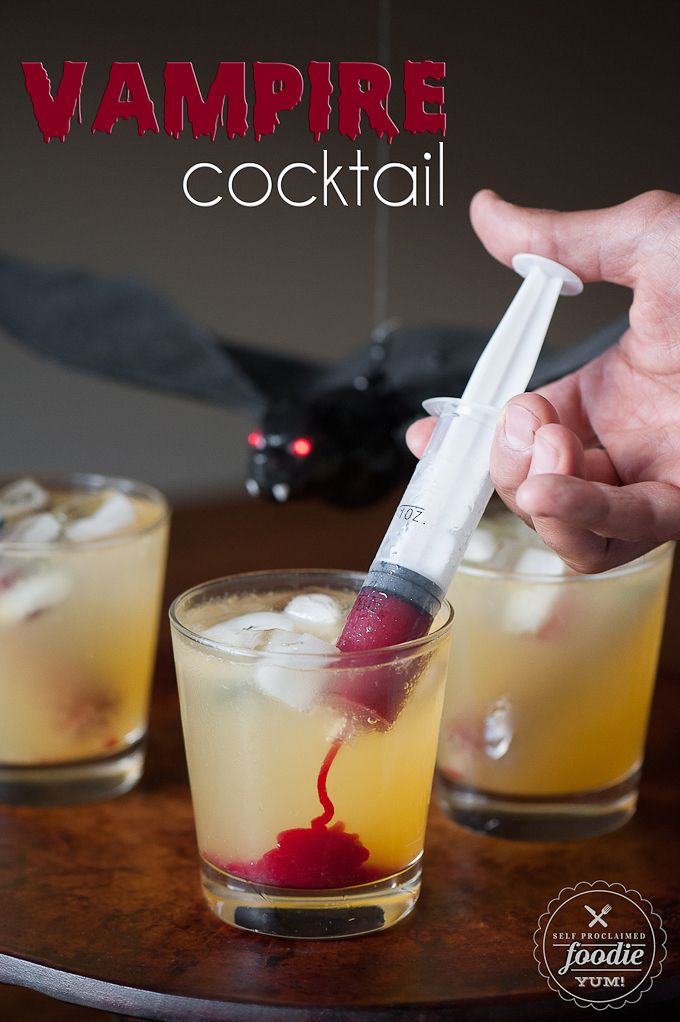 My favorite thing about the Vampire Cocktail (above and top) from Self Proclaimed Foodie is that it's interactive. I mean, who doesn't want to squeeze fresh raspberry puree through a syringe to finish off a delicious Halloween cocktail? Plus, I get to put all those baby medicine dispensers cluttering up my junk drawer to good use. This drink is a win-win.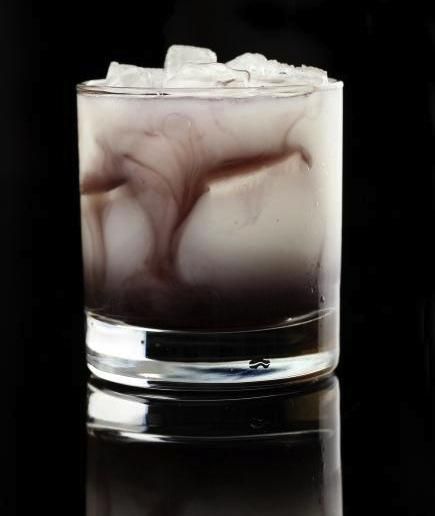 The Conjuring, a Halloween cocktail recipe made with absinthe, white creme de cocao, coconut milk and sambuca spied at Divine Caroline, might be the spookiest looking Halloween cocktail on the entire Internet. At once elegant and creepy, this is a perfect Halloween drink for anyone who digs anise flavored treats.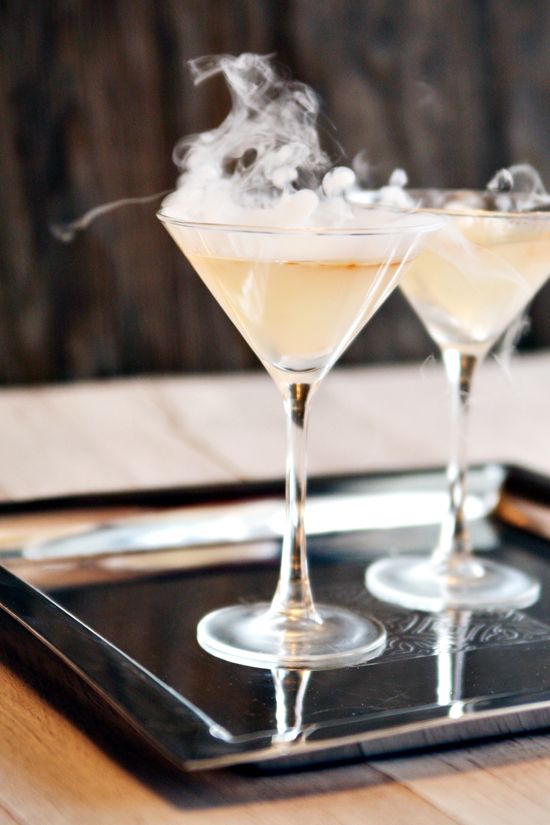 I found La Llorona, which translates into "The Weeping Woman," at Muy Bueno Cookbook where you can also read an awesomely eerie folk tale behind the drink. A little bit of dry ice gives this cocktail a Halloween vibe, but this is no gimmicky holiday drink. Made with Pisco, citrus, sugar, and bitters, this is seriously delicious.
There's no better way to toast Halloween than with a jet black cocktail. The color of the Black Beard cocktail at Honestly Yum is enhanced with squid ink, which is such a genius Halloween move. It turns out that it's not hard to get squid ink if you live near a fish market or have a supermarket with a good fish counter. If you're squeamish (or a vegetarian!), you can always use black food coloring instead. It's not nearly as creepy, but no judgments here.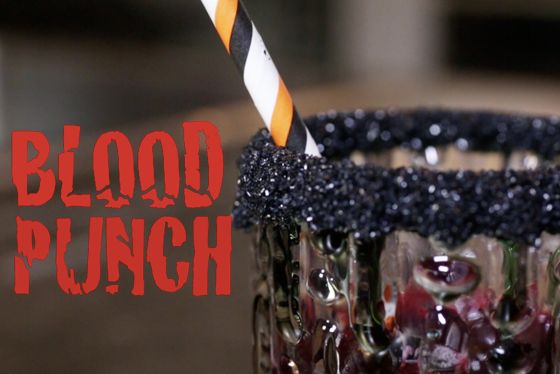 We love keeping it as easy as possible. If you need something stupid simple, turn the Blood Punch from my site One Hungry Mama into an easy cocktail. The punch is basically cranberry juice served in a glass rimmed with black sugar. Add a splash of vodka and, voila, a new Halloween cocktail classic.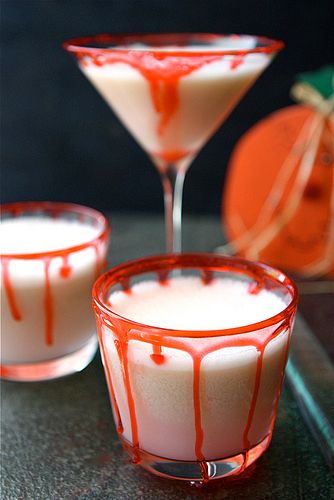 The Vampire Punch  from Cooking Canuck is made with lime sherbet, so if you ask me you can totally leave the vodka out and still have a tasty treat for the kids or anyone who doesn't feel like getting boozy. The main point here is the bloody rim. Chin bloody chin.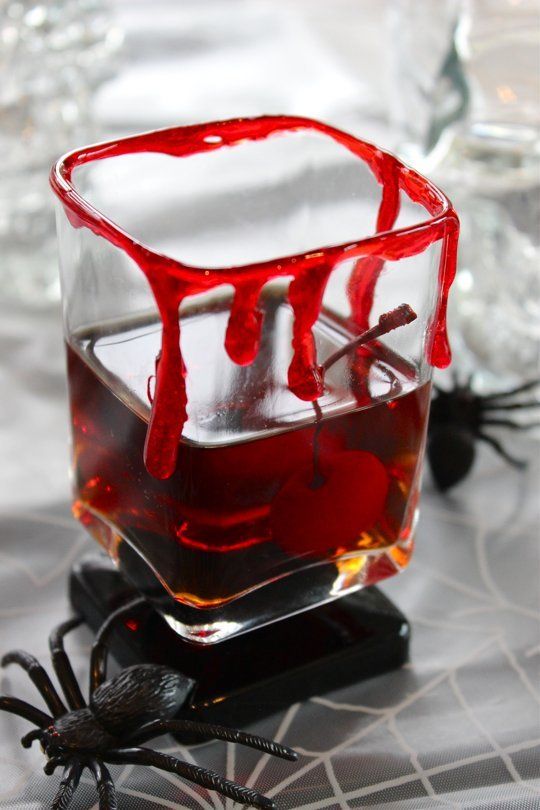 If you love the idea of a blood rim but want something more grown up than sherbet, try the Bloody Manhattan  from Maureen at The Kitchn. She knows this drink is all about the rim and leaves the classic cocktail recipe alone. I might have to bite her style. Ha!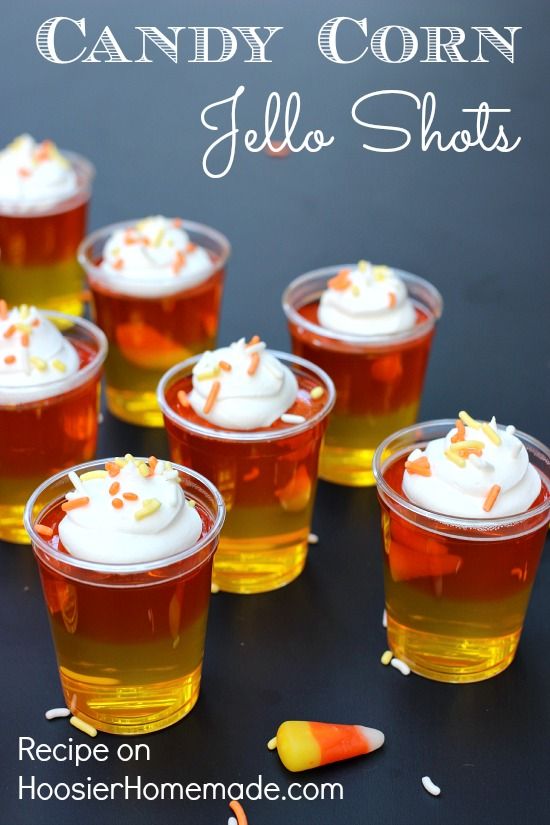 We love candy corn recipes too much to let this one go. Liz at Hoosier Homemade whips up these Candy Corn Jell-o Shots without any booze at all, which makes a fun treat for little ones and non-drinkers. For the rest of us, a little bit of vodka won't hurt. It's a little absurd, I know, but it's not like you haven't done a boozy jell-o shot before. Plus, what holiday is more delightfully absurd than Halloween? Might as well go for it.