Last year I threw an awesome Halloween party for my kids. (Really! There's video, complete with Halloween dinner recipes, to prove it.) It was a blast, but now my kids want to do it again. I'm game—anything to show off my rockin' Cleopatra costume—but it has to be easy. So I've found these super fun, easy Halloween party recipes that are just right to keep your Halloween festive without too much hard work. Because Queen Cleopatra doesn't do hard work, thank you very much.
Three cheers for Halloween Candy Bark (above) from Just a Taste. Candy on candy: It's the only way to go on Halloween.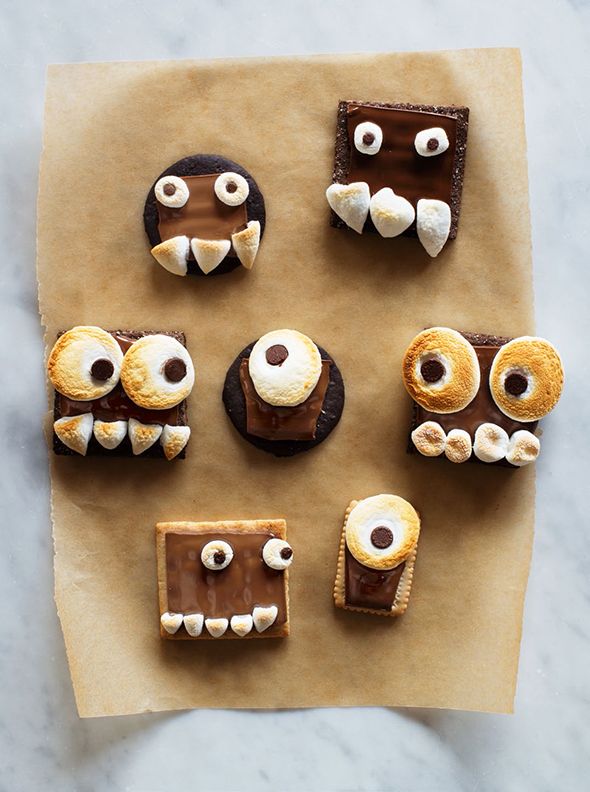 I'm dying over these DIY Monster S'mores from Say Yes. They are out-of-control adorable, easy to make (in the broiler), and totally delicious. S'mores for Halloween. Say yes indeed.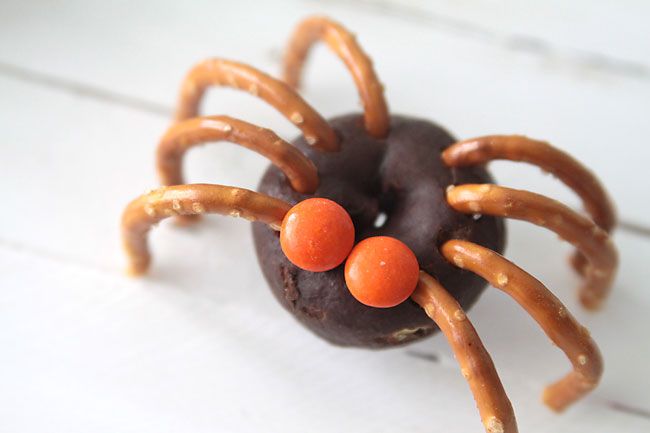 Spiders normally creep me out, but these easy Mini Donut Spiders spied at It's Always Autumn are super cute and delicious, too. Make these in a snap or set out the ingredients and have your li'l Halloween party guests make their own: This is a fun party craft, too.
These Monster Marshmallow Pops from Made To Be a Momma are another great snack-craft. Instead of spending time on monster cake pops (cute as they are),  cute creatures like these can be so easy to make that even a toddler can get in on the fun. In fact, the toddler ones are even more magnificently monstery than the Momma versions. I love that.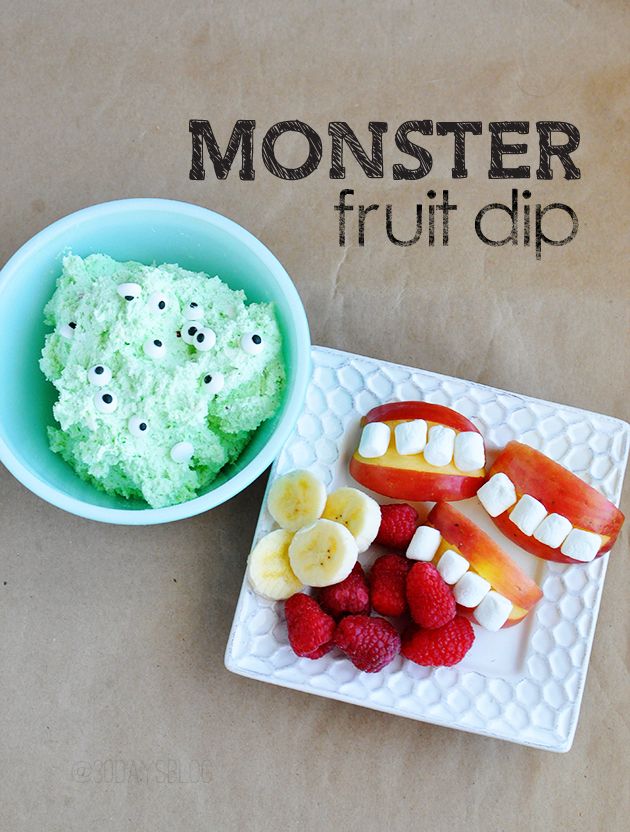 This Monster Dip Halloween recipe from Thirty Handmade Days is pure Halloween fun. I admit that the ingredients list is a little much for me; if you feel the same and live near a natural food market, look for all-natural substitutes like whipped cream made with actual cream. You can also use an all natural pudding instead (colored with natural food dye, if you like) or you know, just throw caution to the wind. I don't believe any one artificial food will kill you one time a year.
Snacks alone do not a party make; festive drinks are a must, too. My favorite recipe of the three easy Halloween treats in this video on my blog is Blood Punch. You know why? It's as easy as pouring cranberry juice and rimming a glass with black sugar. Boom.
Or should I say: Boo!
We've definitely got Halloween on the brain, so pick through our archives for more great ideas. Plus, don't miss our Halloween Coolness Pinterest Board with recipes, decor, crafts, costume ideas, and more.