These 9 amazing fall salad recipes are enough to keep us from missing summer salads. For me, fall is all about stews, chili, roasts, and salads. Yes, salads! Roasted veggies are delicious, but roasted veggies tossed with greens and a delicious dressing are sublime. And don't forget about fall fruits; they make for delicious salads, too.
Now if only they could keep us from missing summer weather.
And of course, you can always find plenty more fall salad ideas on Cool Mom Eats.
Top photo: Fall Kale Super Salad from Seasons and Suppers. All photos are copyright their respective owners. 
Related: Fabulous fall comfort meals for family meal planning
9 amazing fall salads to try
Related: 9 delicious fall pasta salads for families. They're not just for summer!
1. Fall Salad with Kale, Brussels Sprouts and Broccoli
First off, Ive never seen a recipe that makes Brussels sprouts, kale, and broccoli — all mixed together! — look so good. Maybe that's the power behind the spectacular Fall Kale Super Salad (at very top) from Seasons and Suppers.
2. Fall Salad with Apples and Candied Walnuts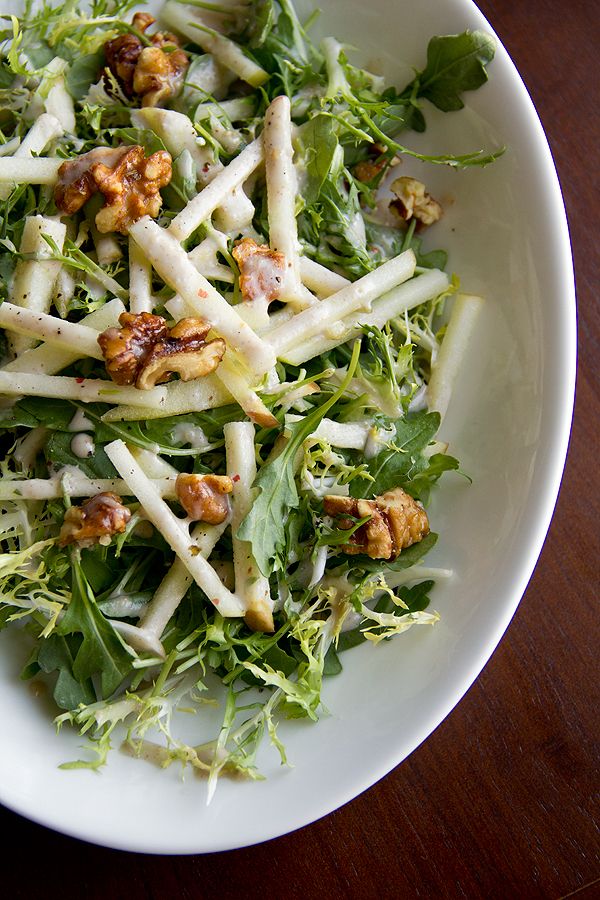 The Cozy Apron
We can't talk fall salads without talking apples. I love how this Apple Salad with Candied Walnuts and Sweet Spiced Cider Vinaigrette from The Cozy Apron uses apple as a crispy, tart element. Ingrid's version of this salad is all about the Honey Crisp, but I bet the recipe will be great with just about any variety of apple.
3. Fall Salad with Kale and Sautéed Apples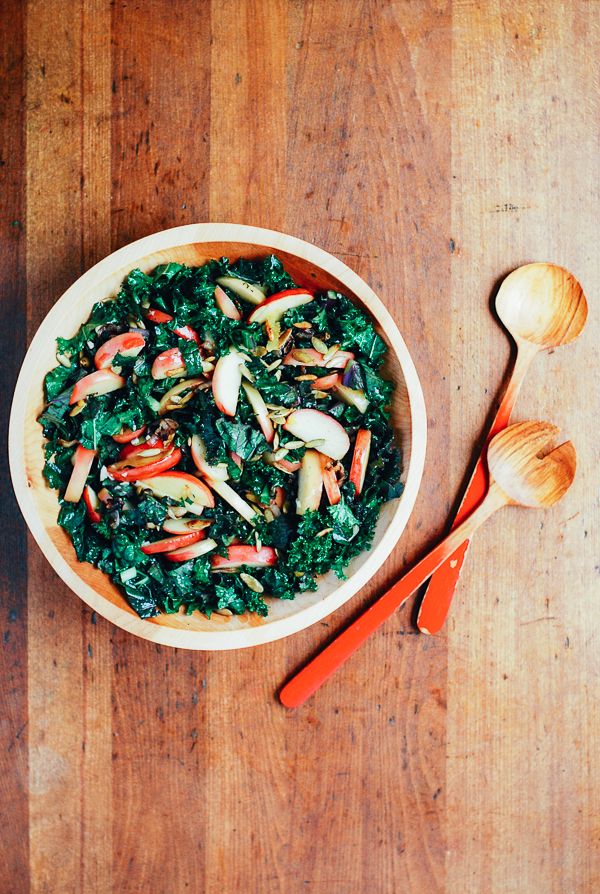 Brooklyn Supper
This Kale Salad with Sauteed Apples from Brooklyn Supper uses apples in a slightly different way. Even sautéed, the apples will have a little crunch. The heat will soften and sweeten them, though, which gives a different overall flavor than using raw apples.
4. Fall Salad with Figs, Blue Cheese, Prosciutto and Greens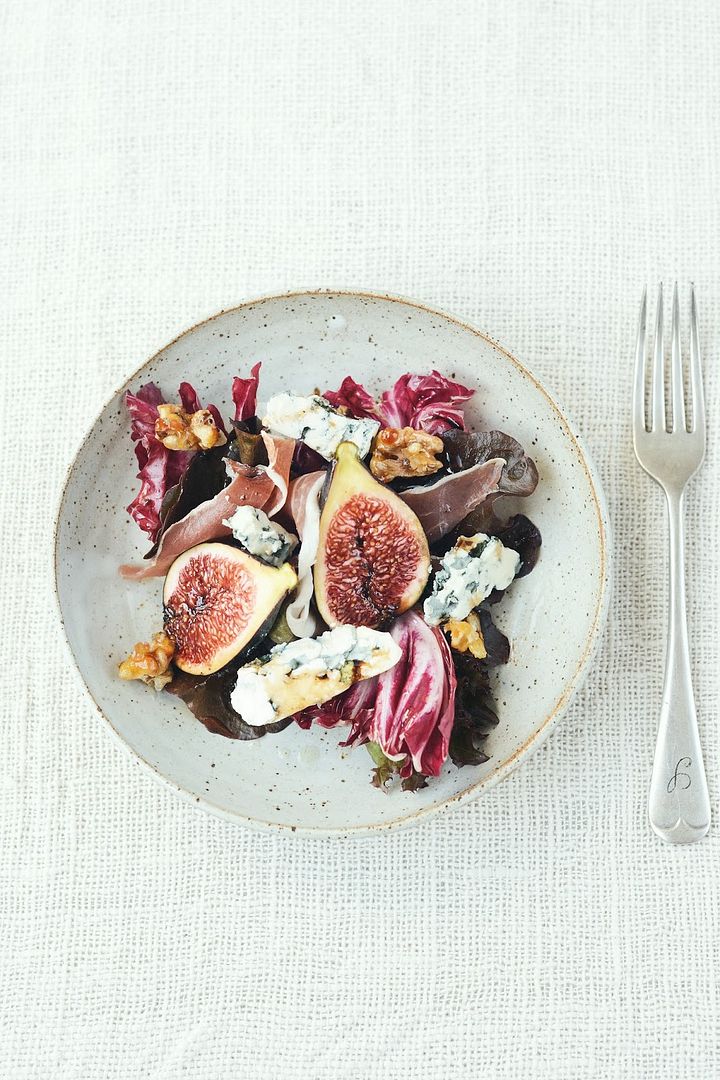 From the Kitchen
Apples aren't the only fall fruit that work beautifully in salads. This Autumn Salad spied on From the Kitchen makes perfect use of figs in a salad layered with greens, walnuts, prosciutto, and blue cheese. This is heaven on a plate.
5. Fall Salad with Roasted Squash and Mustard-Maple Vinaigrette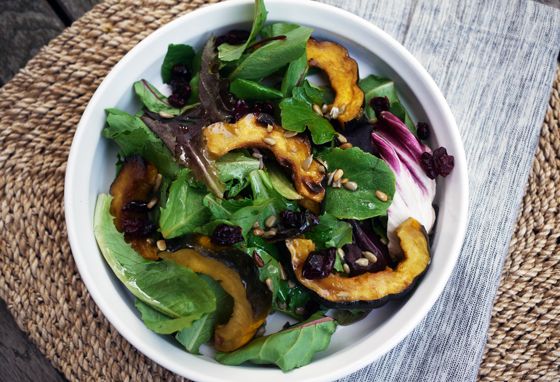 Stacie Billis
This simple Roasted Squash Salad [now archived] from my own site,  is all about the Mustard-Maple Vinaigrette. Other than the dressing, roasted acorn squash and greens, you can customize this anyway you want. I love it with sunflower seeds, dried cranberries, and crumbled feta cheese. Note: see more fall salads on StacieBillis.com
6. Fall Salad with Curry Roasted Cauliflower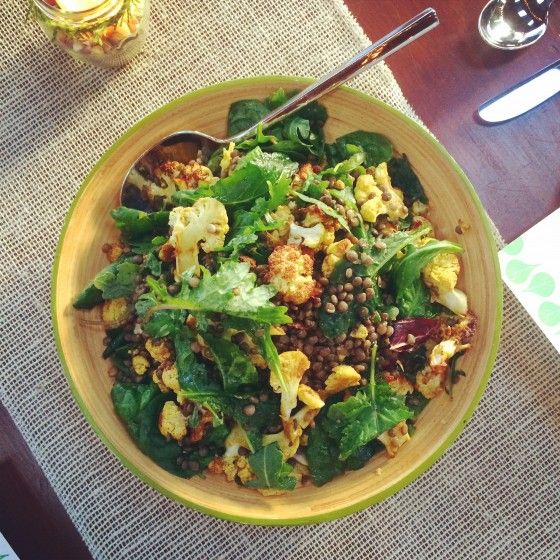 Stacie Billis
While on my site, you should also check out this hearty Curry Roasted Cauliflower Salad (recently updated). This is a great option for when you want to serve salad as a main. It's perfect with a big loaf of crusty garlic bread or a bowl of soup.  Note: See new fall recipes at StacieBillis.com
7. Fall Salad with Roasted Root Vegetables and Cilantro Dressing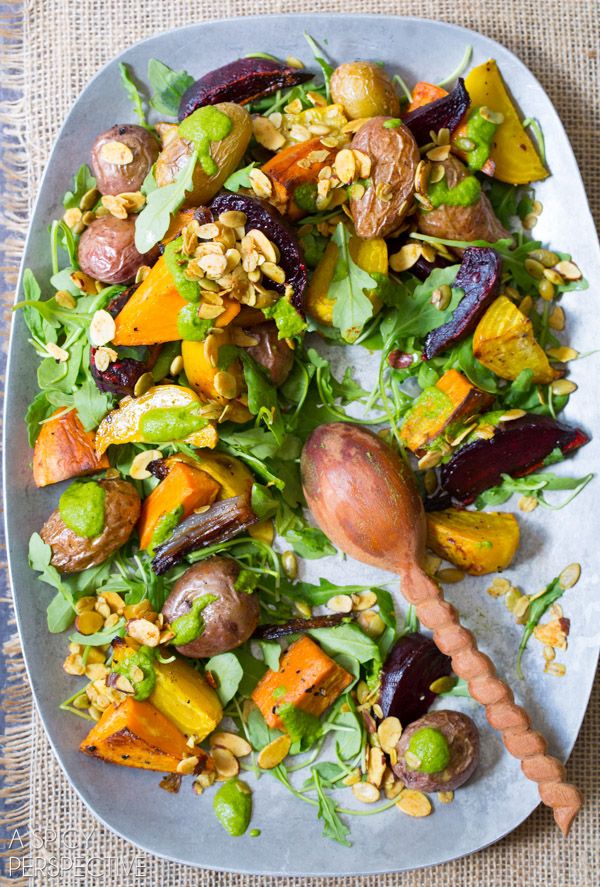 A Spicy Perspective
Why limit your salad to one roasted veggie when you can throw a whole bunch of them in the mix like with this Roasted Root Salad from A Spicy Perspective. Sommer dresses this salad with a cilantro dressing that sounds divine, but the kicker is the savory granola that she sprinkles on top. Yum!
8. Thai Crunch Fall Salad with Brussels sprouts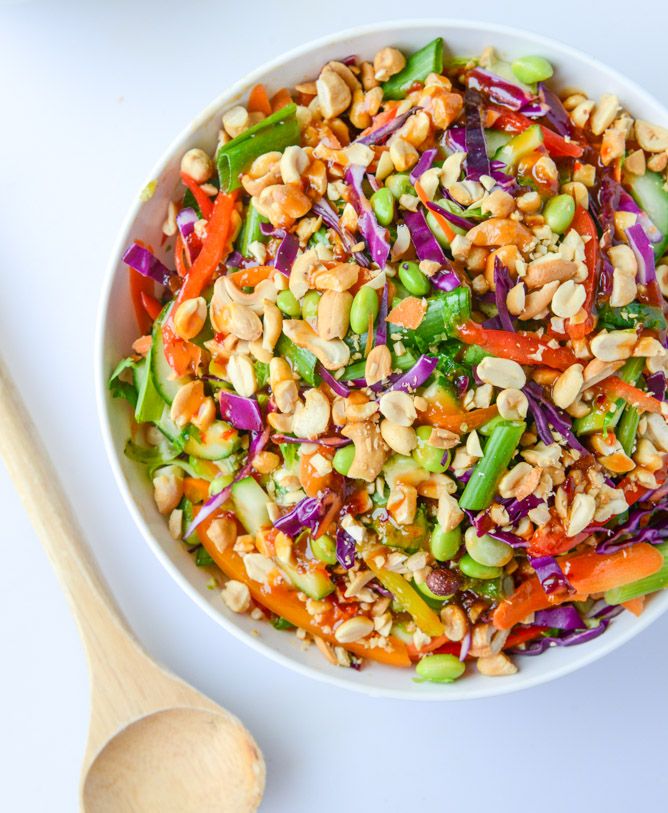 How Sweet It Is
I'm a sucker for salads made with shredded, raw Brussels sprouts so I was thrilled to find this Thai Crunch Brussels Sprouts Salad on How Sweet It Is. I love this creative way of of using the baby cabbages; it's such a nice break from pairing them with bacon and blue cheese.
9. Fall Fruit Salad with Cinnamon Greek Yogurt Dressing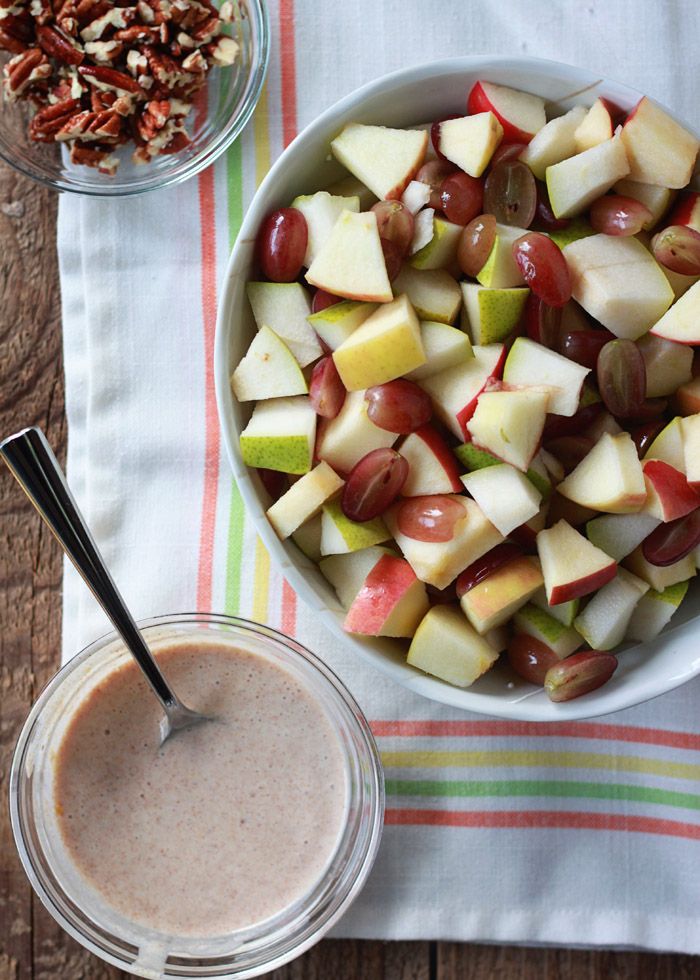 Kitchen Treaty
With so many beautiful savory salads, I had to throw in one sweet, fruit salad. This Autumn Fruit Salad with Cinnamon Greek Yogurt Dressing from Kitchen Treaty is a delectable healthy treat perfect for after school or dessert. You can even pack it in your little one's school lunch with the dressing on the side for dipping.
For more seasonal ideas, visit CoolMomEats.com and don't miss our Thanksgiving Dinner Ideas board on Pinterest.