This year my husband and I loaded everyone up (even the grandparents) for a long weekend over fall break, and flew to Chicago, one of my very favorite cities, in search of some awesome kid-friendly activities. Our focus: checking out all the must-see exhibits for kids at Chicago museums.
Lest you think that New York and DC are the only big museum cities in the US, know that Chicago has a ton of awesome options. In fact, it was a lot to tackle, especially with three children in tow, but I've survived to tell you it can be done–as long as you embrace the idea that it's okay if you don't interact with every single display. Do too much, and your  kids will be wiped out by dinner time. And hey, there's deep dish pizza to be eaten!
Along with some other fun activities, we visited four museums in three days with three kids under age nine. Tiring? Yes. But so much fun. These were our favorite kid-friendly exhibits that I'd recommend if you're heading to the Windy City with your kids too.
The Museum of Science and Industry: Best Exhibits for Kids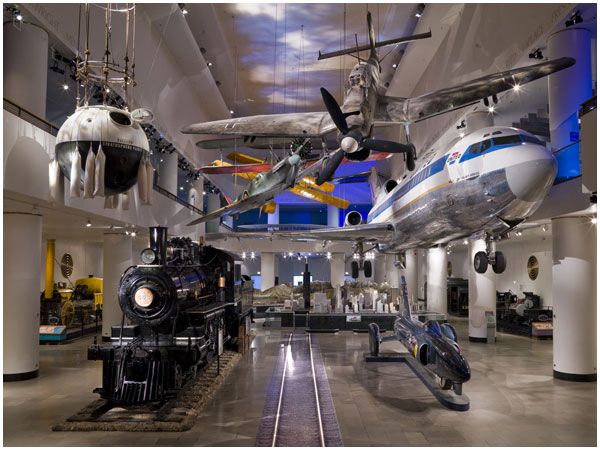 If you're going to pick one kid-friendly Chicago museum to spend an entire day, make it the Museum of Science and Industry. It's huge. There are hundreds of interactive stations for kids to climb on and space run around, pushing buttons and pulling levers. So yes, get your coffee early and pack a protein bar. And if you can avoid going on a Saturday, you'll enjoy lighter crowds.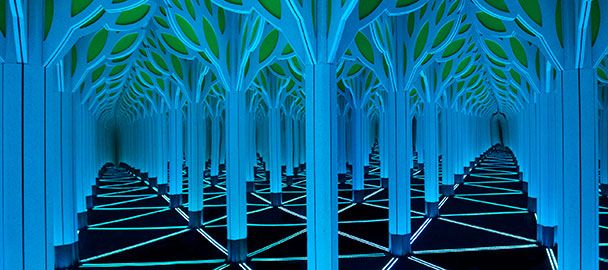 Numbers in Nature: A Mirror Maze. My guess is you'll be running through this new exhibit a few times, because once just won't be enough. All those mirrors and the low-lit lights make the maze surprisingly disorienting at first; I lost our preschooler in it for a few minutes. But even the directionally challenged can get through pretty easily, and there are some fun interactive stations when you finish.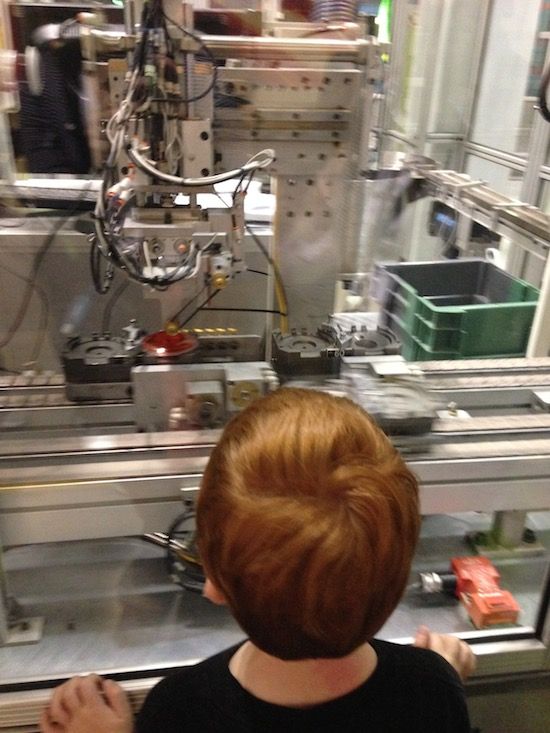 ToyMaker 3000. This exhibit is not listed in the "favorites" section of the museum guide, but be sure to look for it on the map (it's on the main level). For an extra $5 on top of the entrance feee, our kids will be mesmerized as robots on an assembly line build a custom gyroscope toy to their specifications, including their names and the date engraved on it. Bonus, it's a great toy–my kids are still playing with theirs.
Treasures of the Walt Disney Archives. This is a temporary exhibit that will be up through January 4, 2015, and if you're a Disney movie buff, then it's one you don't want to miss. Even if you aren't, you'll probably enjoy seeing all the incredible movie costumes and set pieces from not-so-princessy movies, like Mary Poppins and Pirates of the Caribbean. Our favorite part: the 15-20 minute drawing class at the end.
Science Storms. I am still kind of surprised this exhibit was such a huge hit with my kids, but I guess it was pretty cool that they got to control a 40-foot tornado. At :15 and :45 every hour there's a short Live Science show all about vortexes. Be sure to stand up close, and your child may be called to come inside the tornado and release a balloon. Great photo op!
Two of the most famous exhibits at MSI are also our favorites: the Coal Mine, where you descend underground and ride on a "real" coal miner's train, and the U-505 Submarine, where a tour guide tells the story of what happened to the soldiers on this actual WWII German submarine, complete with wartime sound effects playing in the background. These are both 25 minute tours that require additional ticketing and may be a little long (and scary) for young kids, but they are a lot of fun.
Shedd Aquarium: Best Exhibits for Kids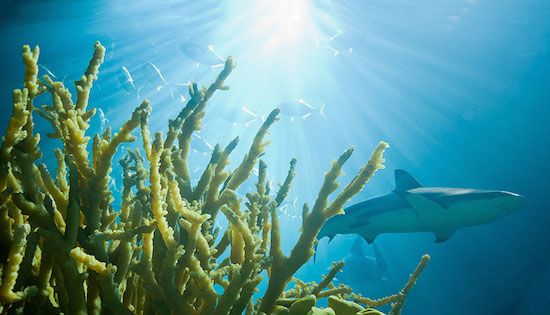 Apparently the trick for a really amazing visit to Shedd Aquarium is to go on a Sunday when the Bears are playing a home game. That's what we did, and we felt like we had the place to ourselves. But even if there's a big crowd, there's so much to see here that your kids will be happy as clams. (Sorry, couldn't resist.)
The layout at Shedd is simple and straightforward compared to the maze-like halls of the Field Museum, and you can easily see it all in half a day. But if you're just running in for a quick visit, here's what you want to see first: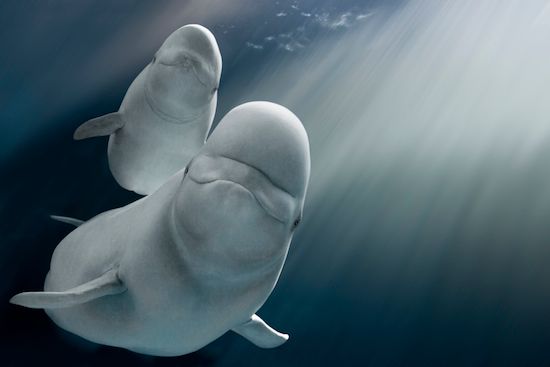 The Polar Play Zone and Underwater Viewing. This huge tank houses dolphins and belugas (which you can also see in the aquatic show). While parents and big kids are watching the animals, your under-5s can release some pent-up energy by donning a penguin costume and playing on the slides and tunnels in the penguin play area. And right next to the penguins is the two-story Regenstein Sea Otter Habitat. That's some serious cuteness right there.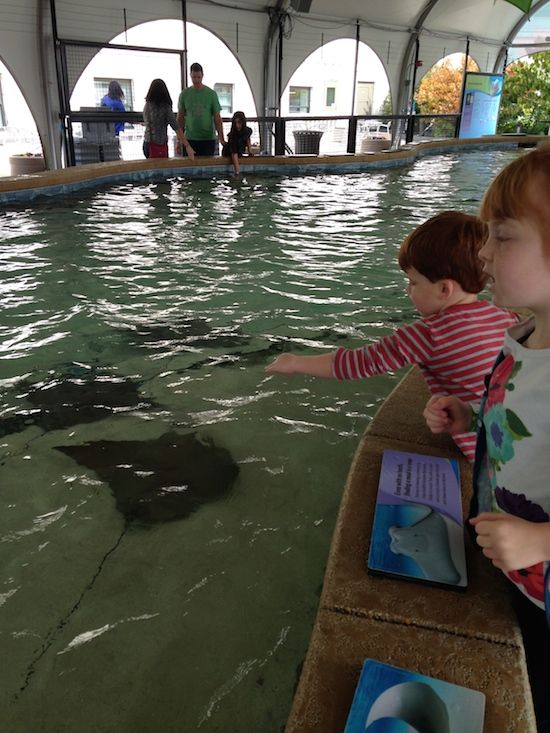 Stingray Touch. You haven't truly heard a child squeal with delight (and a little fear) until you've tried to make him touch a stingray. This fantastic, kid-friendly exhibit is open May through October and is totally worth the time you'll spend there.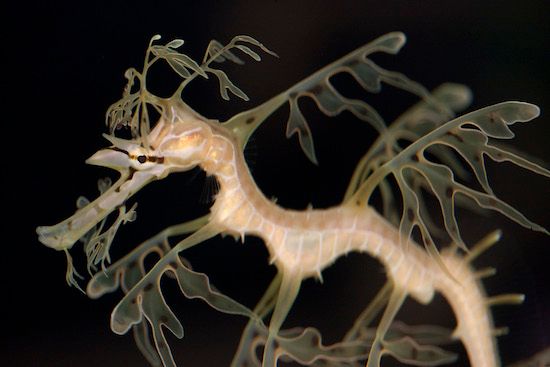 Seadragons. The leafy seadragons and weedy seadragons aren't even listed on the visitor map, but you can find their aquarium case in the hallway outside the aquatic show amphitheater. Big fish tend to steal the show at aquariums, but these tiny creatures are the ones we're still talking about.
Also, if your kids are really into marine biology you can sign them up for an Extraordinary Experience, where they can meet a penguin, feed sharks, touch a beluga whale, and even be a trainer for the day. My preteen self would have, like, totally freaked out over this.
The Field Museum: Best Exhibits for Kids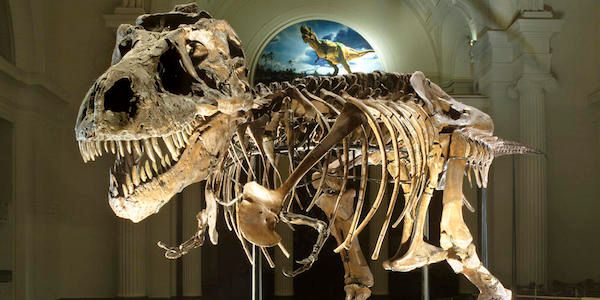 Walking into the Field Museum is like taking a step back in time, and not just because it's all about history. The displays here are notably more simplistic; the iPads and interactive elements of the Shedd Aquarium and the Museum of Science and Industry are absent, and you'll find markers and construction paper instead in some cases. My nine-year-old loved it: "It's like a zoo, but we can get up close."
That said, my seven-year-old hated it ("It's soooooo boring.") So, know your kids. If watching and taking-it-in isn't their thing, plan to go through this one quickly (which can be done). After seeing the dinosaurs and elephants in the main hall, there are a few kid-friendly exhibits to put at the top of your list.
The Lions of Tsavo. To get to the Lions of Tsavo, you have to walk through winding halls with cases and cases of animals that will have you saying, Whoa, over and over again. Moose, mountain goats, a whale skeleton, bald eagles, and a tiger that's growling fiercely about 5 inches from the glass. Then you get to the lions. After the chills I got from watching Ghost in the Darkness years ago, it was pretty surreal to see the actual lions—the actual ones!—that killed all those people over a hundred years ago. This section is what makes the Field Museum the Field Museum, in my opinion.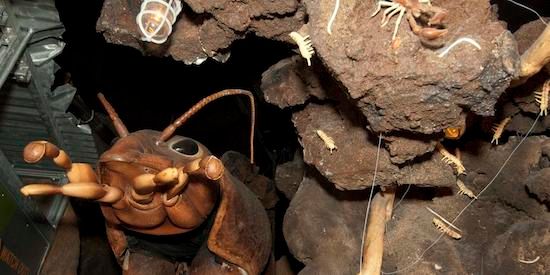 Underground Adventure. This exhibit all about insects is built to make you feel like you're on the set of Honey, I Shrunk the Kids. Ha. But it is pretty cool to wind your way through these tunnels and see what bugs would look like if you were just 1/100th of your actual size. When you're finished, stop to let the kids play at the Crown Family PlayLab right across the hall. (Note: This exhibition requires additional ticketing.)
Pawnee Earth Lodge. You can sit on beds, play with tools, "cook" by a fire, and look into the holy space that's been blessed by a priest in this replica lodge. At a museum where kids have to "look with their eyes, not with their hands" so much of the time, this is the break my kids needed to touch and interact with something. I just kept hoping Amy Poehler would stop by.
If seeing Sue the T-Rex in the main hall didn't satisfy your wannabe paleontologists' dinosaur fix, kids should also love the Dinosaur Hall upstairs, which has skeletons of stegosaurus, apatosaurus, and triceratops (among others).
The Art Institute of Chicago: Best Exhibits for Kids
The Art Institute of Chicago is not at the very top of the list here bcause despite being TripAdvisor's #1 Museum in the World, I'd suggest maybe it's not the #1 museum for parents of, um, rowdy preschool boys. That said, admission for kids under 14 is free and there are some exhibits they will really love.
I motivated my kids to STAY BEHIND THE ROPE, OR ELSE by keeping a reusable sandwich bag filled with Skittles in my handbag. We kept a tally, and every time they left a gallery without touching anything they earned a Skittle for after lunch. Did it work? Let's just say I don't owe the AIC millions for priceless works of art being destroyed.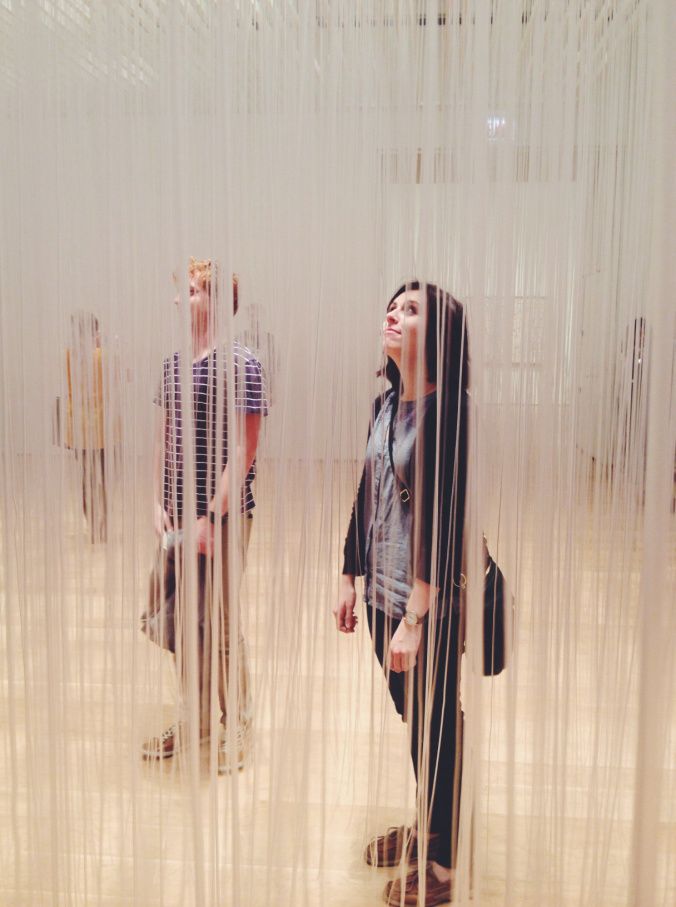 Pénétrable de Chicago, by Jesús Rafael Soto. This sculpture in the Modern Wing (Gallery 292) is pretty amazing. You and your kids can walk through this "forest of nylon tubes" and then sit down for a conversation about "postwar experimentation with interactivity and perceptual experience." Or, they can just think it's really cool and get an early love for art, which is great too. (Photo via RoseProse)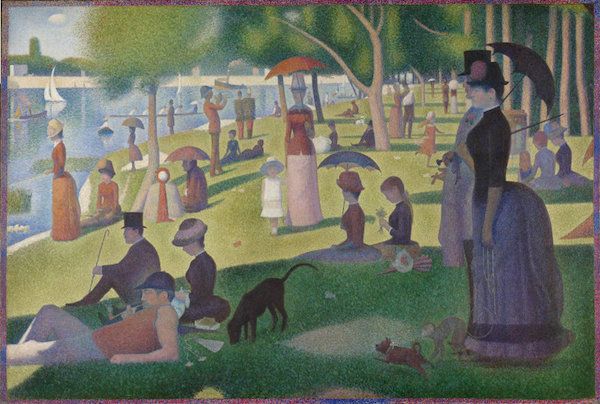 A Sunday on La Grande Jatte, by Georges Seurat. Let your kids lean as close as they safely can to this massive painting to see how it is made of tiny dots of paint (in the European Painting wing, Gallery 240). My preschooler is still talking about Georges Seurat and wanting to paint like him at home. Pretty cool.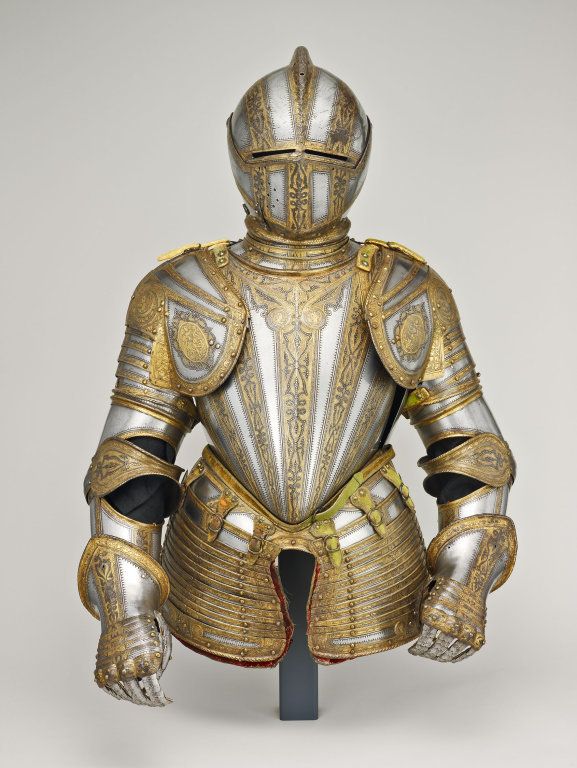 The Arms and Armor Collection. Dozens of suits of armor, swords, and other weapons fill this gallery, including full armor for a horse. It's pretty incredible to think about the stories behind these pieces–which would make a fun conversation with the kids over lunch when you leave. Plus, knights are cool, yo.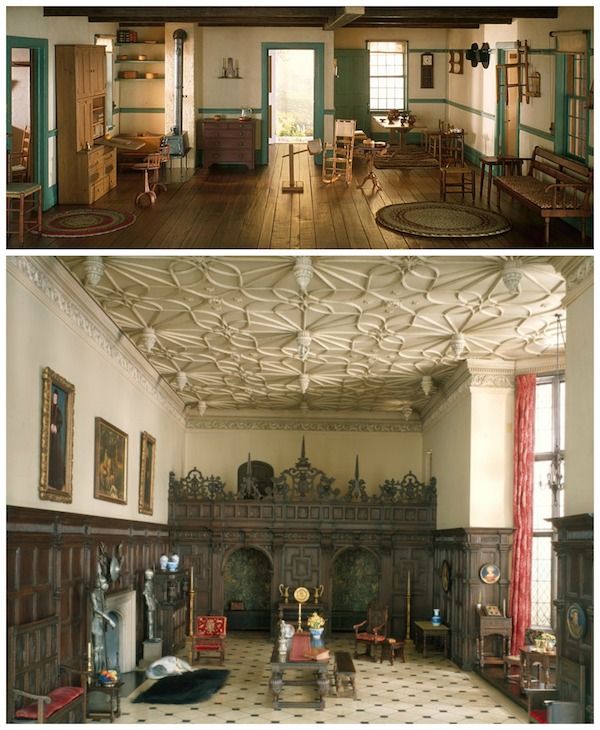 Thorne Miniature Room. This is one space where you can breathe somewhat easier, as each miniature room is safely enclosed behind glass in the wall. These little rooms each capture a different time period (like the Amish 1800's, or the English Tudor rooms above) and will fascinate your imaginative kids. However, it's really similar to Colleen Moore's Fairy Castle at the Museum of Science and Industry. If your kid loves it, you might want to visit them both. Otherwise, I'd just pick one.
And…some travel tips for families before you go
Time-saving tip: Decide ahead of time, as a family, which special exhibits (those that require additional ticketing or timed entry) you want to see, because you'll have to make these decisions at the ticket desk before you enter the museum. Tis way you don't have to stand around debating whether to go to the Ice Age or Sea Monsters 4D movie–or deal with the resulting meltdown from the child who didn't get his way. (Not just my kids, right?) Also, have second choices ready in case your top choice gets sold out. Your family and those on line behind you will really appreciate it.
Sanity-saving tip: If your entourage includes little kids, please, please do yourself a favor and set aside time to visit the kids play zones. Each museum has an area where kids can create, imagine, play, and just get out some energy. You will be happier. They will be happier. It will not feel like "seeing exhibits on your big trip to Chicago," but so what. Do it.
Money-saving tip: If you have a lot of kids, or are traveling with grandparents like we were, check out the membership pricing online or as you're waiting on line to buy tickets. Even if you're not planning to come back again within the year, it still might be a better deal to buy an annual membership than to purchase premium tickets for everyone individually. We found that most household memberships (starting at $155) include admission for all kids under 18 in and some even allow you to bring a guest adult too, not to mention the gift store, restaurant, and special experience discounts. Plus? You're donating to a good cause and getting a tax deduction.
Super money-saving tip: If you have more than a couple of days or you're wanting to hit all of Chicago's museums, the best option for saving money is to purchase a Chicago CityPass. For $94 for an adult and $79 for a child, you get admission to Shedd Aquarium, Skydeck Chicago, The Field Museum, The Museum of Science and Industry (or 360 Chicago), and the Art Institute of Chicago or Adler Planetarium. Plus, you get to skip the regular ticket lines. Yay for less grumpy kids!
Photos of the ToyMaker 3000 and the Stingray Touch © Kate Etue